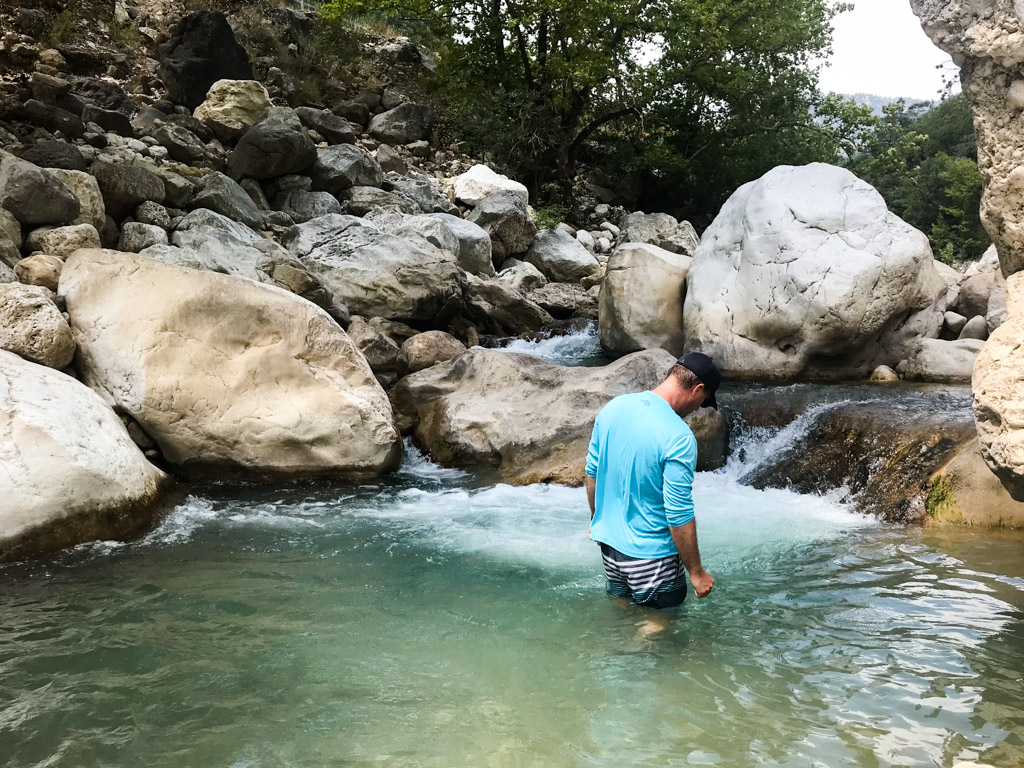 Ice-cold water, mountain breezes, majestic views, and a peaceful canyon come close to heaven on earth in the heat of an Antalya summer. Kesme Boğazı offers just that – for free. One blazing Sunday morning in August, we searched for somewhere we could take our kids to get away from the city. We unexpectedly stumbled upon this glorious respite from the stifling heat.  
With swimsuits on and snacks packed, our family set out. After parking in the lot at the top, we wandered around 200 meters down on foot until we could find an easy place to climb to the edge of the hewn-out stream below. The water itself is deep at some points and shallow in others. There are small, swift falls along with spots barely moving. (Depending on the time of year and potential snow melt, the force of the water could be greater.)   
We waded downstream and climbed over rocks a bit farther toward what a good resting spot. Our kids found a big rock to slide down into a waist high pool along the stream and splashed around like they have never played in water before. It was genuine bliss and one of the few times in the summer they all thanked us for taking them somewhere.  
A café with a bathroom (1TL) and a lovely area where you can order breakfast and other food items can be found near the parking lot. A restaurant incorporates a gated area of the stream into a pool and swimming hole. 
The Kanyon appears to be a popular picnic and barbecue spot that becomes quite busy on Sunday afternoons. But if you get there early, you will have your choice of spots to enjoy a delightful morning. Please be sure to take your trash with you when you go!  
Kesme Boğazı is only 45 minutes of driving down D-400 and up a few kilometers near Çamyuva in Kemer. If coming from a local resort in Kemer, it would be an inexpensive and easy taxi ride. Just remember to give a time for them to return to pick you up.  
Location: Kuzdere, 07980 Kemer/Antalya, Turkey (GPS will take you right there if you google it)  
Fee:  8.50TL entrance and usage of swimming area without restaurant food purchase