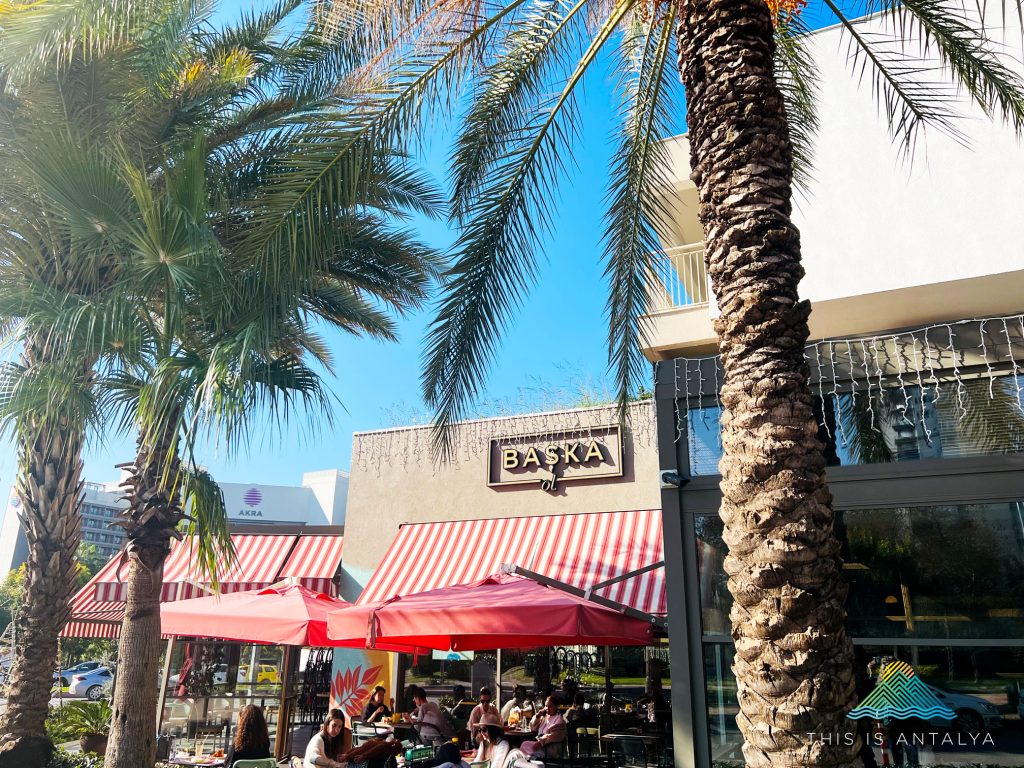 Başka ol. Basically, be other. Be something else. Be different. Başka ol is a newish cafe on the Lara side of Antalya that we recently discovered and we are here to say we have never seen anything like it in Antalya. Read on to understand what makes this interesting cafe stand out.
Their website does a perfect job of explaining their concept and what makes it so unique in this market.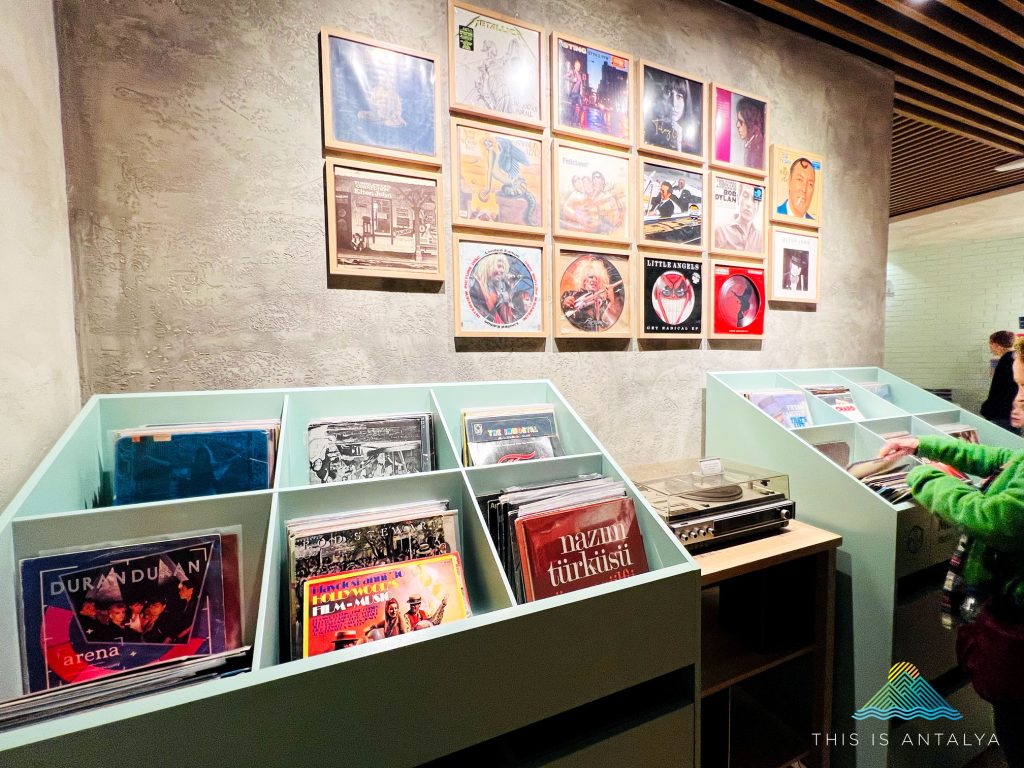 Downstairs in the basement of the restaurant are two large cabinets full of hundreds of classic vinyl records, all for sale. It was so fun to flip through the record jackets just like when I was a very small child and be taken down nostalgic memory lane. Every genre imaginable is represented, from Turkish folk music and jazz greats to early rock favorites and classic movie soundtracks. This would be the perfect place to look for that hard-to-buy-for older, music-loving family member.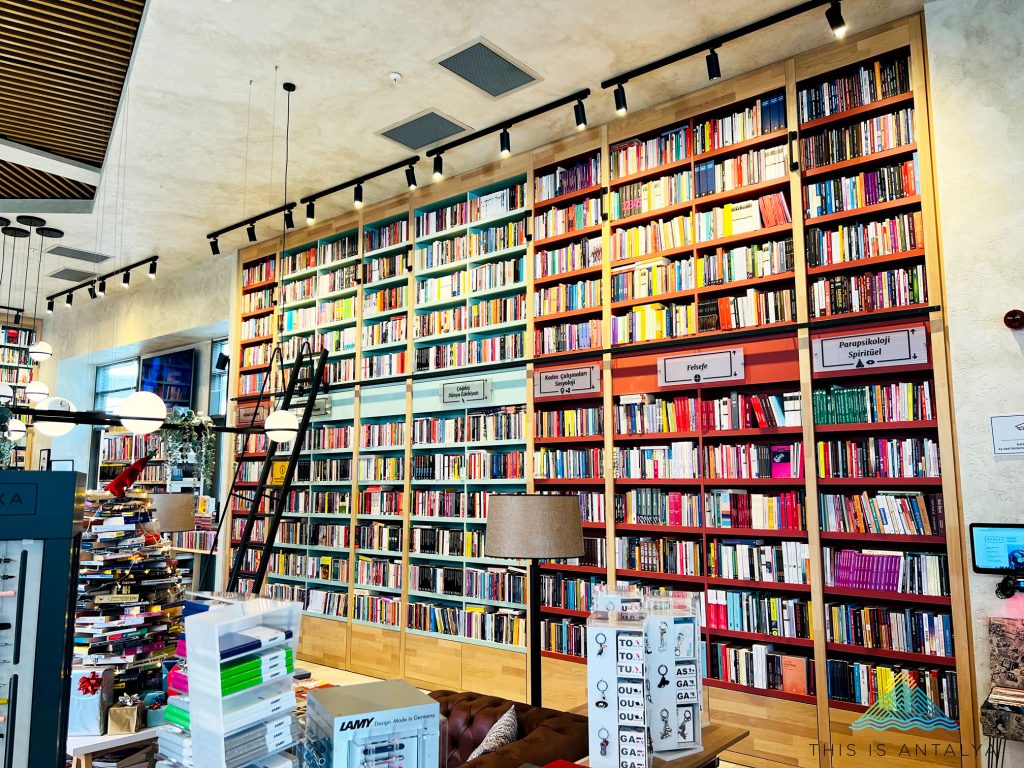 Shelves of books line the walls of the gift shop area that is connected to the cafe, both upstairs and downstairs in the basement. While most of the books are in Turkish, the collection is extensive. The children's books are downstairs and take up most of the basement (along with some toys and games). Upstairs there is even a rolling ladder because the books are stacked so high! It is a book lover's dream and one could spend hours perusing the shelves.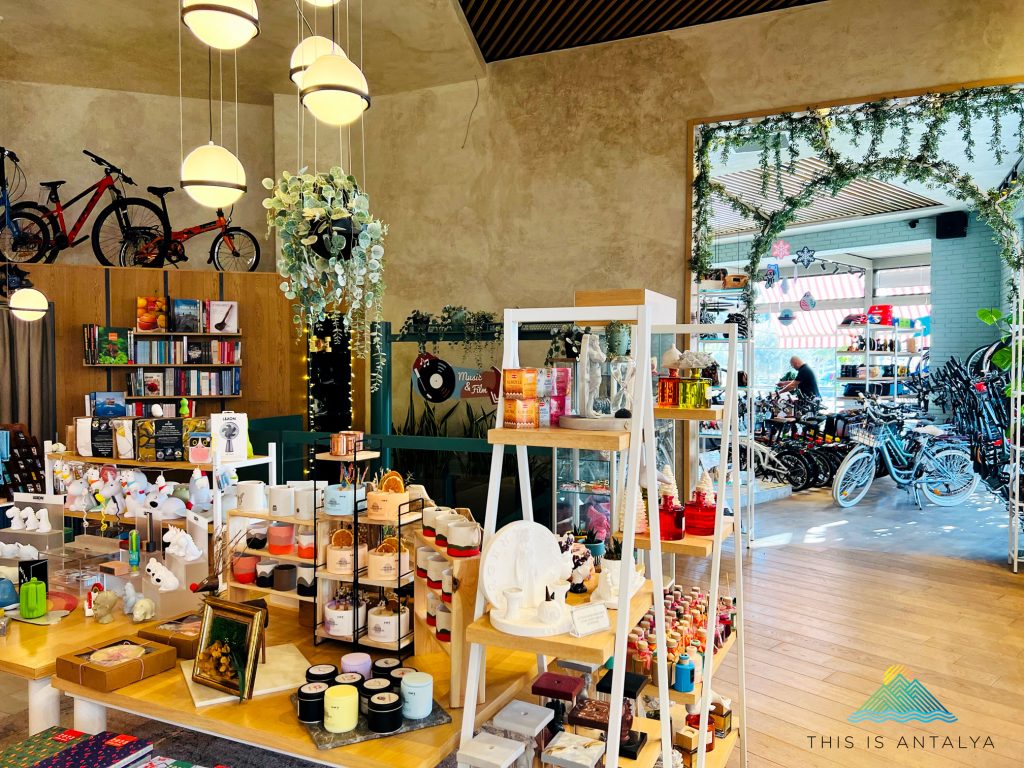 It is good to give and it is good to receive. Gifts galore can be found scattered throughout the shop. Beautiful flowers, quirky knick knacks, colorful candles, blank journals, fragrant teas, and a host of other treasures at every price point are tastefully displayed. We found some cute gifts that we have not seen in other places and would go there just to find a creative gift for a friend.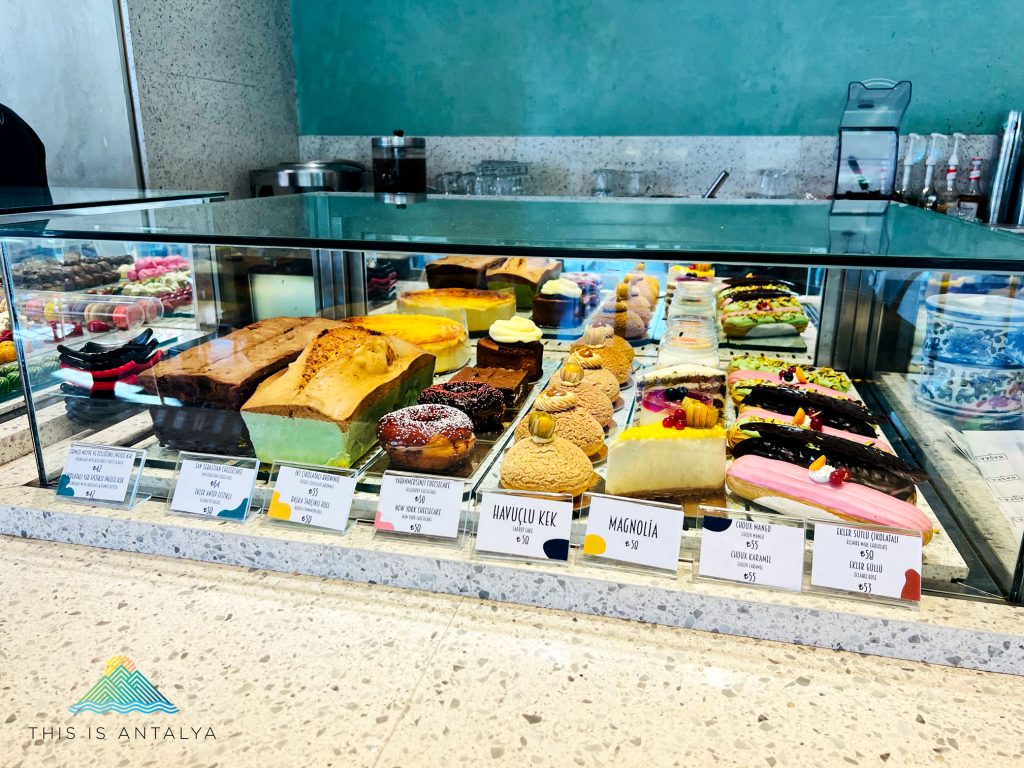 Everyone's definition of fun is different, but we always consider eating delicious desserts a joyful occasion! Apparently, Başka ol also associates tasty treats with a good time because it clearly states on their website that sweets cause your brain to produce feel-good endorphins and serotonin. There is no shortage of scrumptious looking pastries and cakes to choose from in their dessert offerings.
We also have to add that the atmosphere of the cafe is just fun. It would be the perfect place to hang out with friends or sit and enjoy a sweet treat and a cup of coffee by yourself. There is plenty of comfortable seating, both inside and outside, and tables of all sizes. We highly recommend it for your next date night or girl's hang out.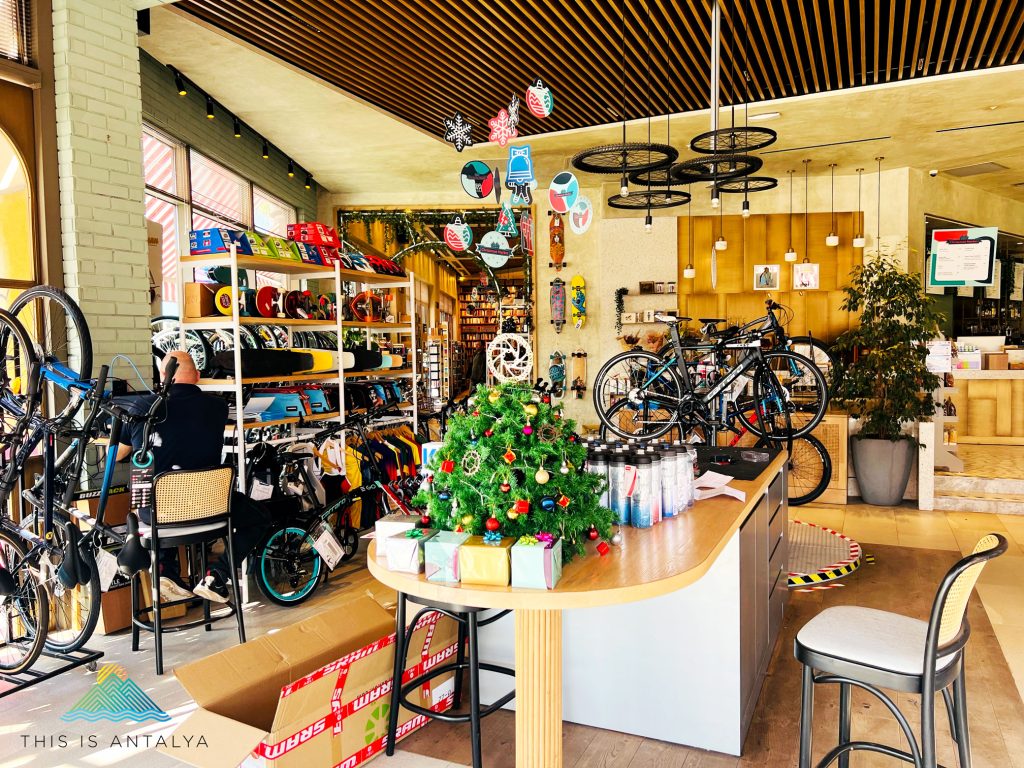 One of the things that makes Başka ol unique is the presence of a full scale bike shop. You can purchase bikes, helmets, water bottles, locks, and anything else you might find in a bike store.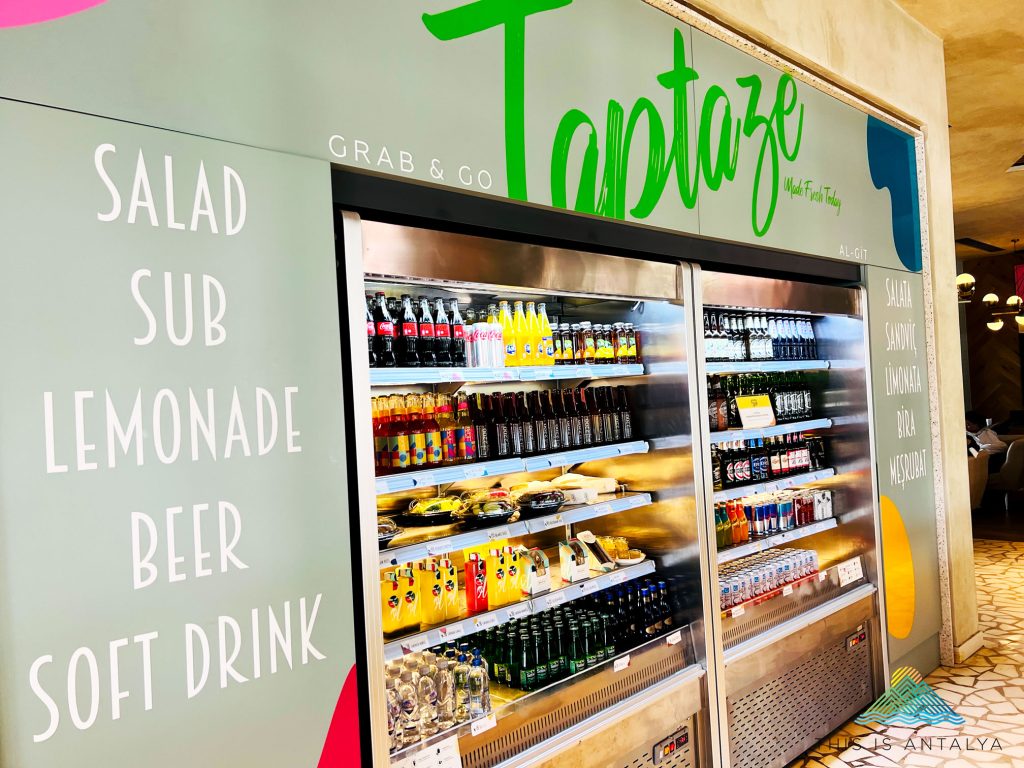 One of our favorite things about this unusual cafe is the presence of a large refrigerator where you can grab drinks, snacks, sandwiches, and even salads (YES! We said salads!!!) to go!! We didn't try any of the salads, but they look amazing and even featured one with edamame!!! Are we even in Turkey anymore?!?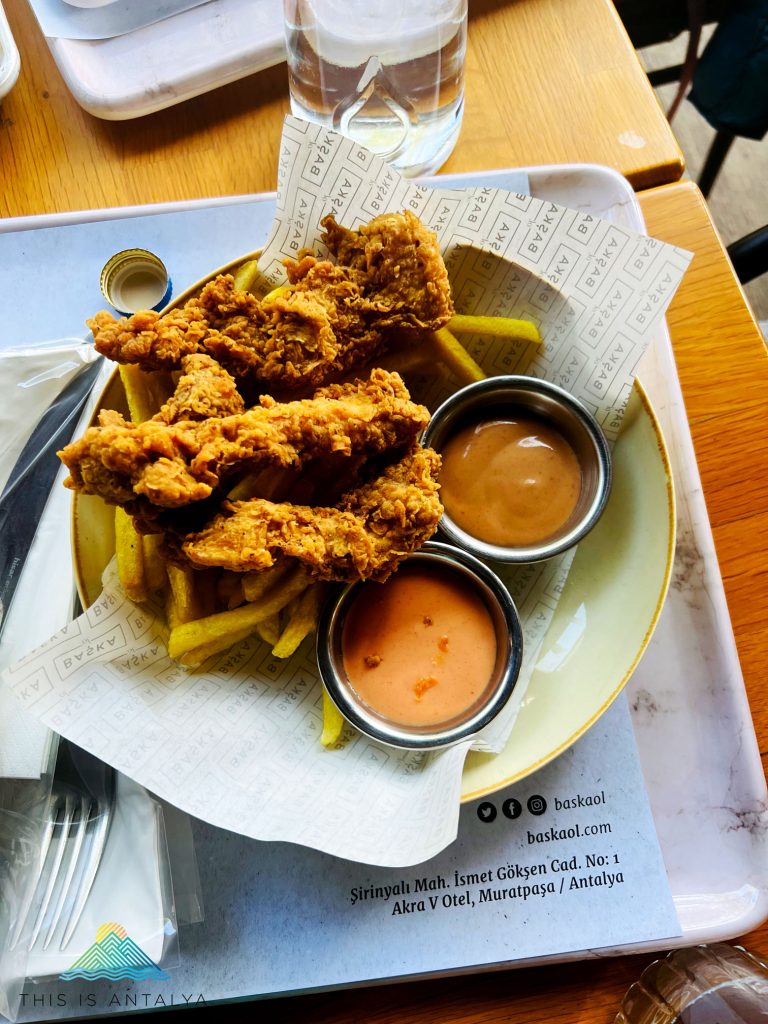 If you have been following This is Antalya for some time, you might know it takes a lot for us to get excited about restaurants here in Turkey. We love Turkish food and agree it is some of the most delicious food in the world, but sometimes we just want something different. A lot of times different ends up being supposedly "western-style" cafes with menus the size of books. Unfortunately, most of that food is uninspired and just plain "meh" because they are trying to do too much. This is where Başka ol excels in the food department.
The menu is small, featuring around a dozen breakfast, burger and pizza options. Kudos to them for seeing the value in a kitchen that specializes in a few things and does them well! We ordered pizza, a brisket burger and chicken tenders. They were all delicious and definitely made us happy!
Başka ol is easy to find on Ismet Gökçen Caddesi in Lara right across the street from the Akra Hotel and in the bottom floor of the Akra V Hotel. Next door is the family favorite indoor game place, For Fun, and just down the street are the Dedemen Starbucks and Carrefour Gürme.
Address: Şirinyalı, İsmet Gökşen Cd. no:21, 07070 Muratpaşa/Antalya
Phone number: 90 552 952 1612
Email: info@baskaol.com