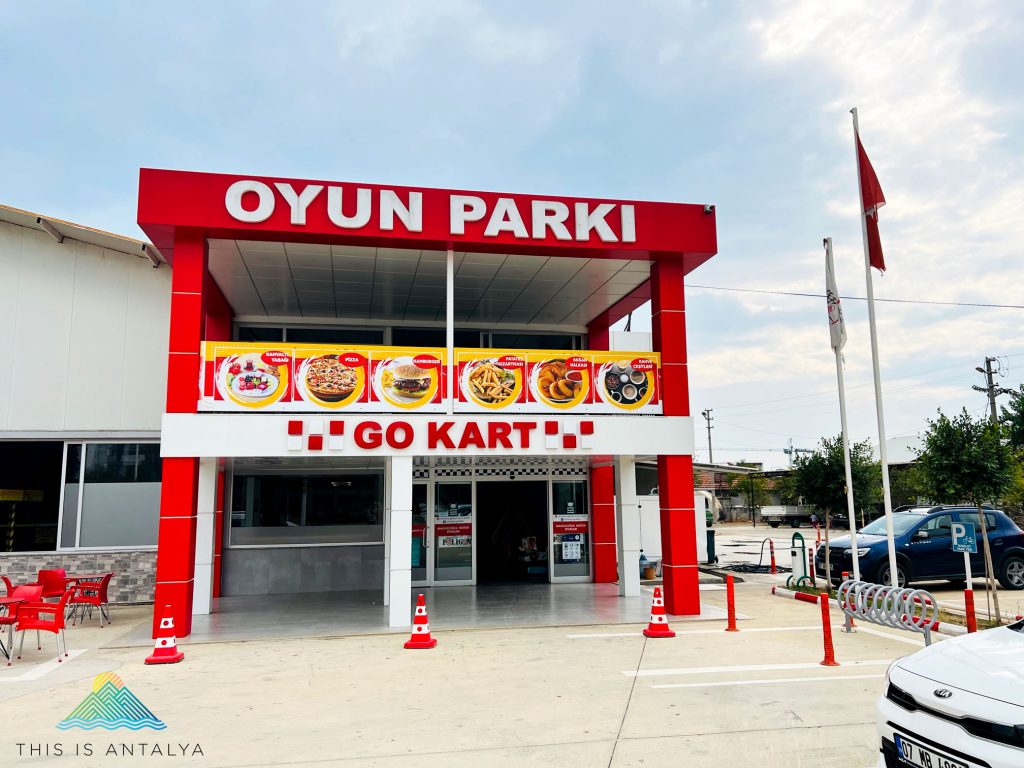 Speeding around a go cart track is something every person must experience at least once in their lifetime, and Antalya Go Kart provides a pulse quickening opportunity to do just that. While it is not the cheapest entertainment option in town, it certainly provides a thrill! The indoor track at Antalya GoKart does not disappoint for families with older kids or adults seeking a rainy or hot day activity inside. Read on for more about our experience there, as well as some insider tips.
We have visited Antalya GoKart two times. Our first visit was on a rainy Saturday in October and our second visit was a cooler Sunday in February. Both times it has been somewhat crowded, but neither visit required a long wait.
At the cashier stand you choose between 10, 15, 20, 30 and 40 minute ride options. On our first visit our kids begged for 30 minutes of riding time. Because it was their first time and we weren't sure how things would go, we opted for 15 minutes.
After putting on hair nets and donning protective helmets, everyone was off all at the same time. We were grouped with some other riders and there ended up being 10 adult carts and 3 youth carts on the track all at the same time. What ensued was 15 minutes of speedy racing, accidental crashing and joyful laughing.
At the end of our time, everyone agreed that 15 minutes was more than enough time and maybe even a little too long for the adults. On our second visit, just the kids opted to go and 15 minutes was once again the perfect amount of time. Long enough to get the hang of what they were doing and let loose a little, but not long enough to get tired of what they were doing.
While our big kids were loving life on the track, our 7 year old daughter was exploring the kids' play area. Although there were most definitely boys her size that were allowed to race the go carts both times we went, she was not able to go because she had never been go-carting before. The cashier did say the second time we visited that if we came back on a weekday and it wasn't as crowded they would let her try one of the smaller carts. With so many people on the track besides just our family, it would be too dangerous for her because she would have to ride alone.
After watching the carts zoom around the second visit and seeing some people crash into the sides of the track and into each other, we definitely agreed it was safer for her not to participate. Even though it was a big disappointment for her, she ended up having fun playing in the park area for 30 minutes.
The facilities are clean and well kept, and the go cart track is long. It offers hairpin turns and plenty of opportunities for increasing speed on straight-aways. There are tires with bumper pads lining both sides of the track, making for a softer bump if you crash into them. We felt safe driving the go carts which seemed to be in good condition, though they do seem incredibly fast compared to some American go carts we have ridden.
Antalya GoKart would be a great place for a birthday party. With go carting, arcade games, and a cafe, it is our tween son's dream birthday location.
As mentioned above, children younger than 8 might not be allowed to participate on busy days. Parents can NOT ride in the cart with their children and all carts have only solo-drivers. On weekdays it might be possible for younger kids to drive the smaller carts, but don't expect that on weekends unless you have a large enough group with you to fill up each cart and watch out for your new driver.
For our family, 15 minutes was the perfect amount of time for our first two trips. We suspect that if we were to go more often our kids would want to drive longer. So, if you live in Antalya, space out your trips for maximum fun!
A clean restroom contains several stalls, but on our second trip one had no toilet paper. Always look before you go and always travel with tissues for these kind of occasions in Turkey.
Competitive drivers should pay attention to your go cart number and then look at the the monitor outside of the loading area after you finish your time. The screen shows each cart and ranks each driver from fastest to slowest, as well as shows your fastest lap.
Parents will smaller children will be grateful for a clean place for the kids to play, but the play area is not worth a trip to Antalya Go Kart all by itself. For 50TL they get 30 minutes of play. Or for 80TL they get 1 hour.
The cost of riding per person in February 2023 was as follows:  10 minutes for 70TL, 15 minutes for 100TL, 20 minutes for 140TL, 30 minutes for 200TL, or 40 minutes for 270TL. Prices are always subject to change, so call in advance to confirm.
For expats who live here in Antalya, the prices might seem a little steep, but our family visiting from the United States was shocked at how inexpensive it was. That led us to believe it is a great option for out-of-country guests on a cold, hot, or rainy day.
The fast carts definitely provided a thrilling ride, so we agree with the management that busy days are probably not the best for beginners to try go-carting for the first time.
For more things to do with family in Antalya, check out our post on Fun Things with Kids in Antalya
Antalya GoKart is located in Aksu off the road that runs down the east side of the Antalya airport. About 30 minutes from Mark Antalya Shopping Center by car, or around 55 minutes by bus, it is not hard to find. Using the Antalya Kart bus app, you should be able to make your way to Yörükoğlu Caddesi stop 3.
Address: Altıntaş, Yörükoğlu Cd. No:15, 07112 Aksu/Antalya
Phone: +90 0242 340 09 43
Instagram: https://www.instagram.com/antalya.gokart.oyun.parki/?hl=en
Hours: Everyday 10:00am – 1:00am