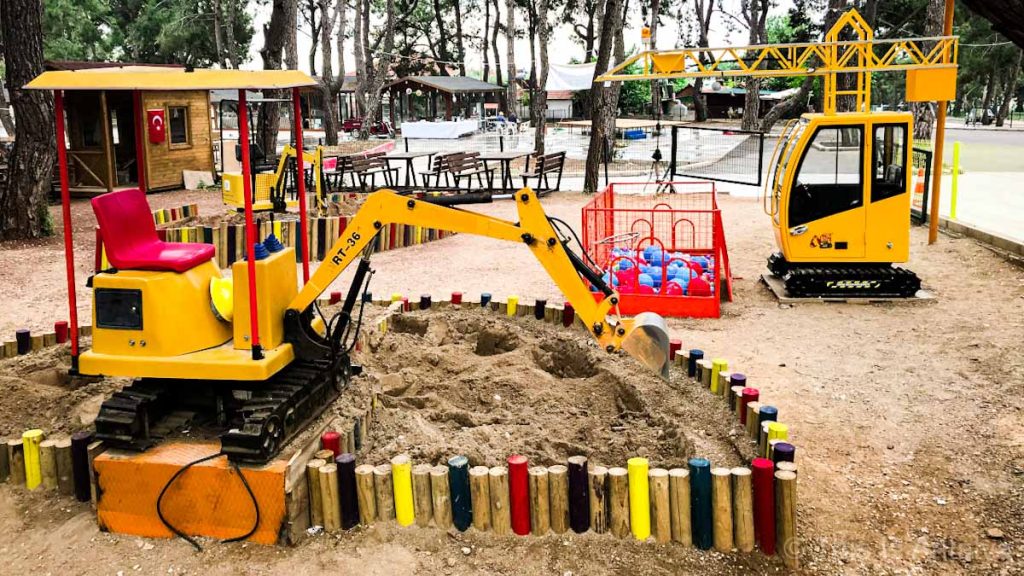 Are you planning a trip to Antalya and looking for fun things to do with your kids? Thankfully, Antalya is full of exciting activities for all, but some places offer less stressful options for those with kids. To help you plan, here are some of our favorite tried and true places and activities that will be certifiably fun and kid friendly. Click on the individual links to read more information about each one. Be sure to check back. This list is always expanding as we explore and discover more.
Konyaaltı Beach and Promenade– Newly built in 2018, the boardwalk along the beach on the Konyaaltı side of the city has much to offer young and old. Plan on spending several hours with your kids enjoying the seaside promenade. (For information about beaches, check out our beach post.)
Land of Legends – If you have the time and money to spare, Land of Legends is a high-quality amusement park 30-45 minutes east of city center with thrill rides, games, and entertainment. Plan on an entire day of fun with your kids at this exciting Adventure Park during the winter and/or the Water Park during the summer.
Aktur Park – Not quite on the scale of Land of Legends, Aktur Park is a cheaper and a la carte (pay as you ride) amusement park option for families right across from 5M Mall in Konyaaltı. Also the location of the Heart of Antalya, there are thrill rides for every age group here. 
Park Orman/Park Funtastic – Head up to the trees for a zipline, ropes course, "mountain coaster," go-carts, a lion safari experience, and other assorted amusement rides that are pay as you go. There is something adventurous to be found by every age group here and you could easily spend an entire morning or afternoon.
Tunektepe Teleferik – Want to get a birds-eye view and enjoy a snack while overlooking the city? Be sure to check out the 10 minute ride up the Tunektepe Teleferik on the western edge of the city. The ride is quick and there is plenty of room for kids to run around at the top.
Hayat Parkı – This newer park in Konyaaltı offers tons of green space, a couple of cafes, paths to bike or skate, and a couple different playgrounds. It is the perfect location for a picnic.
Boğaçayı Parkı – Grab a picnic basket, a blanket, and a frisbee for an afternoon at one of the city's nicest parks. Playgrounds for the kids, a basketball court, a soccer field, fishing decks, and plenty of green space skirt the Boğçayı River just south of Atatürk Caddesi in Konyaaltı.
Expo Park – Back in 2016 Antalya hosted the World Botanical Expo and many people came together to masterfully design a beautiful park that covered 112 hectares of space and saw millions of visitors during the six months of the fair. Though it feels a little post-apocalyptic in some places as you stroll around and explore the largely abandoned exhibits and buildings, the children's park is incredible and well-preserved. You could easily spend half a day walking around the paved park with remnants of gloriously arranged flower sculpture masterpieces and artwork all around. Bring a picnic blanket, some food and drinks, and enjoy the park mostly by yourselves.
Outdoor Fun For Ages 5 and Up
Antalya Zoo/Hayvanat Bahçesi – If the weather isn't too hot and you feel like walking while enjoying creation, the zoo is the place for you. Because it is hilly and without shade, it might be a lot of work to push a stroller/buggy/pram around. The cost is minimal but the animals are surprisingly plentiful.
Sandland/Antalya Sand Sculpture Museum – Take your school-age kids to a place full of giant sand sculptures of every kind and teach them to appreciate art and man's creative abilities. Located in Güzeloba Mahallesi on the east side of town, the Sand Sculpture Museum is a fascinating way to spend an hour or two.
Perge – If you have a few hours and want to get some energy out while exploring well-restored ancient ruins, Perge is a perfect place to spend a morning or late afternoon. Expect colonnaded streets, a large stadium, and enough rocks and walls to keep young kids busy.
Aspendos – Another of our favorite ancient sites to spend a few hours exploring is Aspendos. Rest in awe in the majestic theatre pondering the kinds of entertainment that happened thousands of years ago as spectators sat in your very spot. Wear yourself and your kids out allowing them to adventure on the rugged acropolis hill up above the theatre. Aspendos is a site we have visited multiple times and it has not become boring because of the unobstructed exploration and adventure it allows our kids' healthy imaginations.
Phaselis – A little drive from Antalya's city center, Phaselis is the perfect ancient city for people with young kids. With shaded paths, a mostly level terrain, and multiple beaches to enjoy after roaming, Phaselis is a delight for all.
Termessos – About a half hour north of city center is the majestic ancient ruin of Termessos. Literally nested on top a mountain, getting to the ruins involves a partially-shaded uphill hike that leads to a feast for the imagination as you roam and explore what was one of the only cities Alexander the Great could not conquer.
Köprülü Kanyon – If you are craving nature, outdoor adventure, and a way to cool off in the heat of summer, white water rafting in this majestically beautiful canyon is a great way to spend the day. Located north of Manavgat, it is quite a ways out of town. But, this exhilarating ride is worth the time and distance to get there!
Lycian Way – If you are a hiking family, what better place to go for an adventure than on the Lycian Way? There are sections of the trail that are okay with kids, but be sure to do some reading about it first.
Agora Tema Park – Need a place to take your whole crew on a cold, hot, or rainy day? Be prepared to spend some money upfront on a reloadable card that gets swiped at every arcade or carnival game, thrill ride, and play area. Our kids LOVE this place and could stay all day.
Antalya Aquarium – For a multi-park adventure, check out the Antalya Aquarium which boasts the world's longest tunnel aquarium, along with the Snow World and Ice Museum, multi-dimensional cinema, and a WildPark featuring reptiles. Admission isn't cheap, but you could easily spend an entire day here.
Dokuma Park – While this former textile factory complex features a big outdoor park, the real fun lies in the plethora of museums and libraries. Our kid-friendly favorites are the Anatolian Toy Museum, the Science Center, and the Car Museum.
Indoor Fun for Ages 5 and Up
Upside Down House/Ters Ev – If you are looking for a break from the heat or cold and an unusual family activity, the Upside Down House is the perfect place to spend 1-2 hours taking "upside down" shots to post on your favorite social media site
The Heart of Antalya – Another fun way to see the city from on high, the Heart of Antalya is located across from the 5M Migros Mall. An easy add-on to an afternoon of fun, the air-conditioned and smooth ride offers spectacular views of the mountains and the sea. And, even better, children under 10 are free!
Indoor Fun for Ages 10 and Up
Antalya Gokart – If you are looking for a thrilling indoor activity to do with your older kids, Antalya GoKart won't disappoint. You can choose from 10 to 30 minutes of racing at a pretty high speed around a decent-sized track. Our older kids love going here and have discovered that 15 minutes is about the perfect amount of time to race.
Selfie Park – Touted as the biggest in Europe (even though Antalya is technically in Asia), Selfie Park is a quirky destination for families with tweens and teens. If you and your kids love to pose for Instagram-worthy photos, plan on spending an hour or two at this unique "museum".