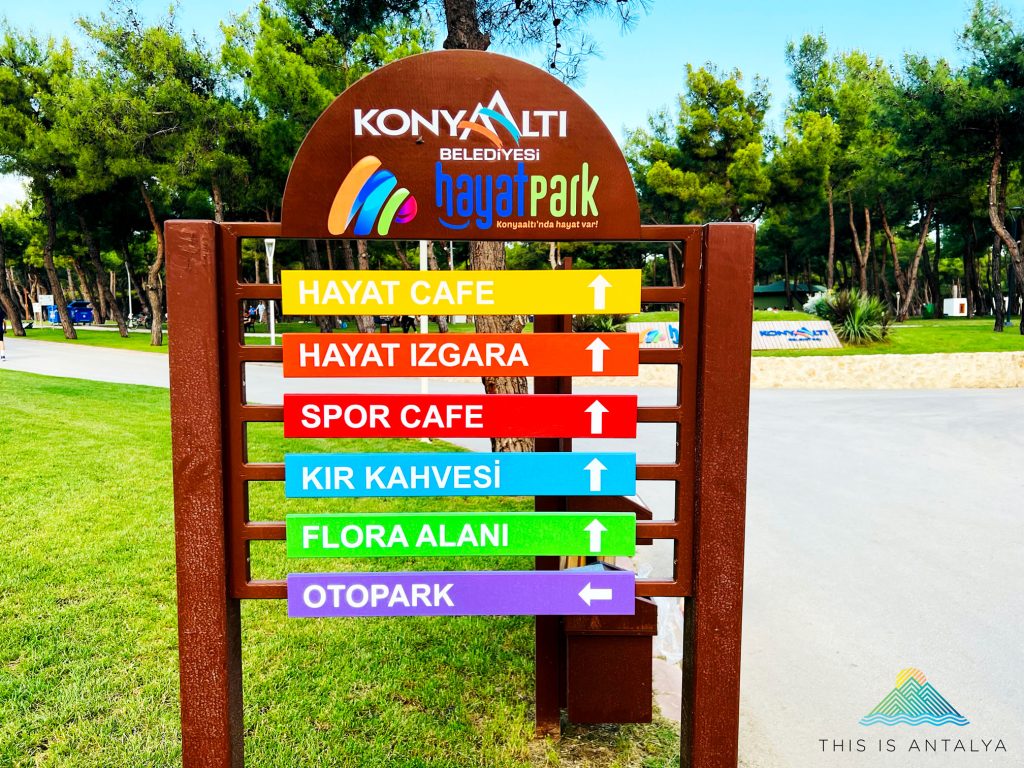 Parks abound in Antalya, and we love this about our city. One of the newest additions to green space in Konyaaltı is Hayat Park in Öğretmenevleri Mahallesi. Formerly an overgrown and unkempt park by a different name, the city has done a tremendous job renovating and updating this area. It is now a lush, green space with over 117 decares (28 acres) of manicured and landscaped picnic areas, pathways, playgrounds, and cafes just waiting to be enjoyed.
We visited Hayat Park on a Sunday evening in June, probably the busiest time possible, and there was still space galore to stretch out and relax in this tranquil garden-like park. Kids were playing everywhere. People were riding scooters and in-line skates on the pathways. Families surrounding picnic tables were savoring the cool evening temperatures. We saw two separate playgrounds, as well as two cafes that were filled with people eating outside. The cafe hours might differ from the rest of the park. For times and reservations, please call.
The highlight for us, however, was the walkway of herbs and useful bushes. On this path in the middle of the park, we found thyme, aloe, rosemary, dill, mint, and many more beautiful and fragrant plants.  This is something we have not seen here before, so it was a, at times, sweet-smelling discovery.
There are also tennis courts that you can rent by the hour. For current prices and reservations, please call.
If you happen to be in Konyaaltı and want a lovely place to picnic or let your children run around and play, Hayat Park is the perfect destination. On weekdays, it would also be an ideal spot for a book club meeting in the evening or a yoga/pilates session with friends in the morning.
Hayat Park is located north of Atatürk Boulevard in Öğretmenevleri Mahallesi. If you are taking public transportation, from Mark Antalya you can hop on KC-33 toward Gursu and get off on the south side of the park. From Ismet Göksen Caddesi in Lara, you can take KC-34 toward Gursu and get off on the south side of the park.
Address: Öğretmenevleri, 957. Sk. No:4, 07100 Konyaaltı/Antalya, Turkey
Telephone: +90 242 245 5597
Hours: 7:00am – 12:00am