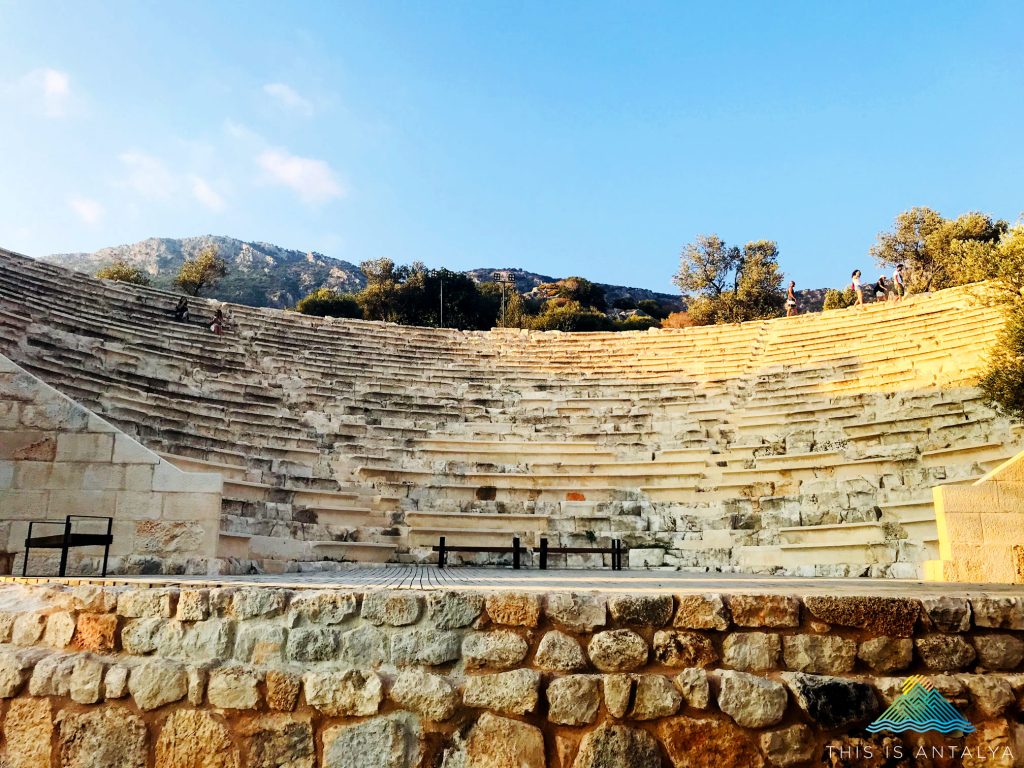 Antalya boasts an abundance of awe-inspiring ruins that feature magnificent theatres. If you are in Kaş for a day or two, be sure to put an evening visit to Antiphellos Ancient Theatre on your list of things to do. For the creatives among us, it feels magical to sit in one of these ancient wonders and imagine the performances those weathered stone seats beheld in days past. The glory of the intact Aspendos theatre, the restored impressiveness of the Patara theatre, and the splendor of the mountain view in the Termessos theatre leave our expectations high here in Antalya. In comparison, the size and scope of Antiphellos Theatre is not worth a special stop. But the view of the sea and the Greek island of Meis, as well as the opportunity to watch the sunset from the top rows make it a romantic and Instagram-worthy addition to your Kaş itinerary.
Antiphellos (now known as Kaş) was a part of the Lycian League and had the honor of holding one vote in the 2nd century BC.  It was originally inhabited as the harbor of the ancient city of Phellos, which loosely translates as "land of rocks".  Antiphellos, which means "land without rocks," eventually grew wealthy from trading cedar trees and cut off ties with Phellos.
Remains of Antiphellos are scattered throughout Kaş, but the theatre is the best and most preserved site. According to signs, this ancient theatre was built from local limestone in first century B.C. In its prime, the theatre boasted between 3-4,000 spectator seats. Nowadays, 26 rows have been carefully restored using the same local stones and the theatre is used for events on occasion.
Only a 5-10 minute walk from the center of Kaş toward the peninsula, the theatre is easy to find. GPS works well to guide your walk.
Don't expect huge crowds, especially during the day.
To best enjoy the sunset, pack a small picnic dinner and get there about an hour early. Head up to the top row facing west so you can get a good spot. Then enjoy a romantic (or not if you have kids) dinner with an exceptional view.
Please take your garbage with you when you are done, and if you feel like being helpful, pick up some of the trash you see along the way.