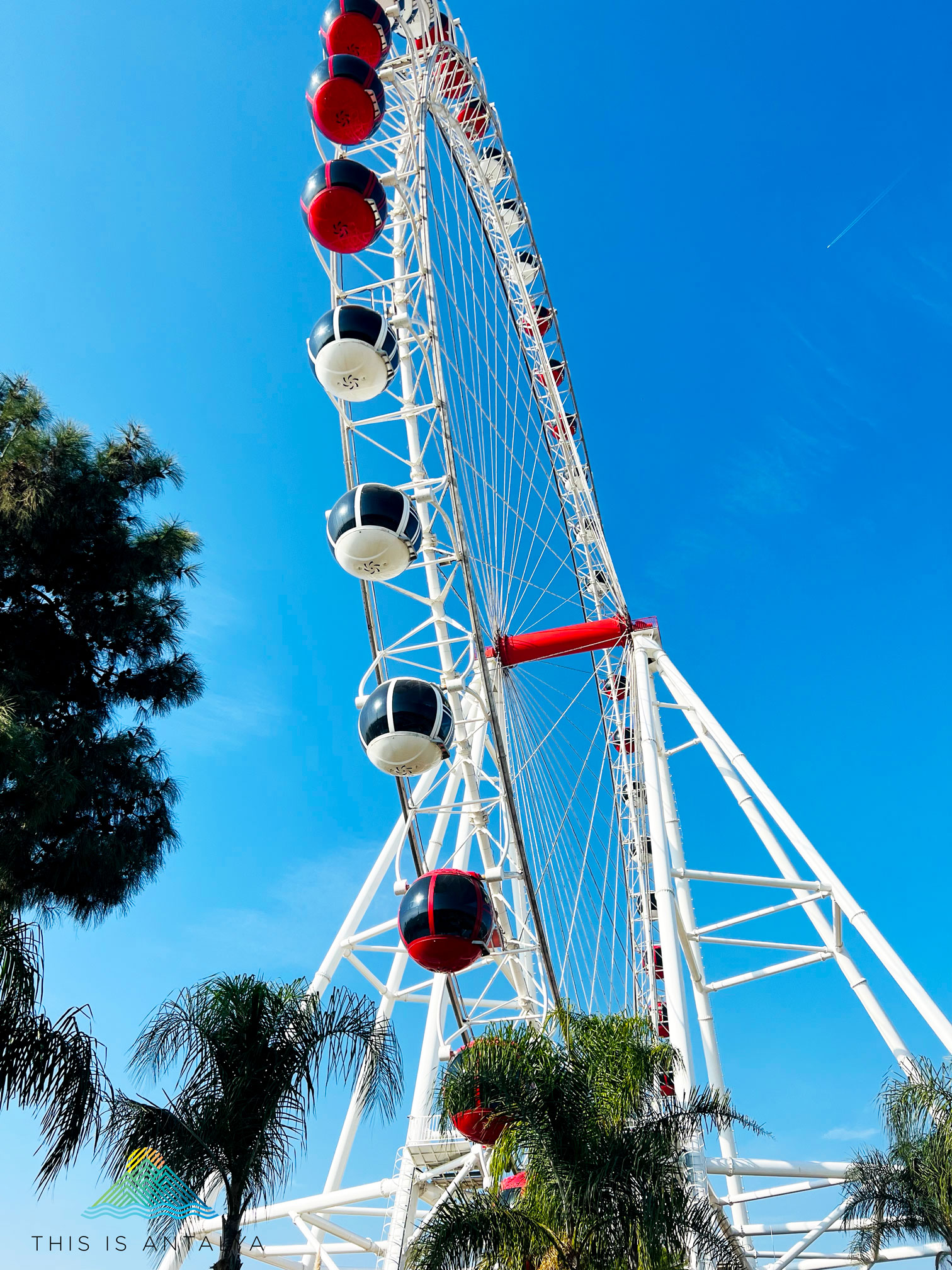 Billed as Europe's second tallest and Turkey's tallest, this 90m tall enclosed Ferris wheel is one of the newer additions to the Antalya skyline. The Heart of Antalya opened in August of 2019 and provides a smooth and air-conditioned opportunity to view the incredible Taurus Mountains as they collide with the Mediterranean Sea.  Look the opposite direction for an unobscured view of the city center.  Because the attraction is incorporated with the Aktur Park amusement park, you could also tack on an afternoon or evening of amusement rides for all ages.  The wheel is lit up each evening with an extensive lighting rig producing a beautiful, constantly changing display. 
Our visit happened to be in the middle of the week on a fall day and there was only one other family on the entire ride. This meant just two of us had an entire car all to ourselves. It was a beautiful, sunny day that allowed for decent views despite the haze. The sun beating into the car was a little hot, but we know from former experience that in the heat of summer the air conditioning works a little better.
Unfortunately, the material used for the windows seemed a bit scratched or smudged making it a little challenging to get completely clear pictures.  If you visit for the views and the opportunity to enjoy a smooth ride, then you will be very pleased. 
Situated near the local aquarium, the famed Konyaaltı Beach as well as a popular shopping mall, the Heart of Antalya is an easy and enjoyable add-on to your time in this part of the city.  (See our post about 1-3 days itineraries in Konyaaltı.) When your ride finishes, there is a cafe located directly underneath the wheel for refreshments.  The Heart of Antalya opens in the afternoons from 2PM and closes at approximately 1AM in conjunction with the amusement park. Always verify before you go as times quickly change depending on the day and season. 
Address: Pınarbaşı Mah.  Atatürk Bulvarı No: 12 (across from the 5M Migros Mall) , Konyaaltı/Antalya
Tel: 0 242  229 1984
Entrance Fees (as of November 2022):
 *Required purchase of a reusable Aktur Park card 5 TL
4 VIP Cabins (4 Seats) 300 TL per person
38 Regular Cabins (10 Seats) 50 TL per person.
Website: (https://www.akturpark.com.tr)