Antalya is known for its turquoise waters and breath-taking views of the Mediterranean Sea. But even for the most hard core sun and wave worshippers, a break from the sea becomes necessary. Fortunately, if shopping is on your list of things to do while here, Antalya's malls provide abundant options. Even post-Covid, shopping centers remain a primary gathering place for Turks, and most malls are busy with people during all open hours. Expect to find the largest crowds on the weekends, and, in particular, on Sundays.
In this post we will give you an alphabetical order run-down of the biggest shopping centers in the city so you can decide where to spend your time and money. If you are in a hurry and don't want to read the whole post, just look for the quick highlights under each mall photo.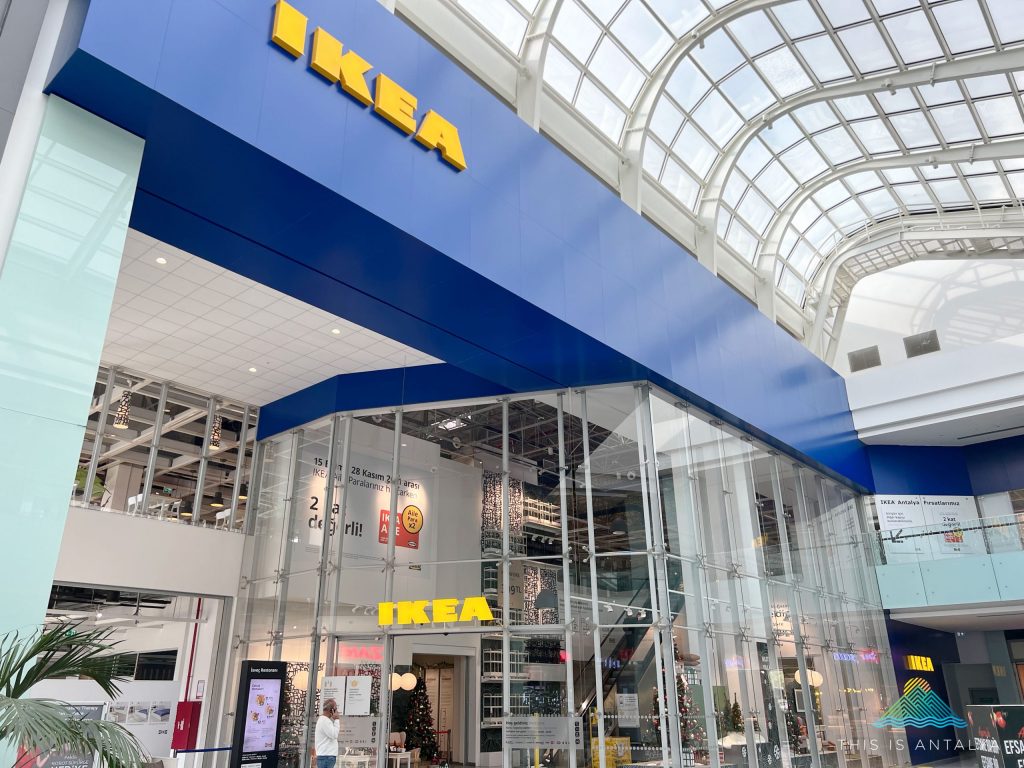 Quick highlights: small crowds, IKEA, theme park for adults & kids, bowling alley, movie theater, huge basement bazaar with Turkish souvenirs
If shopping at IKEA is on your list of things to do while in Antalya, be sure to visit the Agora Mall located across from the airport. You can easily get there by tram. One of the newest malls in Antalya and outside of city center, it was most certainly impacted by the pandemic. This is reflected in the number of empty storefronts and the never-full parking lot and garage. Even before Covid, the Agora seemed less crowded, so we have actually always preferred shopping there over other malls. It also hosts a movie theater, an incredible kids' theme park, and a bowling alley. This makes it worth a visit just for entertainment purposes. In the lovely outdoor atrium section between the IKEA side and the shopping center, you can find a couple of restaurants, cafes and a coffee shop.
The huge Agora Bazaar found in the basement level right outside the theme park is a nice place for Turkish gifts. If you are looking for souvenirs to take home with you, this is your one-stop shop. From Turkish tea and Turkish Delight to lamps and textiles, you can find just about every gift item you would ever desire.
Address: Altınova Sinan, Çağdaş Sk. No:5, 07170 Kepez/Antalya
Phone: +90 242 333 07 00
Hours: 10:00 – 22:00
Website: www.agoraantalyaavm.com
Theater: https://www.biletiva.com/place/ANTALYA_AGORA_SINEMALARI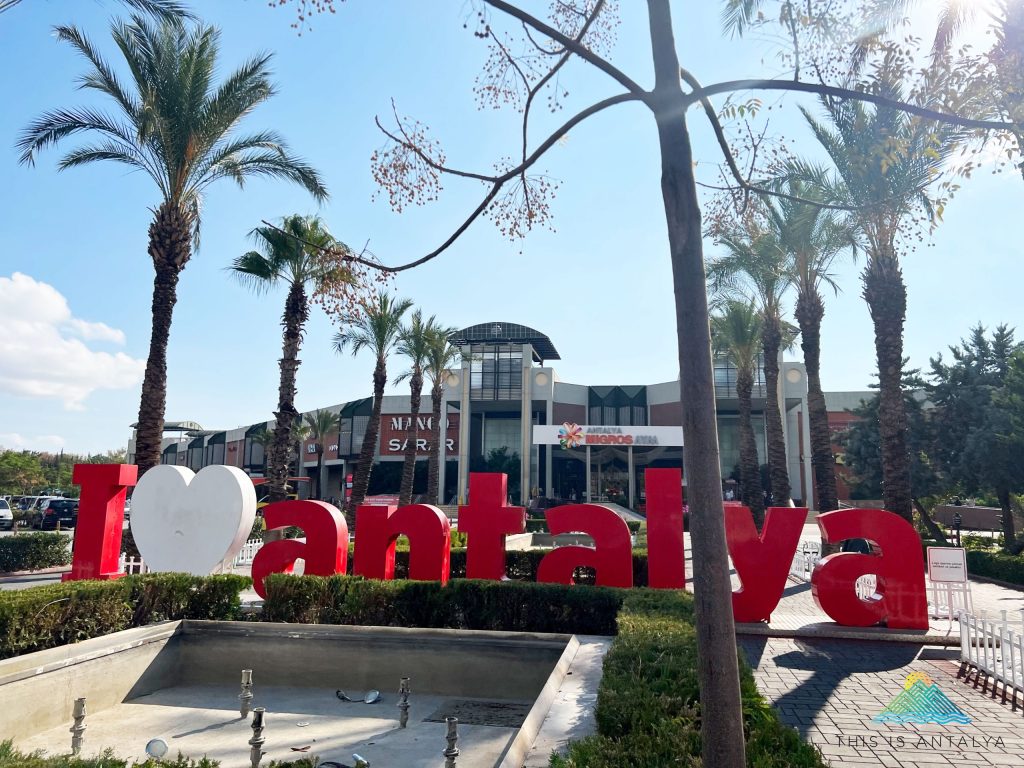 Quick highlights: usually busy, only mall in Konyaaltı, largest grocery store in Antalya, Bath & Body Works, 130 international & Turkish shops, food court, movie theater
If you are on the Konyaaltı side, this mall is easy to find and access by public transportation. Located right across the street from the Heart of Antalya and Aktur Park, 5M is easy to spot. It has decent parking lot space, but since it is the only mall on the Konyaaltı side, it can get crowded and be difficult to park on the weekends. With 130 stores and dozens of restaurants in the food court area, this mall is a popular place for tourists and Turks alike. Known as the 5M (Five M or Beş M) by locals because of the 5M Migros anchoring the mall, it contains the largest grocery store in the city. But what makes this mall really special to us westerners is the honor of being the only mall in Antalya with a Bath & Body Works. Other than that, most of the stores are similar to what you will find in the other big malls in Antalya. It also features a good-sized cinema.
Address: Arapsuyu, Atatürk Blv. No:3, 07030 Konyaaltı/Antalya, Turkey
Phone: +90 242 230 11 11
Hours: 10:00 – 22:00 (extended to 23:00 in summer season)
Website: www.antalyamigros.com
Movie theater: www.cinnemaximum.com.tr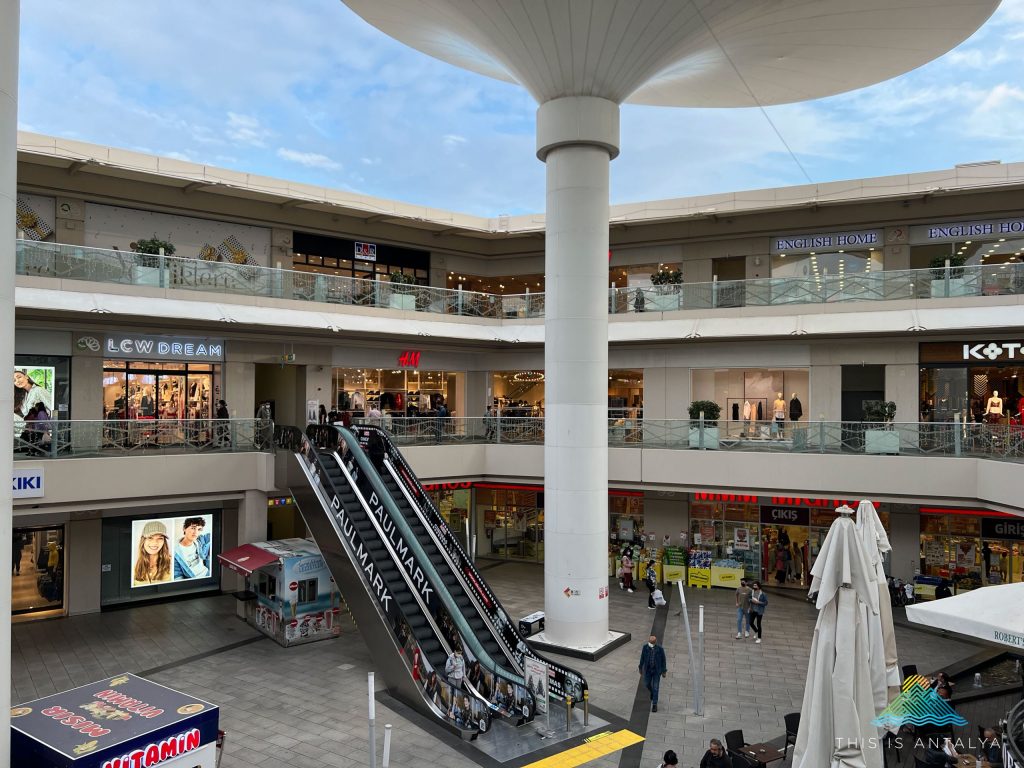 Quick highlights: outdoor mall, H&M, D&R bookstore, large LC Waikiki, large Decathlon, small food court, large Starbucks, MMM Migros
Antalya's only outdoor mall concept is a nice change of pace and features 55 shops on three levels. It is easy to get in and out if you just need to hit one or two shops, but keep in mind on rainy days or stifling hot summer days that you have to exit into the outdoors to go between stores. A Migros market can be found on the bottom level. The small food court is on the top level and now features a newly opened Korean fast food restaurant, but there are a few coffee shops scattered throughout, including a large Starbucks with ample indoor and outdoor seating.
Address: Dumlupınar Bulvarı No:49 Kepez/Antalya
Phone: +90 242 345 35 40
Hours: 10:00 – 22:00
Website: www.erastaantalya.com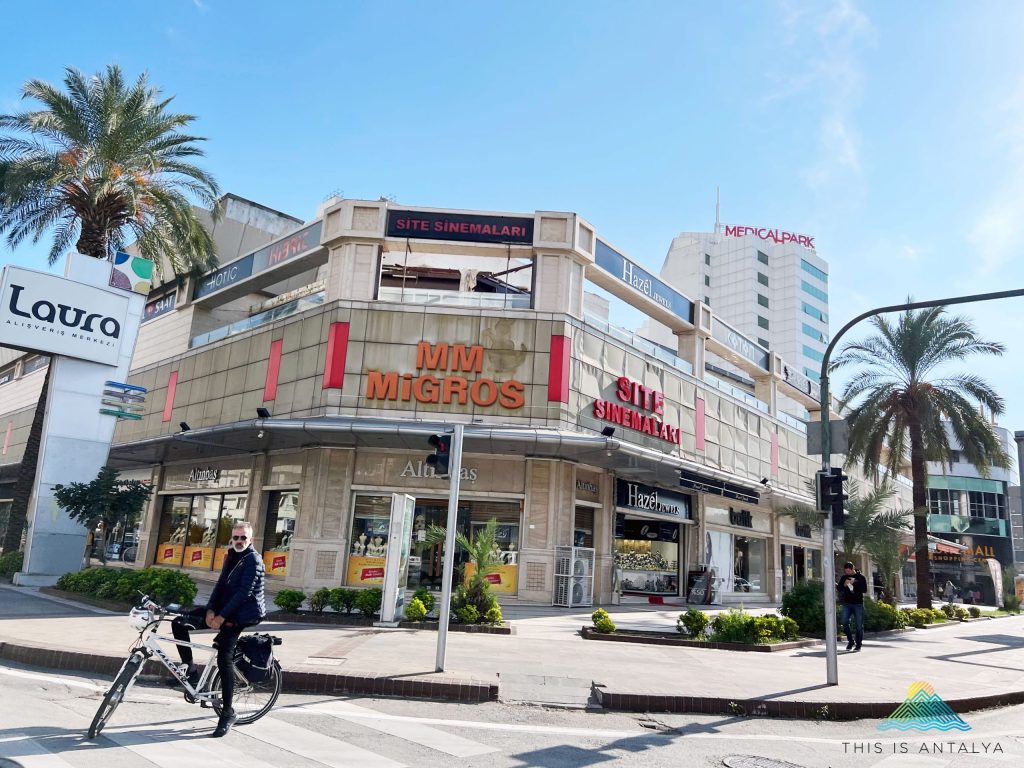 Quick highlights: smaller malls, less busy, movie theater in Laura Mall, Tchibo in Shemall
We are putting these two malls together because they are right next door to each other. On the Lara side of town somewhat close to Terra City, these two smaller malls are easily accessible by public transportation. With indoor and outdoor parking, 80 stores, 14 cafes and restaurants, and a movie theater, Laura Mall offers much more than Shemall, but not as much as the larger malls in town. We aren't sure Shemall can technically even be considered a "mall". If you have serious shopping to do, Shemall is not for you.  Host to less than 20 stores, there isn't much there. But it does have a Tchibo, an eclectic German store and coffee shop where you can find seasonal items, clothing, and other things you wouldn't normally see in Turkey. The Starbucks is a good place to meet friends and the food court has a couple of good cafes, but other than that Shemall doesn't have as much to offer as the other malls in the city…including the one right next door.
Laura Mall Address: Fener Mahallesi Bülent Ecevit Bulvarı No:2 Lara / Antalya
Shemall Address: Fener Mah. Tekelioğlu Caddesi No:3 Lara/Antalya
Laura Mall Phone: +90 242 323 66 29
Shemall Phone: +90 242 323 47 47
Hours: 10:00 – 22:00
Websites: www.laura.com.tr      www.shemall.com.tr/
Laura Mall Cinema: https://www.sitesinemalari.com/sinemalarimiz/laura-site-sinemalari-23
Mall of Antalya/Deepo Outlet Center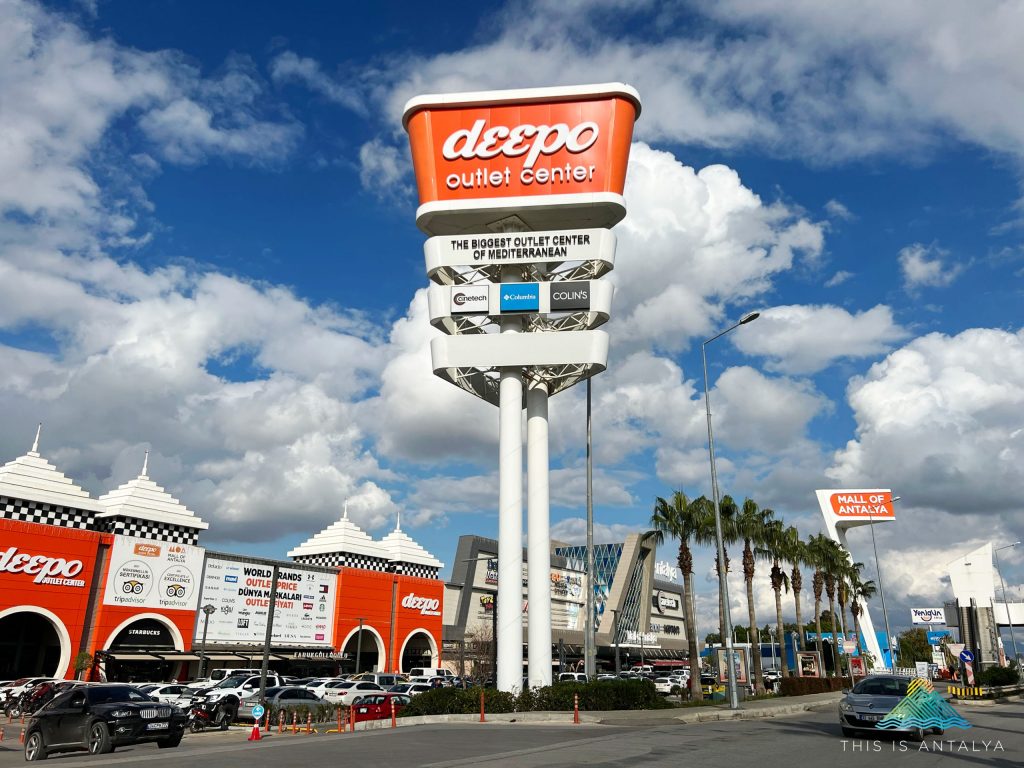 Quick highlights: largest connected shopping center in Mediterranean region, outlet stores in Deepo, variety of Turkish & international shops in Mall of Antalya, large food court, huge parking garage, 11 theater cinema, big kids' play space
If you are in the mood and have the time for two shopping centers in one, Mall of Antalya and Deepo Outlet are an excellent place to spend an afternoon. Mall of Antalya is a typical shopping center with most of the same Turkish and international shops as other malls. Deepo is an outlet mall of sorts. Connected in the middle, these two spaces claim to make the largest shopping center in the Mediterranean region. You can find just about any store you would like here, including a Migros Market in the bottom of Mall of Antalya. A good-sized food court, or multiple cafes and restaurants sprinkled about, provide plenty of food options. Found just past the Agora Mall and across from the airport, you can get there by bus or tram, or take your car and park in the 3,000 car parking garage. Mall of Antalya features the largest cinema in Antalya, with 11 theaters. It also offers an extensive indoor play area for kids where you can pay an hourly fee and leave them while you shop.
Address: Altinova Sinan Mahallesi, Serik Caddesi, Kepez/Antalya
Phone: +90 242 340 54 70
Hours: 10:00 – 22:00
Website: www.mallofantalya.com.tr / www.deepo.com.tr/.en
Theater: www.deepo.com.tr/TR/sinema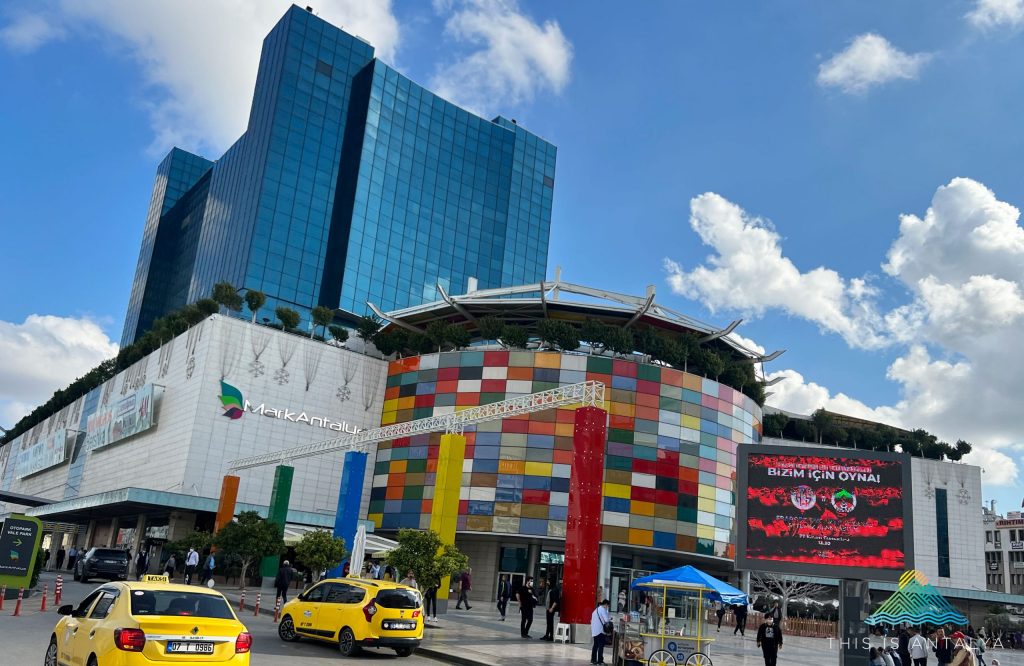 Quick highlights: central part of town, huge parking garage, international & Turkish shops, Migros market, movie theater
Located toward the central part of the city, close to Old Town, and convenient to many bus routes and the tram, Mark Antalya is a modern and clean mall with international and Turkish stores. With a ginormous 3,000 spot underground parking garage, you can easily find a place to park if you drive there. On the mall's multiple levels you will find 100s of stores and 30 plus cafes/restaurants spread throughout and in the food court area. It also hosts a Migros market and a movie theater.
Address: Tahılpazarı Mah. Kazım Özalp Caddesi (Şarampol) No:84. Muratpaşa / Antalya
Phone: +90 242 244 66 66
Hours: 10:00 – 22:00
Website: www.markantalya.com
Movie theater: www.cinnemaximum.com.tr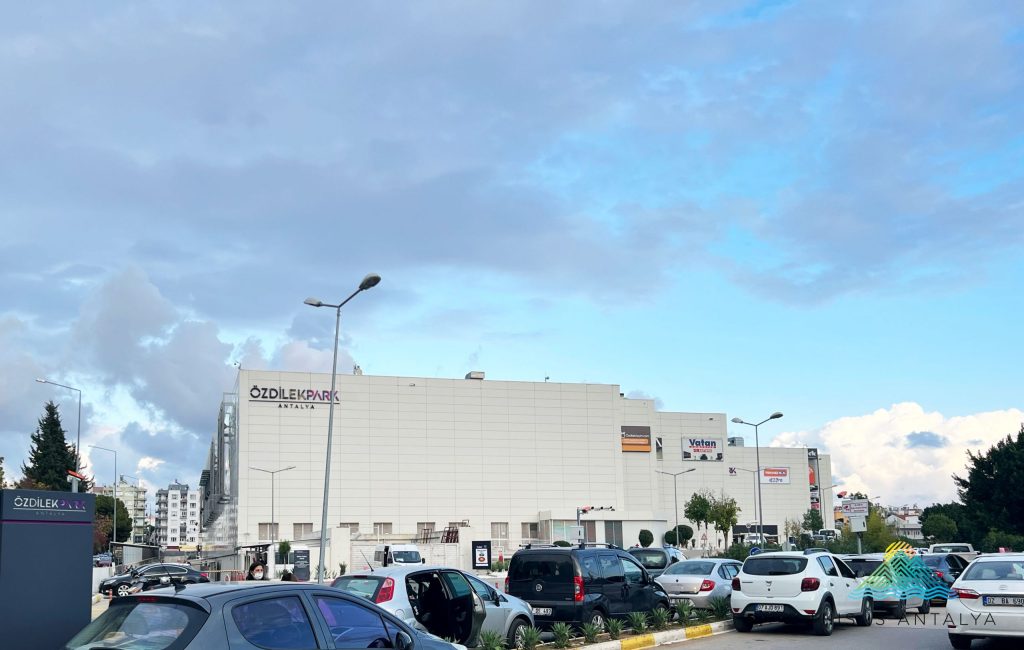 Quick highlights: smaller mall, good-sized food court, movie theater, Starbucks, bowling alley, Özdilek, Koçtaş
Özdilek Mall is one of the oldest shopping centers in Antalya. It is home to a little over 100 shops, a home improvement type store named Koçtaş, and Özdilek, the Turkish department store for which it is named. You can find a food court and some coffee shops, a movie theater, and a bowling alley. We like Özdilek Mall because it has everything you might want, including a large grocery store, LC Waikiki, Starbucks, and a D&R Bookstore, in a smaller area.
Address: Fabrikalar Mahallesi, Fikri Erten Caddesi, Kepez/Antalya
Phone: +90 242 334 33 99
Hours: 10:00 – 22:00
Website: www.ozdilekparkantalya.com.tr
Theater: www.ozdilekparkantalya.com.tr/tr/cinetime-antalya-sinema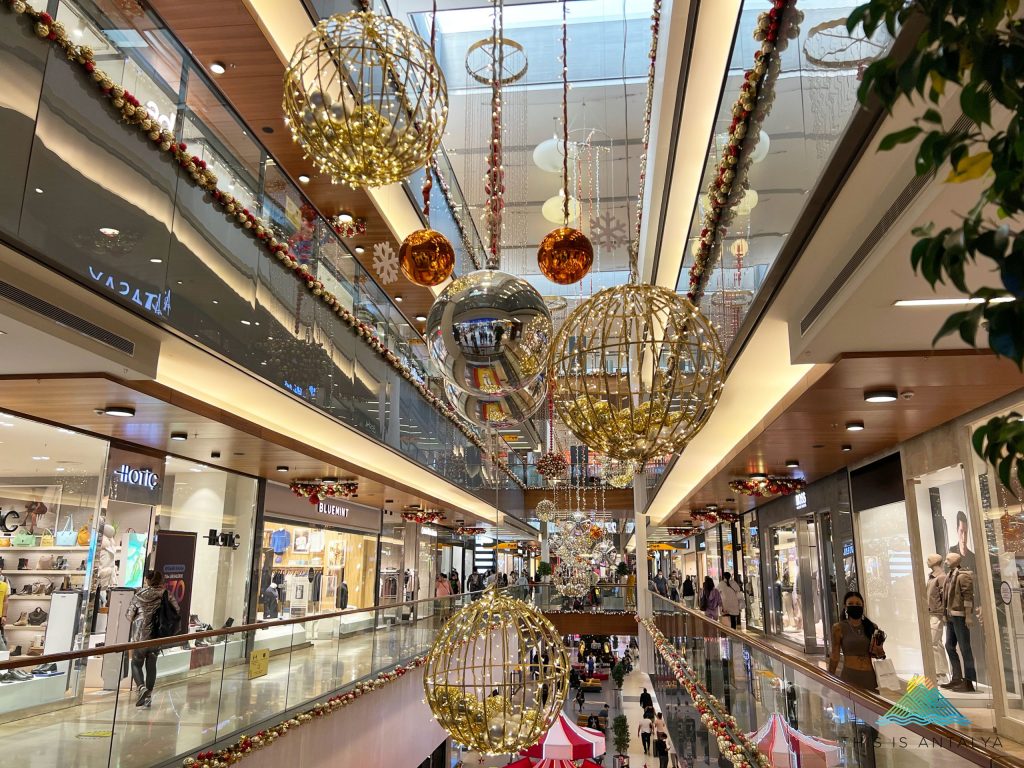 Quick highlights:  busy upscale mall, GAP, seasonal holiday market & decorations, large food court, theater, Macro Center
Located on the Lara side of town, Terra City is easy to access by public transportation. It offers 150 international and Turkish shops, including Antalya's only GAP. If you are hungry, there are a plethora of eating options in its 30 restaurants, found in the food court and additional cafes. You can catch a movie in its cinema or grab some groceries at our favorite market. Macro Center is located on the bottom floor and boasts multi-cultural ethnic foods you can't find in most other stores. During the holidays, Terra City has a beautiful light display inside and out, as well as a holiday market on the terrace level. From the end of November until the beginning of January it features European Christmas Market like booths selling gifts, a concert stage, an ice skating rink, and other holiday delights to put you in the festive spirit.
Address: Fener Mahallesi Tekelioğlu Caddesi Lara Muratpaşa/Antalya
Phone: +90 242 318 18 18
Hours: 10:00 – 22:00
Website: www.terracity.com.tr
Movie theater: www.sinemalar.com/sinemasalonu/2116/antalya-terracity-cinema-pink
Special for the Christmas/New Year Season
Quick highlights:  less-crowded upscale mall in Serik, GAP, Cold Stone Creamery, most other normal European and Turkish shops, incredible holiday shows & decorations with a musical gondola boat show, large food court.
Located about an hour and a half from city center, Land of Legends is more than just a theme park. It is also more than just shopping during the holidays. Go there for a genuine Christmas experience that is guaranteed to bring smiles to all faces. Whether it is the magical lights or the sparkling shows with Christmas music and dancing, if you miss Christmas extravaganzas from back home, this is a good place to find your Christmas cheer. Plus, you can splurge and get Cold Stone Creamery for a winter treat!
Address: Merkez, Atatürk Cd. No:104, 07500, 07500 Serik/Antalya
Phone: +90 021 336 57 00
Hours: 10:00 – 22:00