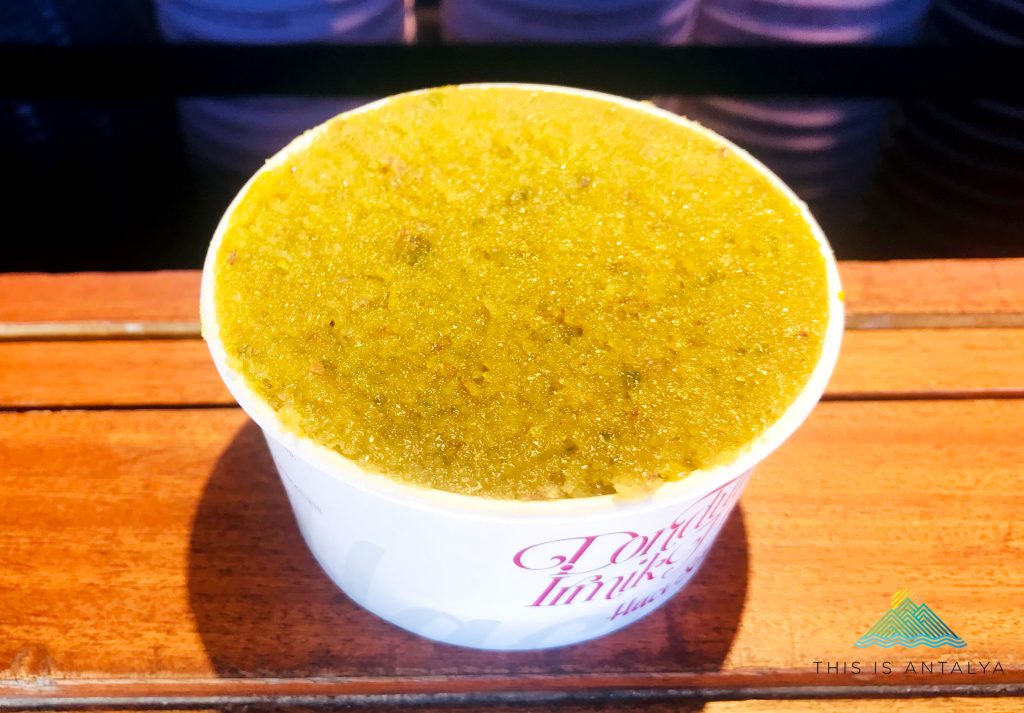 With December well under way, the weather is growing colder in Antalya. Colder weather makes us crave rich, indulgent foods and time to savor all of our favorite winter treats. A must-try dessert while you are in Antalya, in winter or summer, is the unique tasting irmik helvası. The verdict is mixed in our household on the deliciousness of this classic Ottoman dessert. But we think it is worth tasting to judge for yourself.
Around for centuries, this unique dessert is made with equal parts semolina and sugar and cooked with milk. Often served to guests after someone dies, it is also a beloved traditional Turkish dessert for any time. In the warm summer months, it comes adorned with ice cream. In the winter, it is best enjoyed with a glass of tea. If you don't have Turkish friends who can make some for you, you can purchase it at specialty dessert cafés all around Antalya. You can also find a recipe here to try at home.
The touristy area outside of Kaleiçi boasts too many irmik helvası options to count, especially north of Hadrian's Gate. Not sure where to start, we asked a local friend. He recommended his favorite to us. Hacı Şerif is located just outside of Kaleiçi and across the street from the Atatürk House & Museum on Işıklar Caddesi. This sweets shop offers other desserts besides irmik helvası, so there is something for everyone. But, based on our friend's recommendation, we sampled the plain irmik helvası, the chocolate, and the pistachio. Of course, we all had ice cream on top because it was hot outside. We were grateful for this creamy addition because it provided just the right contrast to the sugary dessert. But if you have a super sweet tooth, go for it without the ice cream.
If you are in the area and craving something different and sweet, be sure to give Hacı Şerif a try. We recommend the pistachio with ice cream.
Location: Haşimişcan, Atatürk Cd. No:1, 07100 Muratpaşa/Antalya, Turkey
Hours: Every day 09:00 – 23:00
Telephone: + 90 242 241 15 81
Website: https://www.haciserif.com/