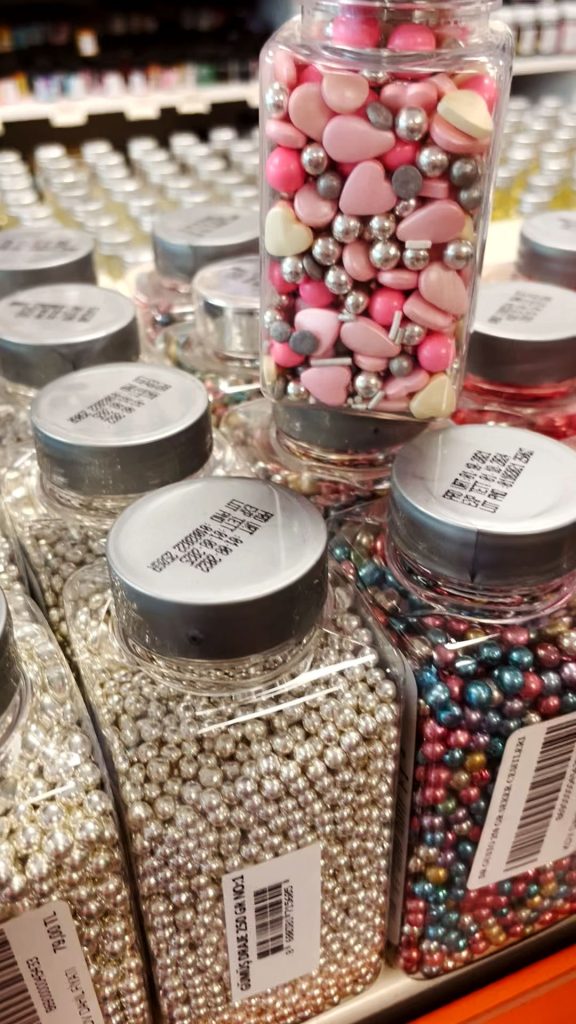 If cake baking and decorating is your thing, we have found the ultimate party store for you in Antalya. Parti Icin Her Şey is rightly named "everything for a party". Read on to learn why. 
For the serious party planner and cake decorator, this store is your party Mecca. The Parti Için Her Şey owners recognized a serious need for party decorations and confections in Antalya. So, they created a business brand that more than makes up for the former deficiency. 
Our favorite part of the store was the plethora of sprinkles in every kind and color imagine-able!  We've never seen so many incredible blends of sprinkles in Turkey before. But, try not to let the rows of beautiful sprinkles and hundreds of tubs of fondant distract you from finding cupcake liners, rose gold balloons, and mint flavoring! This is the store where you can find those little things for which you have been searching. 
For every conceivable type of party there are diverse themed plates and decorations. Lightning McQueen is there with most of his friends, like Elsa, Pepe and the Minions. Bridal Shower, First Tooth, and anniversary decor are also in stock.
The owners shared that one of the most difficult parts of running a party store is keeping track of trends and what people want. It's challenging to choose what to carry because every day new items and concepts come out. Who knew owning a party store was such an ever-changing business?
Either way, we are grateful to find a store like this in Antalya that allows amateur and professional bakers and party planners to accomplish their goals. The owners believe they are the best party store in all of Antalya, and it's hard to argue with them on that! If you are looking for cake decorations or party supplies, visit our friends at Parti Için Her Şey and let them know we sent you! 
This store is located close to Mark Antalya Mall and has plenty of street parking. If you are looking to take public transportation, use your AntalyaKart App to get to Mark Antalya and it is about a 10 minute walk from there. 
Address: Muratpaşa, Şair Adem Dede Cd. 7/A, 07010 Muratpaşa/Antalya, Turkey. 
Phone: 0533 154 4212
Hours: Monday-Saturday 8:30am-7pm