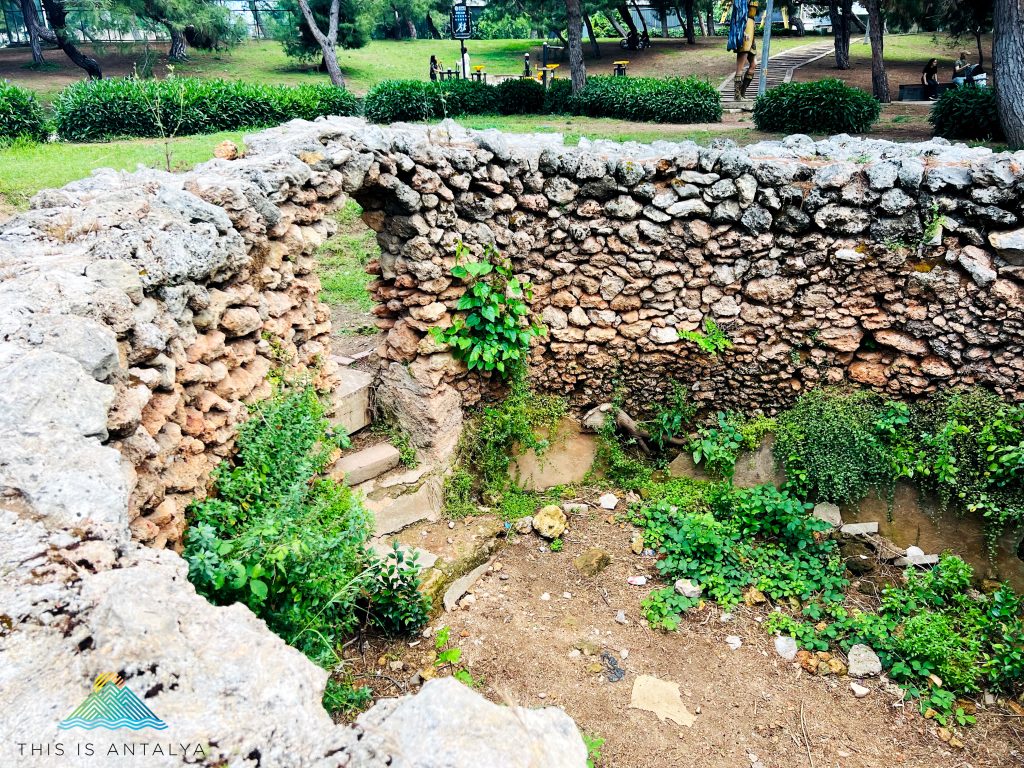 We are always on the lookout for quirky parks. With its pine-covered picnic areas, lone-standing remnants of what must be an Ottoman era cistern, and larger than life popular cartoon and Marvel character statues, Tek Sarnıç Kent Parkı meets this definition. Read on to discover if a picnic at Sole Cistern Park should be on your list of things to do.
As far as Turkish parks go, Tek Sarnıç Parkı is pretty typical. You will find picnic tables, meters of green space, exercise equipment, a walking/running path, basketball courts, and a playground. What makes this park unique is the collection of ginormous character statues toward the front of the park. Towering above everything and easily spotted from far away is the 8 meters or so tall Gulliver, made famous in Jonathan Swift's classic book, Gulliver's Travels.
Circling in front and behind Gulliver you find multiple easily recognizable make-believe heroes and cartoon favorites. To name just a few: Snow White. Kung Fu Panda. Iron Man. Minions. Spider Man. Alvin the Chipmunk. The Hulk. Young children will take great delight in seeing these giant statues and posing with them.
Besides the eclectic statues, there are a couple of cafes, a mosque and some rather dirty bathrooms. But our most favorite discovery was at the very front of the park: the Women's Cooperative Market featuring shops from five different entrepreneurial women who are using their passions and talents in different ways. We look forward to returning and learning more about these talented women and their business ventures.
This part of city center tends to be a bit more conservative than Konyaaltı or Lara. If you plan on going, please be respectful of the others who will be in the park and dress a little more conservatively if you don't want to be glared at while you are here. The people in this part of town are generally lovely, warm and hospitable if you give them a chance and respect their cultural values.
Tek Sarnıç Parkı is lovely and tree-covered throughout most of the park, except for the statue area. This makes it a perfect place to hang out on a sunny day.
Just like its name suggests, there is a cistern in the middle of the park, but the sides are raised and there is also a door on one side that you can enter. However, you should keep an eye on your littles if they like to climb.
The bathrooms are kind of grungy. Bring your own toilet paper and hand sanitizing wipes.
There is a decent amount of trash scattered throughout the park because of the amount of picnics that happen here. Please bring along garbage bags or sacks and take your trash with you when you leave.
Saturdays and especially Sundays are crazy crowded. If you want to picnic on a Sunday, get here early to reserve a good spot. If you want an authentic Turkish Sunday experience, this is a great place to see how Turkish families love to hang out and be together.
In recent history, locals generally used this park to picnic and barbecue on the weekends. Sometime in the last few months the city has put up signs saying grilling is prohibited. However, when we went recently on a national holiday there were still people grilling. If you want a nice, shaded park for a barbecue, grill here at your own risk if you are comfortable ignoring the signs.
Don't miss stopping in the Women's Cooperative Market. The ladies who run the shops are lovely and some of the friendliest people we have met in Turkey. Melike runs the cake and cookie bakery and she LOVES what she does. Melek hand produces local products like jellies, honey, molasses and gluten free flours. Stop by and say hi and tell them we sent you!
Tek Sarnıç Parkı is barely in Kepez not far from Erasta Mall and just north of D400 and Akdeniz University. Use the AntalyaKart App to navigate the public transportation options to get there.
Address: Şafak, 07220 Kepez/Antalya
Hours: All day every day