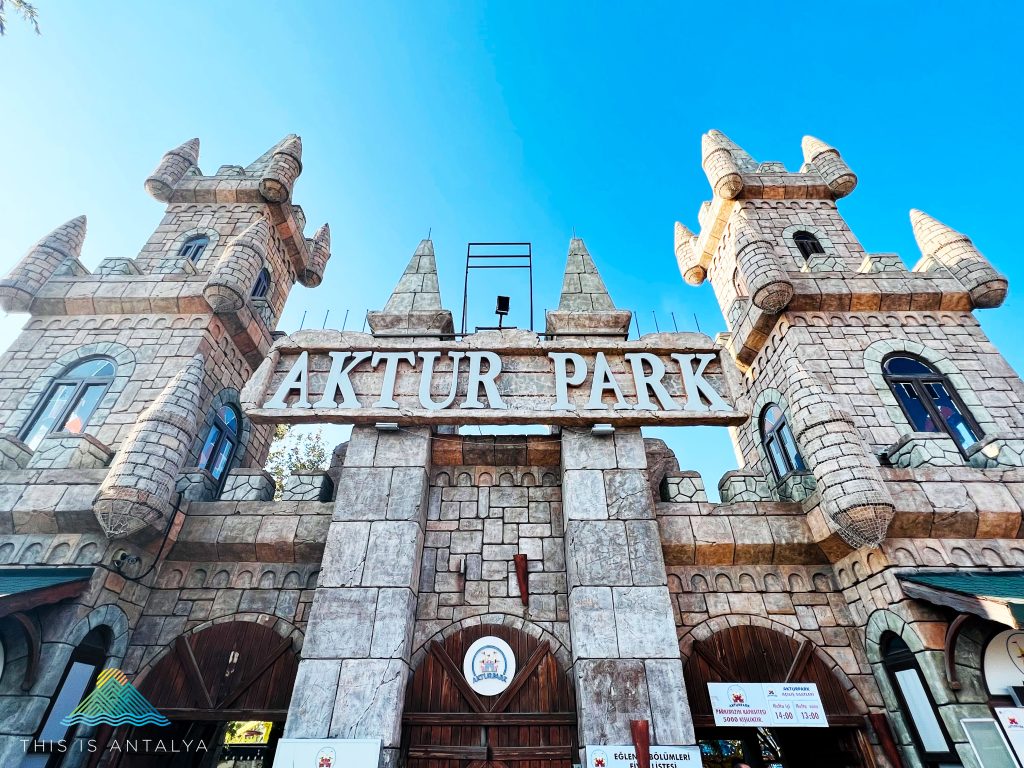 One of Antalya's newest and now most recognizable landmarks is the Heart of Antalya in Konyaaltı. If you happen to drive by this ginormous ferris wheel, you can't miss the colorful amusement park right next door. Jam-packed with something for everyone, thrill seekers of all ages will find fun at Aktur Park. Read on to see if this busy theme park should be on your Antalya itinerary.
Opened in 1997, over 40 theme park attractions and rides make up this "a la carte" amusement park. Instead of paying a single entrance fee to go on everything, you have to purchase a reloadable Aktur Park plastic credit card (see current price at the park). Each ride has a different fee, and there is a list of prices at the entrance to give you an idea of what the cost will be so you can load the right amount on your card.
From a train ride and carousel for toddlers to a haunted house and high-flying swings for older kids and adults, there are a variety of options. There is a go-cart track for adults, as well as a smaller track for young children. There is a trampoline park and a small roller coaster, as well as a dropping tower and bumper cars. For a complete list of the available attractions, check out the Aktur Park website.
Unlike the more permanent and polished look of The Land of Legends, Aktur Park feels like a traveling carnival… except it isn't traveling. If you have ever been to Prater in Vienna, Austria or to a state fair in the USA, Aktur Park has the same vibe. When we have visited, all of the rides have felt completely safe and our kids have thoroughly enjoyed each one.
It is a popular weekend and summer night destination for locals, so we have only gone on weekdays in the summer or evenings in the off-season. The downside of going when it isn't busy is the wait for employees to run the rides. So, either way, you will wait…either in a long line when it is busy, or for a missing ride attendant who is juggling more than one attraction.
We have been multiple times and we usually allow our kids to pick 2-3 rides each, depending on how much time we have or money we want to spend. This is not the kind of amusement park where you are going to spend all day, but if you have the time, money, and desire to do most of rides you could be there for 4-5 hours. Two hours is the most time we have ever stayed, and it has been a quick and fun afternoon activity with the kids.
You have to purchase a card at the entrance and load it to be able to ride any of the attractions. Don't forget to stop there first.
Check out the website for the names of all the rides so when you arrive at the park you already know which attractions you want to use. That way, you can quickly do the math and be ready to ask for the right amount to be put on your card when you get to the front of the ticket line.
Snacks are available inside the park, but none of the cafes are anything special. Plan on eating somewhere else before or after your visit, or enjoy some carnival snacks while you are there.
The Heart of Antalya is worth a trip to Aktur Park and we recommend this birds-eye view of Antalya in the later evening when it isn't so hot. Read our full post for more information.
If it is summertime, wear sunscreen and a hat as there are not a lot of shady places.
Just across Atatürk Caddesi from the 5M Migros Mall, Aktur Park is easy to find. Using the AntalyaKart app, you can find multiple buses from any part of town that will drop you off either right in front or across the street where you can cross the pedestrian bridge.
Address: Pınarbaşı, Atatürk Blv. No:4, 07070 Konyaaltı/Antalya
Phone:  0 242 229 1984
Website: https://akturpark.com.tr/
Hours: Monday – Friday, 2:00pm – 12:00am; Saturday – Sunday, 1:00pm – 12:00AM