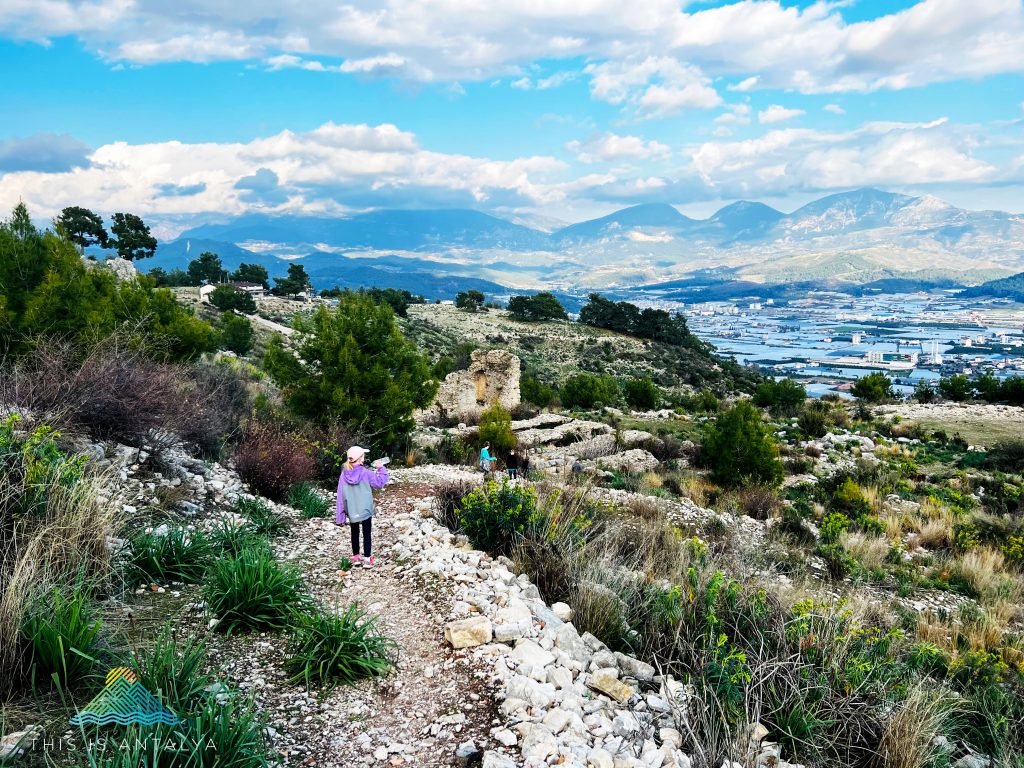 Frequented mostly by shepherds with goats and sheep, Ancient Rhodiapolis is an off the beaten path ruin with a sweeping view that provides unhampered exploration and opportunity to let your imagination roam. Read more to figure out if a visit to Rhodiapolis is for you.
Believed to have been founded by citizens of Rhodes in 8th century BC, Rhodiapolis was a smaller Lycian town with only one vote. Located on a sloped hill northwest of modern-day Kumluca, without any aqueducts city planners ingeniously used water cisterns to create terraces which could be built upon. This solved the water problem and provided flat surfaces upon which they could construct the city.
Rhodiapolis grew in size and notoriety during Roman times because of a wealthy philanthropist named Opramoas, one of its most famous citizens. Opramoas is the subject of the lengthiest inscription discovered in ancient Lycia and all of Anatolia, which was found on a monument in Rhodiapolis. This inscription details his benevolence and generosity, including his gifts of approximately 500,000 denarii to 28 cities in Lycia after an earthquake between 140 and 143 AD. He also funded the construction of two temples.
During Hellenistic and Roman times, Rhodiapolis was a religious center for the cult of Athena, but was later under Christian influence as a part of the Byzantine Empire. Its last mention in antiquity was in the 13th century.
Re-discovered in the 1800s by Austrian archaeologists, Rhodiapolis was first excavated by the Turkish Ministry of Culture and Tourism in 2006 after a fire the year before devastated the ruins.
Because of its small size, through the years structures were torn down and rebuilt on top, leaving little remains from Hellenistic or Lycian days other than ancient theatre seats. Rocks and leftovers of mostly Roman and Byzantine era buildings remain. Among these you will find 2nd century bath houses, cisterns, an agora, a temple of Asclepius – the Greek god of medicine, ancient tombs, a small amphitheatre, and churches.
You also can't miss the restored temple near the amphitheatre. It was finished in 2017 by an "inexperienced" project manager who allowed some stones to be placed backwards and used too much Italian marble instead of existing stones from the site. Perhaps one of the most controversial ruins in Antalya because of this criticized reconstruction, it is still a helpful visual of what this ancient temple might have looked like in its prime.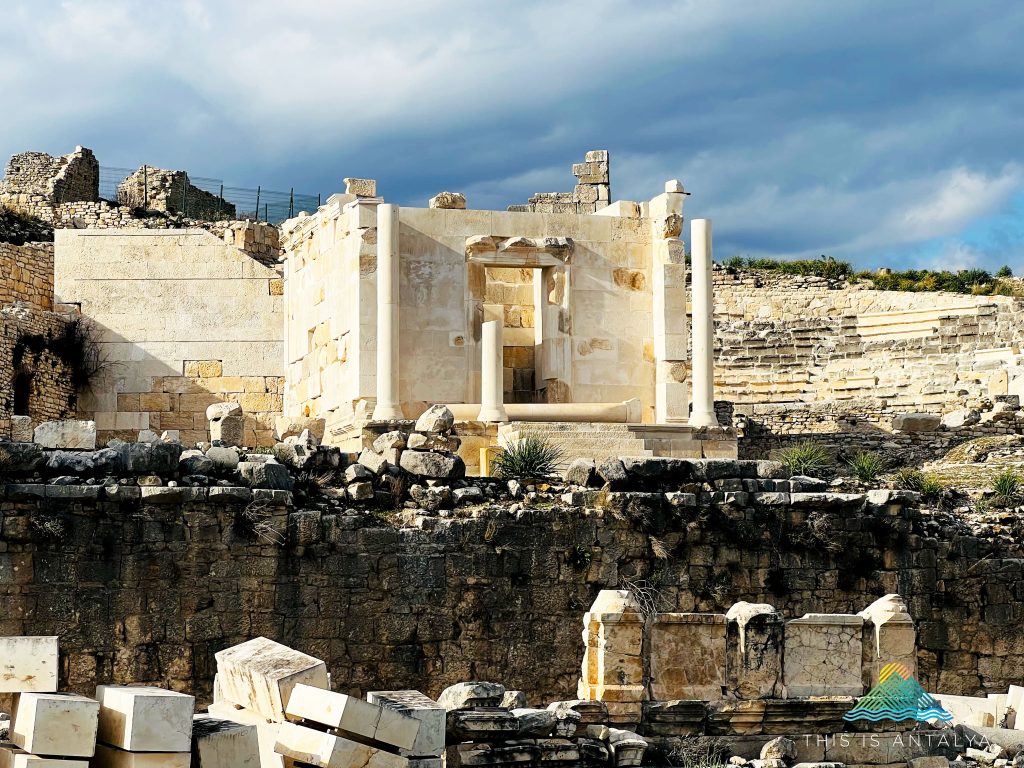 The view from Rhodiapolis is stunning and on a clear day you can look down over the city of Kumluca and out to the Mediterranean Sea. It is easy to understand why this spot was chosen to build a city.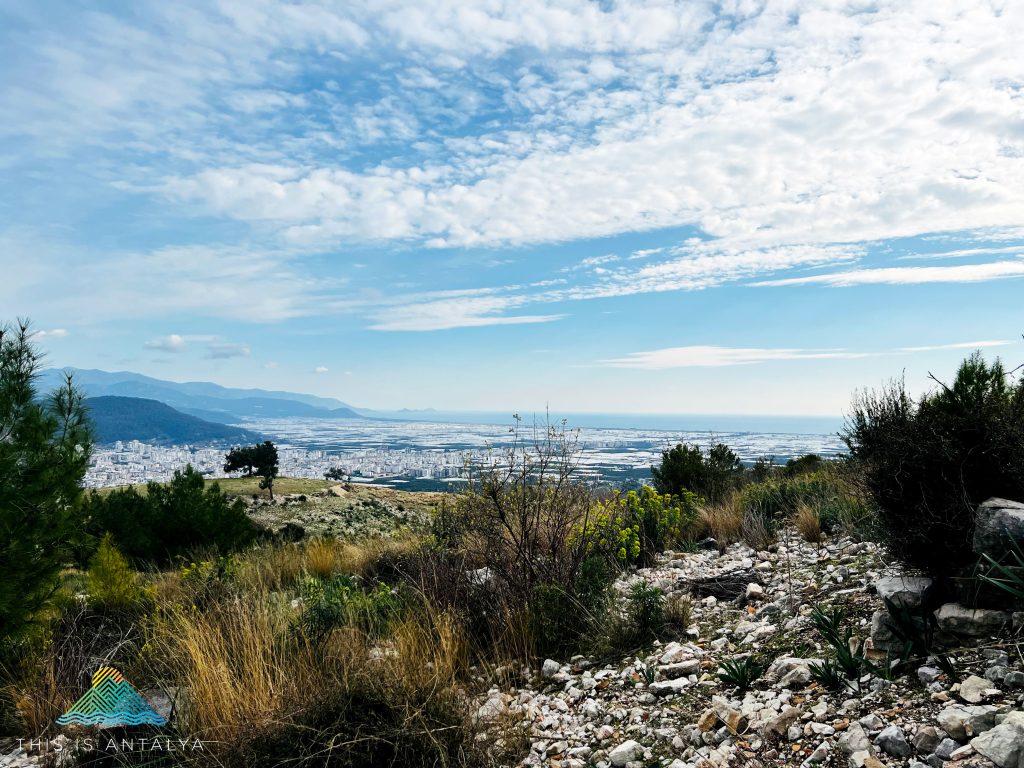 Rhodiapolis is easy to find with GPS. When we visited, the car entrance near the top was gated off and we had to park on the side of the road. From there we were a little uncertain which way to go because there was a road going straight and a wooden path going up to the left passing what looked like an unfinished visitor's center. We saw a few other people coming down that path, so we decided that was the way to go. Behind the building, the wooden path turned into a rock path and it was a good 10-minute walk up to the actual ruins.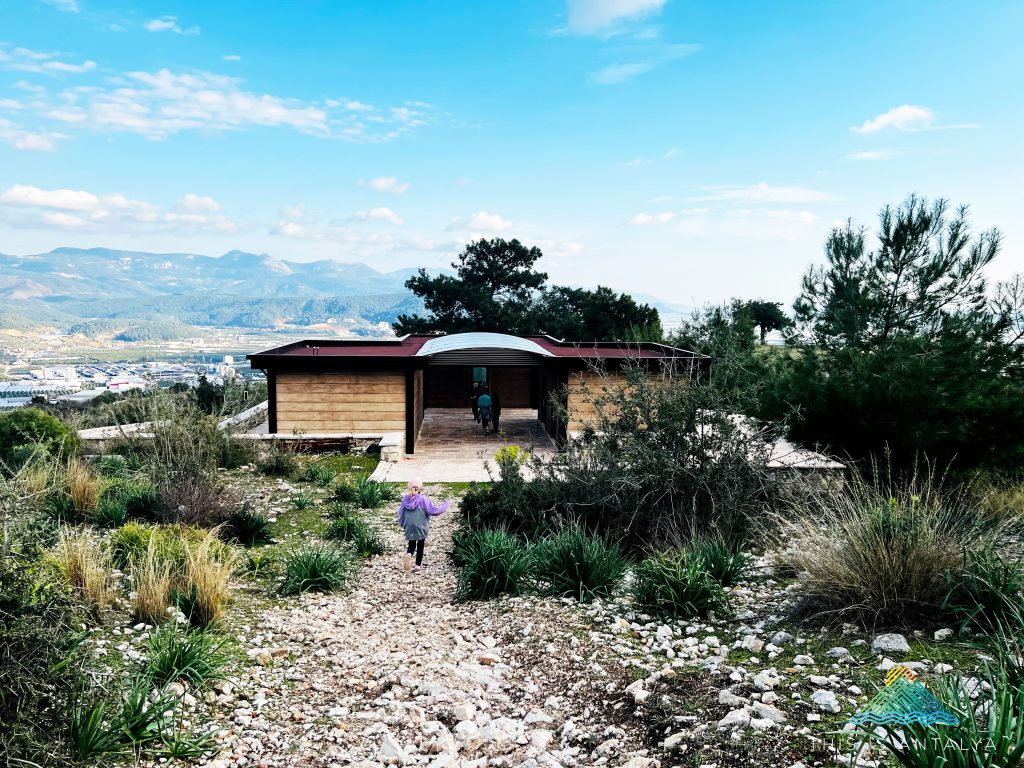 If the gate was open and you could drive up the road, it looks as if you can go to a parking lot up on the top side of the ruins and enter from there. Perhaps this is the case during higher tourism season.
The apparent visitor's center does have bathrooms, but they were closed. Perhaps during higher tourism season this area is opened. We aren't sure. So, just in case, bring some tissues for toilet paper if you need to go to the bathroom outside somewhere.
Even if the bathroom is open, you should still bring tissues and hand sanitizer with you. Toilet paper and soap are never guaranteed.
Plan on wearing good, sturdy shoes. It is a bit of a jaunt uphill on rocky ground to get to most of the ruins. This is not a stroller or wheelchair friendly place.
Young kids and teenagers who like to roam and explore will love Rhodiapolis. There are few dangers for experienced ruin visitors, other than a couple open cisterns and daunting theater steps. Instead, there are endless options to climb and conquer.
Toddlers and babies will probably have to be carried, so keep that in mind when making a decision about whether you should visit.
On hot summer days, it might be a little cooler since it is up from the coast, but there is zero shade cover other than tall ruins. Wear sunscreen and take water with you.
If you go with kids, stop at a gas station or store in Kumluca for snacks. There is not a snack shop on site, but there are plenty of rocks upon which you can sit and enjoy a picnic. Just make sure to take your trash with you when you leave.
Watch for goat and sheep poop. This area seems to be a favorite place for them to roam. If you see some, be sure to stop and enjoy watching them graze. They are harmless and provide great entertainment for young kids.
If you are hungry after your visit to Rhodiapolis, be sure to stop in Kumluca and visit our friends at Tadım Pide & Kebap Salon.
While in Kumluca, a stunning place to watch the sunset is Kale Kule.
Around 100 kilometers and a little over an hour and a half west of Antalya city center, the easiest way to get to Rhodiapolis is by car hire or by taking your own rental or personal vehicle. GPS will help you easily navigate your way to the entrance.
If you desire to take public transportation, at the bus stop in front of Aktur Park and across from the 5M Migros Mall, you can catch AK-03 to the Kumluca Otogar. From there we suggest hiring a taxi.
Address: Hacıveliler, 07350 Kumluca/Antalya
Hours: Daily from 8:00am to 5:00pm
Entrance fee: Free