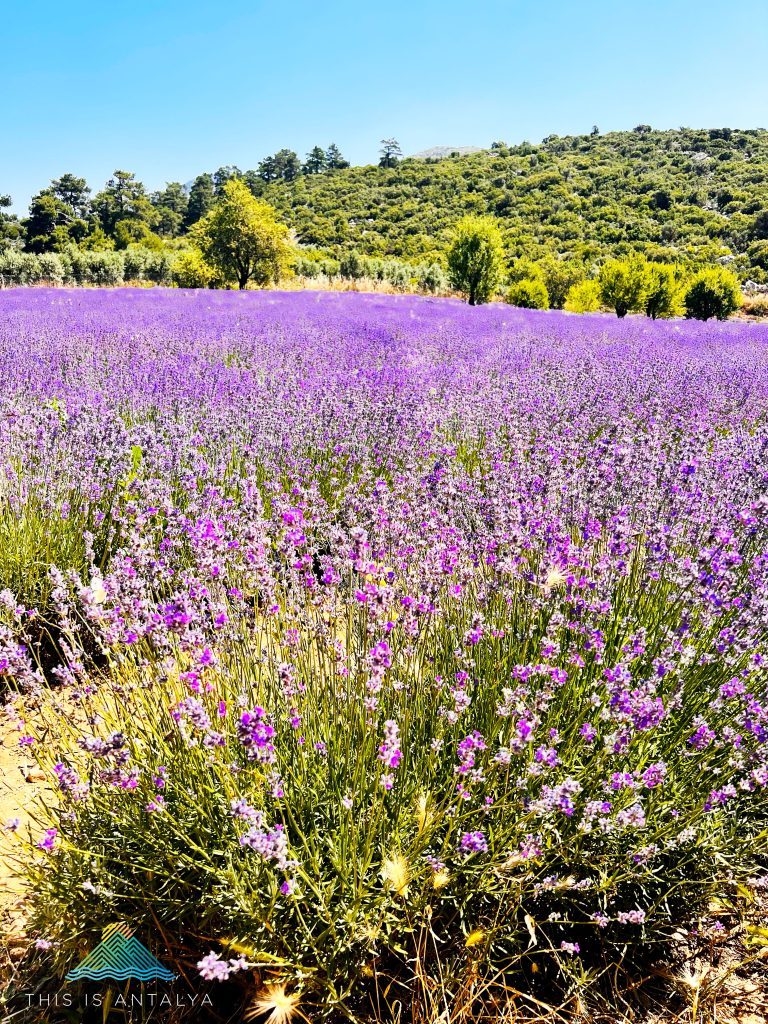 For years we have seen pictures of the lavender fields in Isparta and longed to get there when they were in bloom. Fortunately for us, a random Instagram post led us to Lavantalya, Antalya's very own lavender farm. From the rows of bright and fragrant purple lavender to the charming gift shop, we were not disappointed. Read on to learn more about Lavantalya and to get some helpful tips if you want to visit.
Since March of 2018, Lavantalya has been producing lavender to be used for cosmetics, lavender oil, lavender water, lavender soap and other all-natural lavender products.
Two years ago, someone had the brilliant business idea to open Lavantalya up to the public. Mostly a lavender farm, for the months of June and July the working farm becomes a highly-frequented tourist spot. Visitors seeking the perfect Instagram-worthy photograph while strolling through the vibrant rows of lavender will be delighted.
Obviously, most people come for the photograph opportunities. The owners of Lavantalya have done a fabulous job of creating a clean and inviting space for people to roam and cavort in the lavender in order to get that perfect picture.
Adirondack chairs can be found in different rows and make for scenic photos. They also provide lavender wreaths that can be borrowed and worn as a headdress while taking pictures. Hand-woven baskets full of dried lavender are available as props, along with bunches of dried lavender tied together.
Guests can easily wander through the entire place and walk for ??? meters in between each row, taking magical pictures and enjoying the calming scent of lavender.
A rustic cabin with a large porch serves as a gift shop and cafe. You can purchase Turkish tea and some assorted cold beverages, then enjoy them on the porch while overlooking the scenic lavender fields.
The gift shop is clean, delightfully decorated, and felt like we had stepped out of Turkey for a few minutes. It is full of small gifts that were produced from their own lavender crop; including candles, Turkish cologne and hand sanitzer, decorative dried lavender bunches, lavender scrub, soaps, and reed diffusers.
The lavender fields and gift shop/cafe are only open in June and July while the lavender is in full bloom. Lavantalya has an Instagram account, so be sure to check there to see if the fields are ready for the best pictures.
We arrived at around 10:30 on a Saturday morning and there was no one there yet. About 11:00 people started rolling in and the fields got a little more crowded. However, it is big enough that dozens of people could spread throughout and still take unobstructed photos.
When we were there, the lavender rows closest to the gift shop were the tallest and provided the best pictures.
Though they are open from 9:00 to 21:00, the owner recommended coming later in the evening because it is cooler. We imagine pictures taken during the golden hour before sunset would be incredible!
We saw kids of all different ages enjoying roaming through the fields. It is not a place that you will want to stay for more than 30 minutes or so if you have young children, but it is a beautiful place to take photos.
This would be an enchanting location to take family portraits. Wear pretty clothes and snap away.
Since it does not *normally* rain much in June or July in Antalya, you can probably wear any type of shoes to walk through the fields. We did just fine with sandals and flip flops. But, if it is unusually wet, we would suggest tennis shoes or shoes you don't mind getting a little muddy. It is a field, after all.
This would be quite a romantic place for a date. It is generally cooler north of the city because of the higher elevation, so even at 11:00 on a summer day it wasn't sweltering. Mid-day would be fun, but better yet, in the evening after dinner you could sit and enjoy a cup of tea on the porch and then take some lovely selfies in the lavender fields.
Be warned that the cacophony of pollinating bees swarming through the lavender plants could be a little frightening for young kids or adults who have a bee phobia. Rest assured that this type of bee does not and will not sting, but it could be overwhelming if someone is legitimately scared of bees. For us, one of the most incredible things was to hear the bees and watch as they did their pollination work.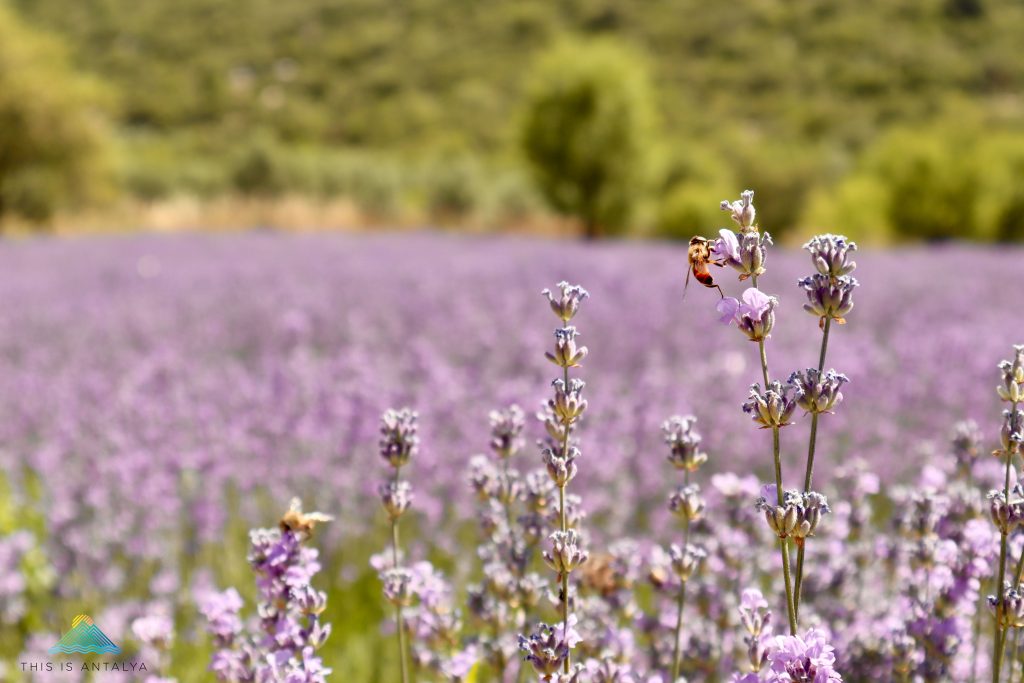 Northwest of the city about an hour, Lavantalya is best reached by car. The turn off from E-87 is around 7 kilometers past the entrance to Ancient Termessos. Then you have to go another 13 kilometers to Lavantalya. The road from Koçlar Restoran (at the turn off point) to Lavantalya is not scary or dramatically winding, so the drive is easy and scenic through some country-side and village homes.
Location: maps.google.com/?q=37.123577%2C30.452824
Address: Akkoç, Akkoç Köyü Yolu, 07190 Döşemealtı/Antalya, Türkiye
Opening Hours: 9:00 – 21:00 Daily
Price: Entrance is free; but bring cash or credit card for drinks and gifts