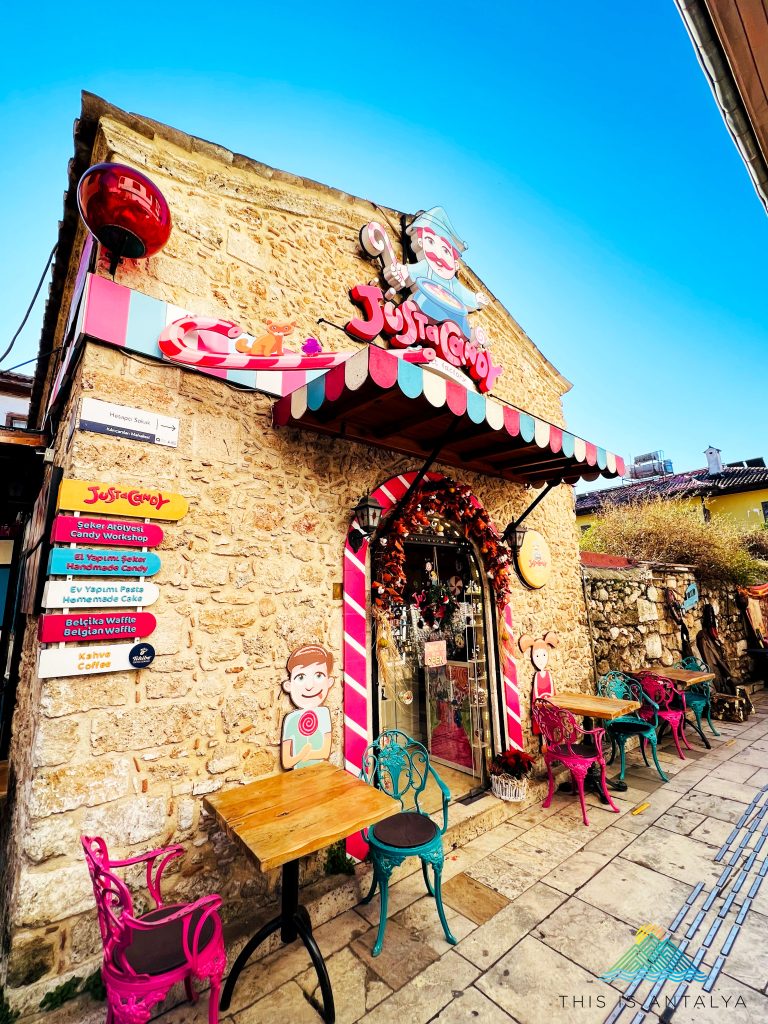 Walking down the charming streets of Kaleiçi, you might stumble upon Justacandy Sweet Factory. Like something out of a children's storybook, the Ottoman era building restored with whimsical colors and decorative sweet touches beckons you inside. Read more to find out why Justacandy Sweet Factory is so inviting.
Part candy factory and part charming cafe, Justacandy Sweet Factory has something for everyone. From taffy and marshmallows to candy canes and rock candy, head inside and watch the candy masters ply their trade.
Peruse the gift shop for delicious confections of all candy kinds that make for unique gifts. Or enjoy a coffee with cake or a waffle in the cafe.
For those ages four and over who have an interest in learning how to make some of the candies you see in the shop, they offer group or individual classes where you can make candy with the masters. Call the shop to get information about upcoming opportunities or to arrange your own time.
During the winter season, the shop is decked out with Christmas and New Year's themed candies. It is the perfect place to find stocking stuffers or small gifts.
Located in historic Kaleiçi, the shop is not far from St. Paul's Cultural Center. GPS should easily get you there from any entrance.
Address: Kılınçarslan, Hesapcı Geçidi Sk. No:35, 07100 Muratpaşa/Antalya
Phone: 0533 295 5890
Hours: Daily, 10:00am – 11:00pm