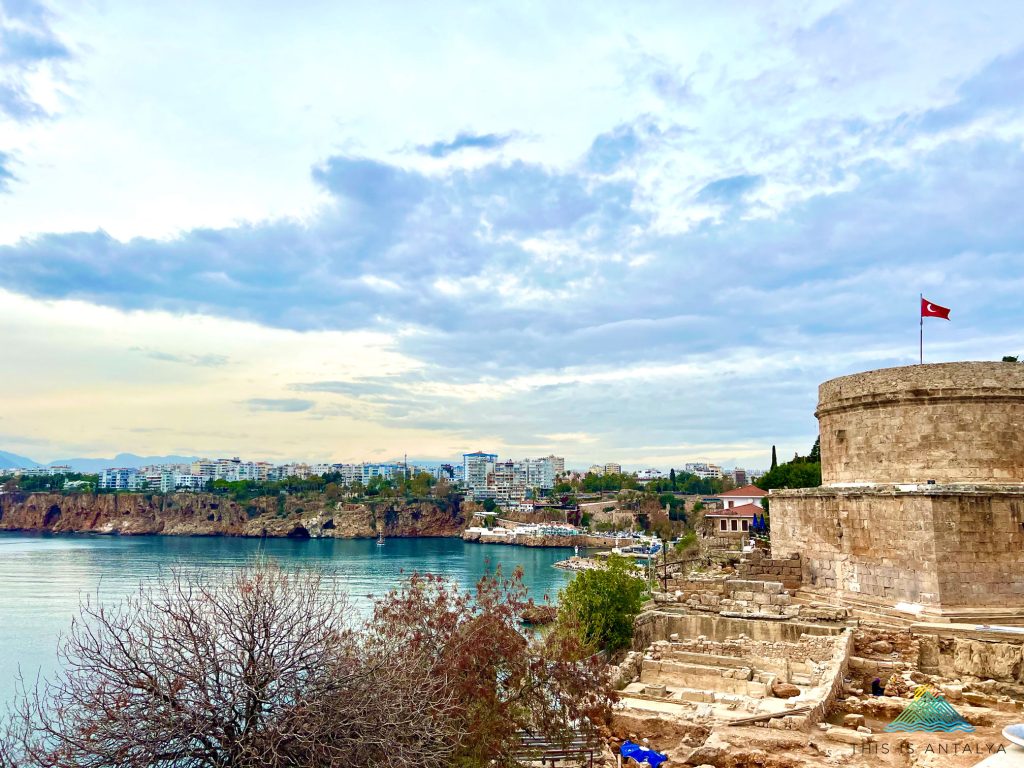 As we mentioned in our earlier post about Hadrian's Gate, any visit to Antalya is not complete without a visit to Kaleiçi, the original old town and city center with ancient roots. During Roman times, Antalya, formerly known as Attaleia, was a wealthy port city enclosed by thick fortress-like walls. A popular attraction for tourists, prior to Covid-19, it was not unusual to see large buses dropping crowds off near Hadrian's Gate. You could see groups of people from all over the world taking pictures of this awe-inspiring (and really old) city entrance.
Now that tourists are returning to Antalya, we encourage you to step beyond the gate and see what Kaleiçi has to offer inside its walls. There you will find enchanting Ottoman era buildings transformed into boutique hotels, souvenir shops, and eclectic cafes. A leisurely stroll through the maze-like streets will reward you with Instagram-worthy photo opportunities around every bend.
There really is something for everyone inside Kaleiçi. History lovers will enjoy the newly restored Sultan Alaaddin Mosque with its Yıvlı Minare (fluted minaret) and the interesting Mevlevihane (Dervish House) Museum. Adventure or sun seekers shouldn't miss the harbor. With or without advance reservations, you can hire a private boat tour or jump on a large boat with other visitors for just an hour, half the day, or all day.
For iconic harbor pictures, be sure to stroll to Kecili Park which has cascading flower displays and a glass-paneled balcony overlooking the Kaleiçi port and Mermerli Plaj. Hidirlik Tower, built during Roman times, is also a sight to behold overlooking the bay. Just outside Kaleiçi, you can find Karaalioğlu Park, another place to take stunning pictures.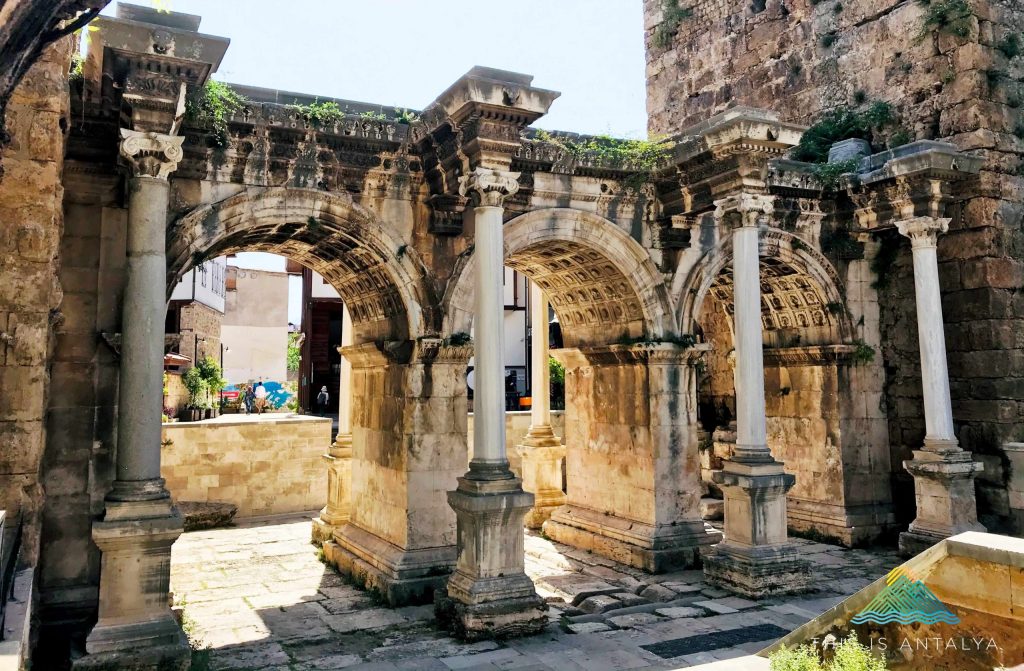 A walk through every nook and cranny of Kaleiçi is not necessary. We suggest stopping at Hadrian's Gate to take a photo, then heading toward Karaalioğlu Park to enter near Hidirlik Tower.
Kaleiçi is full of cafes and souvenir shops and you can expect them to fight for your attention and business as you meander around. If you are not looking to eat or buy anything, just keep moving and say, "teşekkür ederim." (See our Helpful Phrases post to learn how to pronounce this useful phrase.)
If you just want to appreciate the visual aesthetics of Kaleiçi, early mornings are a perfect time to visit. You will avoid crowds, have a more peaceful walk through the quiet streets, and capitalize on unobstructed photos.
Souvenir and Food Recommendations
Our favorite store for quality, hand-crafted Turkish towels, robes, and small gifts is STEM. It is just around the corner and up the street from Hidirlik Tower. Though small, the service cannot be beat and the craftsmanship is worth the price tag. If you are looking for authentic, not mass-produced presents for family, friends, or yourself, STEM is for you.
Cheaper gifts can be found just up and around the corner to the left from Hidirlik Tower. The Antalya Inn Hotel has a gift shop underneath that sells inexpensive Turkish rug zipper purses in all shapes and sizes. Grab a coin purse or a larger shoulder bag at a reasonable price.
For a delicious change of pace from Turkish food, check out Pio Gastro Bar & Bistro.  Their "street dish" Latin specialties are delightful. But do expect to pay more for this unique experience.
If you have never watched a Turkish street ice cream vendor perform, take time to stop and be entertained near Hidirlik Tower or the marina. We don't love Turkish ice cream, but their teasing antics and sleight of hand tricks directed at innocent customers are a fun spectacle. These sweet treat tricksters are a quintessential tourist experience.
Our favorite irmik helvası shop is just outside Kaleiçi's walls and across the street from the Atatürk House Museum. If you are looking for a sweet Turkish specialty, visit Hacı Şeref.