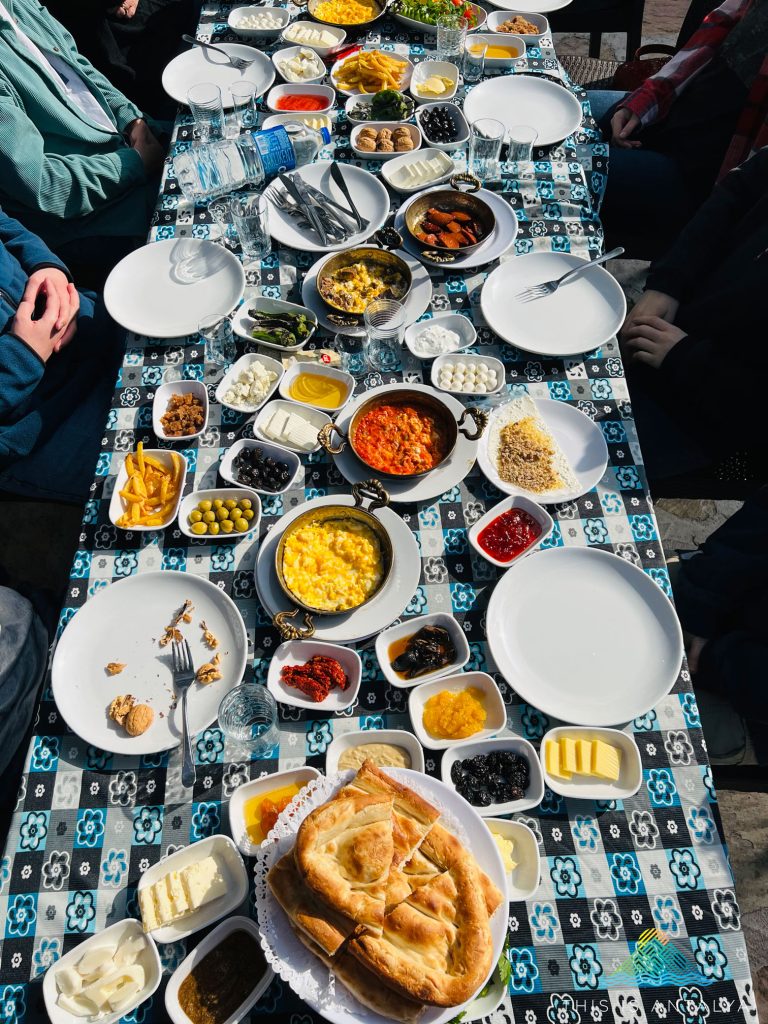 We have lived in Turkey for almost a decade and still hold fast to Turkish breakfast as our favorite Turkish meal. There is really nothing that compares. The beauty of sitting down to a never-ending spread of delectable food, sipping on bottomless tea, and lingering over conversation with friends for several hours just cannot be surpassed.
Imagine our delight when we moved to Antalya and discovered Çakırlar – an entire village devoted to breakfast restaurants!!!
If you are on the Konyaaltı side of the city and looking for a delightful breakfast, don't miss the opportunity to experience Çakırlar. On Sundays, the village is jam-packed and reservations are recommended to get into your favorite place. You can risk it, but go early if you want a good table without calling ahead. Also, some restaurants say they take reservations on Google and it will even send automated reservation confirmation. Don't believe them. We have not had much success with that here in Antalya. Call instead.
On Sundays, be sure to check out the pazar vendors and their stalls lining the street after you eat breakfast, or perhaps while you wait. Saturdays are a little less busy, and weekdays are somewhat empty. During the week and outside of tourist season, we suggest calling ahead because some businesses are only open on weekends.
We have eaten at multiple restaurants and can highly recommend two:
Paşa Kır Bahçesi
But, there are so many other options. Head out to Çakırlar and let us know which restaurant you choose.
Çakırlar is only about a 20 minute ride by car from the 5M Migros Mall. Taking your own car or renting a car is the easiest way to get there, but taxis from the Konyaaltı side should not cost too much.
Zeytin Dalı
Address: Hacı Sekililer Köyü Hacı Sekililer Cd. No:10.  07070 Konyaaltı/Antalya
Telephone: 90 532 207 79 89
Website: https://zeytin-dal-kahvalt-evi.business.site/
Hours: 08:00 – 19:00 Daily
Paşa Kır Bahçesi
Address: Çağlarca, Hacısekililer yolu üzeri piknik ve mesire alanı sosyete pazarı no:9, 07070 Konyaaltı/Antalya
Telephone:  90 242 439 47 47
Website: http://www.pasakirbahcesi.com.tr/
Hours: 08:00 – 19:00 Daily