After living in Turkey for almost ten years, we have stayed in our fair share of vacation rentals and hotels. We LOVE the freedom and privacy that comes with a holiday villa. However, we have found that Turkish vacation rentals don't always have the same amenities/supplies that we see in other places. In addition, there are some typical things you will most likely encounter that used to be a surprise to us and cast a negative light on our vacation. Now we have come to expect these oddities and are pleasantly surprised when we don't see them. So you can make the most of your stay in a Turkish villa, we want to share some vacation rental tips. These vacation rental tips will help you plan and also help you anticipate what is normal.
General Tips for Vacation Rentals
Whether you use AirBnB or a Turkish booking site, most listings are accurate and the actual house will be similar to the pictures you see on-line.. It might be a little more worn or aged, but it should generally be what you find advertised. We always recommend reading the reviews left by people who have actually stayed in the villas. Honest reviews are your most reliable source of information. (Obviously some people are difficult to please and would find fault with just about anything. But, if all reviewers from different places around the world complain about slow internet and uncleanliness, it is wise to believe them.)
Communicate with the host or vacation rental company if you have any questions about what is available in the house. Are there kitchen utensils & supplies, toilet paper, shampoo, soap, etc.? How many place settings are there for meal times?
Ask about house rules and check-in/check-out procedures. Also ask about any extra security deposits that might be collected in cash payment upon arrival so you are not surprised when you arrive.
Tips for Turkish Vacation Rentals
If there is a pool, ask if someone will be coming to clean the pool and, if so, what time and how often? We have been startled by very kind pool maintenance men at 6 o'clock in the morning before because we didn't know they were coming. It is never fun when you are having some morning quiet time with a cup of coffee and a stranger enters your "secure" villa compound unannounced.
Most villas with pools will not have any type of fencing or gates to keep little people from falling in. If you have toddlers or young children and want a villa with a pool, keep this in mind.
We aren't sure if it is the way sewage is treated here, or a different way that toilets and plumbing work, but sometimes bathrooms just stink. From the airport and upscale resorts to villas and apartments. The smell does not discriminate. Unfortunately, it is just a reality with which you might have to deal. On the plus side, the smell typically does not waft to the rest of the house and it does come and go. Just close the bathroom door and open the small window vent that is most likely there. We bring our diffuser along on most trips and dropping some lavender or another pleasant essential oil does a fine job combatting the offensive smell if necessary.
Maybe our kids use too much toilet paper, but we have found there is never enough where we stay. Perhaps it's because more people use the bidet -which you will find in ALL toilets in Turkey-and most of the time it is not separate. (Do NOT turn the knob by the toilet to see what it does unless you want a quick spray.) We always need more toilet paper. Don't be surprised if you need to pick some up from the store. We don't mind leaving toilet paper behind for the next people staying if we don't use all that we buy.
Ask about how water is heated in your vacation rental. In the summer it should not be an issue in Antalya, but if there are just "güneş" tanks (water tanks that are only heated by the sun), if it is cloudy, rainy, or the morning time after a cooler night, you won't have hot water for your shower. Ideally there is a back-up water heater for times when the sun doesn't shine as long or as bright.
Similar to some European countries, showers do not always have curtains, glass panels, or doors here. It might just be a shower hose hanging out in the corner of the bathroom. Or, a bathtub with a small panel of glass only covering 1/4 of the tub. This can lead to a really breezy shower – not a problem in summer, but chilly in winter- and water all over the bathroom floor. But, no fear, there are typically drains in bathrooms to collect the water. You can usually see what bathrooms look like in on-line listings. If you can't and this is a big deal for you, be sure to book a villa that has at least one enclosed shower in the pictures.
Like other places in Europe, Turks do not usually use flat sheets on beds. So, most likely, you will have a fitted sheet to sleep on with only a duvet cover to sleep under. In the summer months, you might just have a light blanket that won't be warm enough if you run the air conditioner. If you get cold when you sleep, bring an extra blanket along just in case. Also, if you can't sleep without a flat sheet between you and the duvet/comforter, bring one with you.
Most Turkish homes do not have closets, but you will find a "dolap" (kind of like an armoire) or dresser in most bedrooms to unpack clothes if you would like.
A lot of upscale villas have hot tubs in the bedrooms. Going back to the bathroom point about how hot water is heated, don't be surprised if there isn't enough hot water to actually fill the entire tub. in other words, don't just book a villa because of the hot tub in the master bedroom. Ask how the water is heated if that is a must-have for your trip. There is no guarantee you will enjoy it if there isn't enough hot water.
Always ask before booking to make sure all the appliances are working if you plan on using them. This is especially true about the oven. Turks don't use their ovens as much as we do, so it seems to not be a big deal to them when the oven isn't functional. We have stayed in at least two vacation rentals where an oven was advertised, but upon arrival we realized the oven was merely for storage. In addition to making sure the oven works, be sure you know how to use the stovetop. If there is not natural gas in the villa and there is a gas stovetop, you will need to make sure the "tüp" (gas tank) connected to the stovetop is connected and opened. Whoever checks you in to the villa should be able to show you how this works.
There is a 99.9 percent chance there will be an electric hot pot or kettle to heat up water for coffee and tea. If you are from the United States and are a tea drinker and don't have one of these yet, you will quickly realize why it is the small appliance you have always wanted and can no longer live without. Don't be surprised if there is limescale on the bottom of the pot. This is normal and happens because of the minerals in the water (even bottled) here. Just get a paper towel or a rag and see if any of it wipes off. If it doesn't, it is okay.
Speaking of, the water from the tap in Turkey is safe to drink while you are here. We do not use the water for drinking purposes regularly because we live here and over time it could cause issues because of all the minerals. However, there is no fear of bacteria or other contamination that will make you sick or cause digestive issues. When you go out to eat and get a small cup of çay (tea) at the end of your meal, it is most likely tap water. It is entirely safe to use the tap water to brush your teeth, rinse out your mouth, wash your dishes and fruits and veggies, and even cook pasta or other foods. We just don't recommend consuming it more than necessary if you live here all the time.
Because we live here and travel quite a bit, we have a "go-bag" of supplies that we always take to vacation rentals. Some of these supplies include: hand soap, paper towels, aluminum/tin foil, toilet paper (see above), dishwasher tablets, a French Press for coffee, plastic Tupperware for leftovers if we will be cooking, a couple of kitchen towels, 2-3 dish rags, an extra blanket or two, and a sharp knife. We realize some of those things would be more complicated for tourists to find. But, if you are an expat who lives in Antalya and vacation often, they are good things to have ready to take along with you.
Don't expect super-fast internet. It is rare in vacation rentals (and a lot of hotels). Go into your vacation anticipating a slower than normal connection so that you are not disappointed, or thrilled if it is actually decent. Antalya is lovely and there are so many other things you can do besides watch Netflix. Hopefully that will make up for it.
In Kalkan, Kaş, Kemer and other places west of city center, most vacation rentals include the cost for water, gas, and electricity. However, east of city center in Manavgat, Side, Alanya, etc. it is much more common to have to pay a fee for these expenses at the end of your stay. Be sure to read the fine print and ask your host or rental company so you are not blind-sided by extra costs.
Turks do pride themselves on cleanliness in their homes and you will never see windows that sparkle as bright. However, Turkish construction does not seem to have the same quality standards. This means that even in the nicest places cabinet doors might not close, baseboards might fall off, and towel racks in bathrooms could crash down. Don't be alarmed.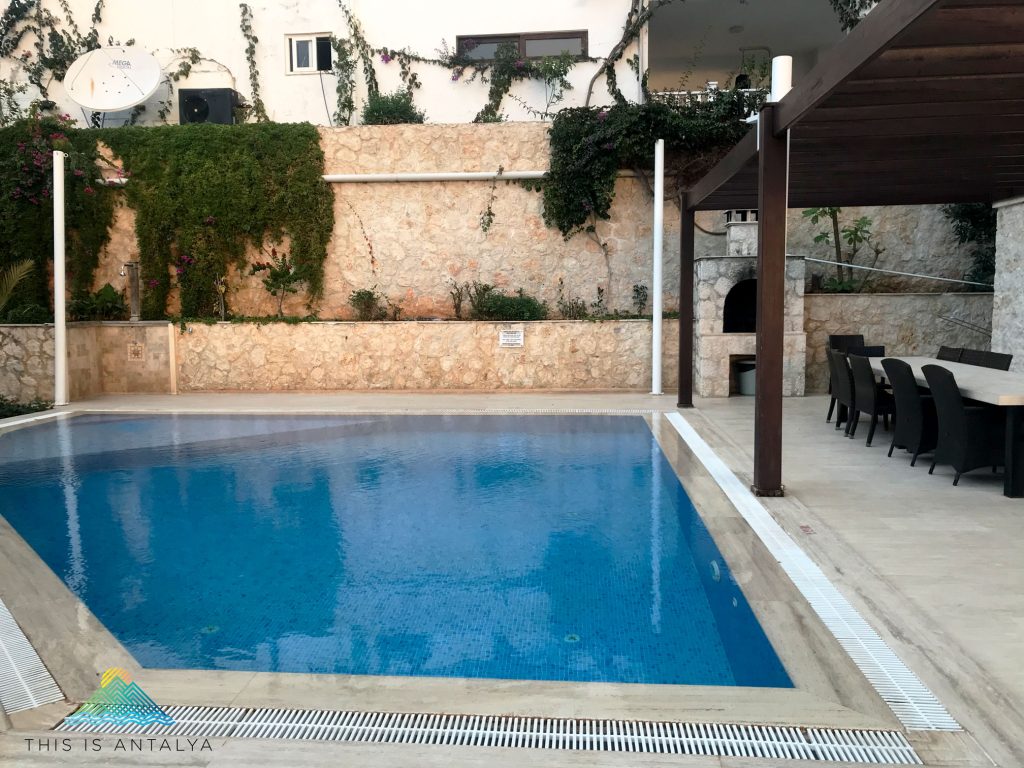 Vacation Rental Sites We Recommend
AirBnB – we have had mostly positive experiences using AirBnB in Kaş, Alanya, Saklıkent, and Antalya city center. The cleanliness of a few rentals has not always been up to our normal standards, but they were bearable. As always, read the reviews and be hesitant about staying in a place without any prior reviews. A positive thing about AirBnB is that most hosts on there speak English, which makes messaging and asking questions easier.
Hello Villam – we had a pleasant stay and a positive experience booking through this website for a stay in the Kalkan area.
Kalkan Villa – for rentals in the Kalkan area, this website is top notch. The rentals are clean, fully equipped and exactly what their descriptions and pictures show.