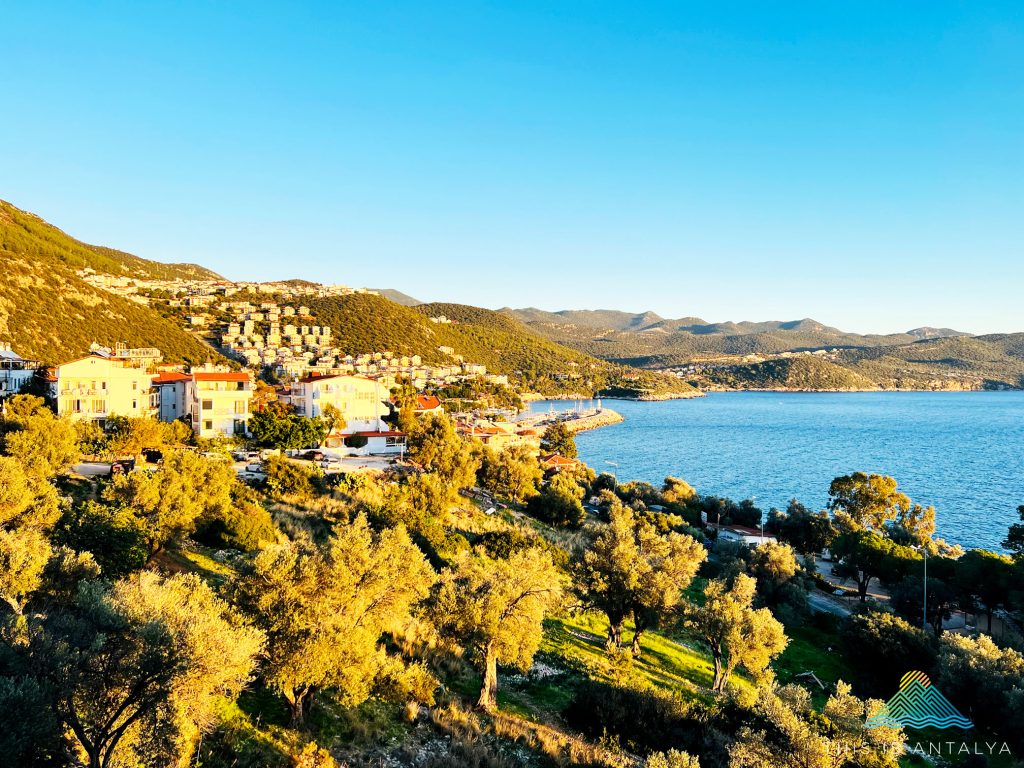 Kaş is western Antalya's most well-known resort town. While nearby Kalkan traditionally draws a British crowd and further east Çıralı excites backpacking enthusiasts, Kaş is a mixture of both, and also much more diverse. Visited by people from all over the world, it combines eclectic charm with endless opportunities as a launching point for adventure. This makes Kaş a perfect stop for tourists. Read on to discover if Kaş should be on your Antalya travel itinerary.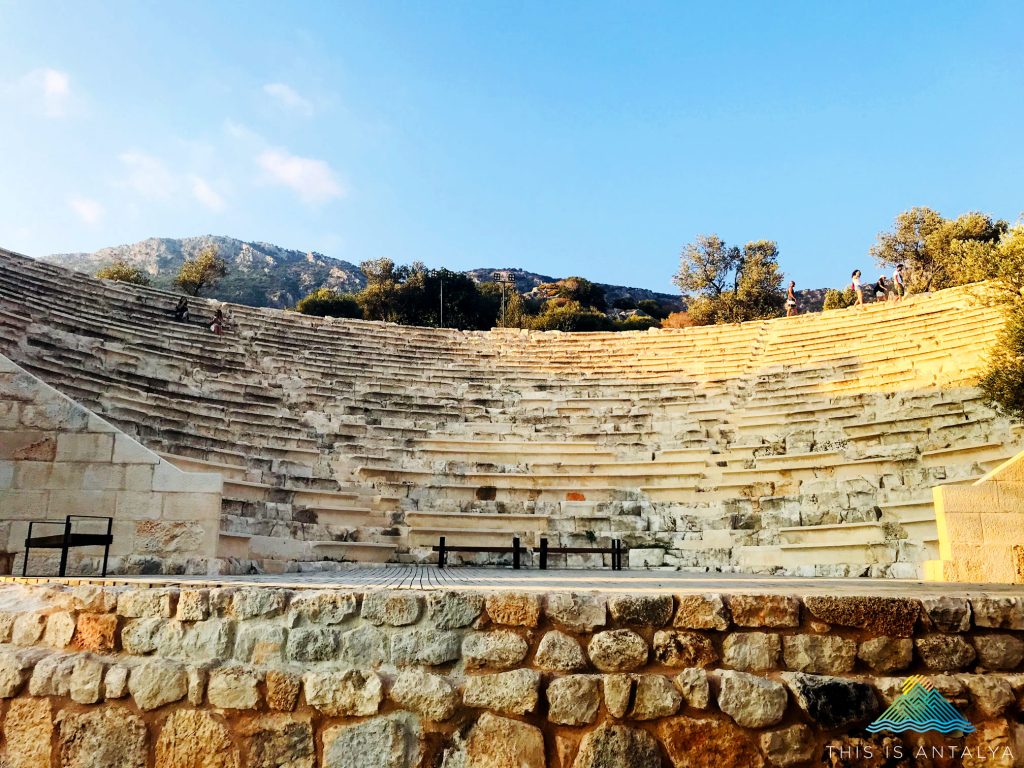 Kaş was originally founded by the Lycians and known as Habesos or Habesa. As a part of the Lycian League, it had the honor of holding one vote in the 2nd century BC. During Roman rule, it was inhabited as the harbor of the ancient city of Phellos, which loosely translates as "land of rocks".  Antiphellos, which means "land without rocks," eventually grew wealthy from trading cedar trees and cut off ties with Phellos.
Kaş was eventually annexed by the Seljuks and then later came under Ottoman rule. Up until the Greco-Turkish War and the forced exchange of Greek and Turkish populations, there were a significant number of Greek citizens dwelling there.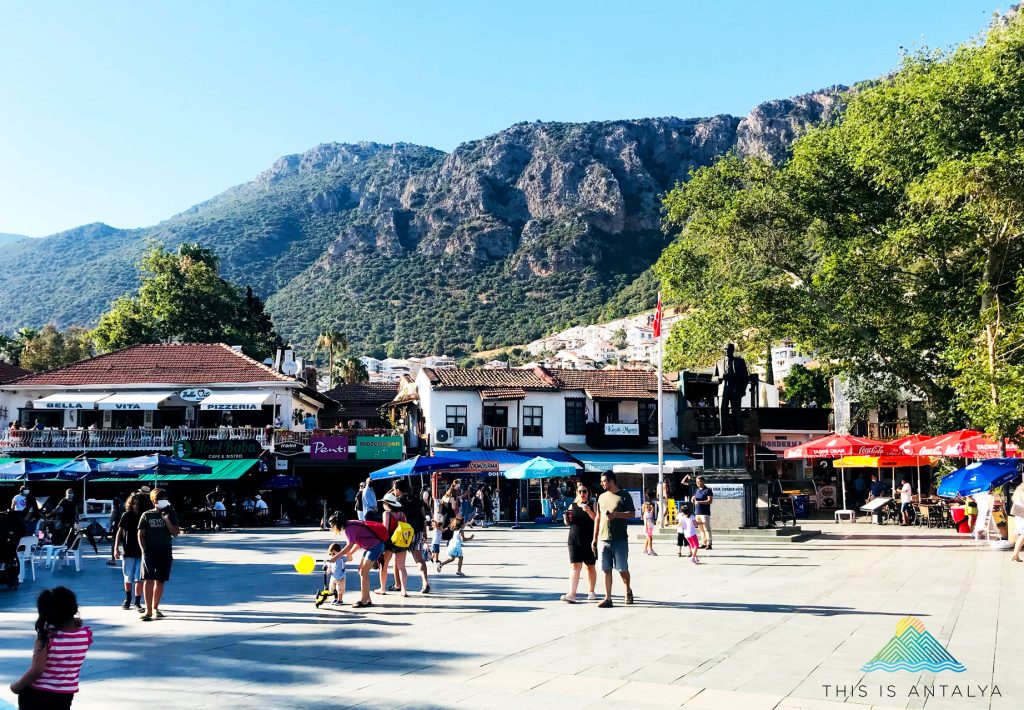 In the late 20th century, Kaş became a popular holiday spot for tourists from both Germany and the UK. Largely because of its serene beauty and its proximity to some of Turkey's best scuba diving spots, tourism has continued to provide the main source of income.
Kaş is alluring with its windy cobblestone streets. Restored Ottoman era buildings scream for you to stop and take a picture in front of what have become boutique hotels with vibrant purple bougainvillea cascading from their entryways. Cafes with outdoor seating and gift shops selling trinkets, souvenirs and clothing intermingle in the central part of town right by the marina. There is a large gathering square area in the middle of it all where live musicians play, crafts men and women sell their wares, and children scoot around street dogs and cats.
Kaş definitely has a laid back vibe in the winter, but it is typically full of tourists on a mission during the rest of the year. The streets are busy, parking is scarce and restaurants are crowded.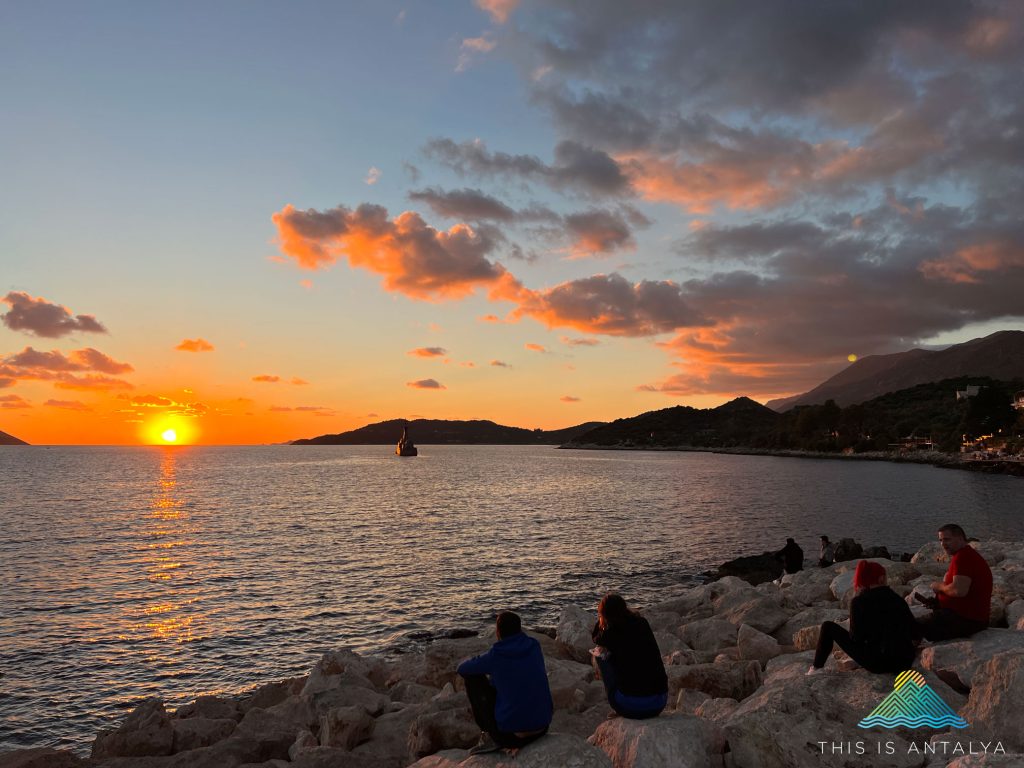 While there is not a ton to do right in Kaş other than walk around and shop or eat, there are a few worth seeing attractions if you are in town.
The Ancient Antiphellos Theatre  is a romantic place to watch the sun set. In summer months, there can be concerts in the restored theatre.
A walk around the marina to look at the boats and also take in the close proximity of a Greek Island (Kastellorizo) only 6 km (4 miles) away is an enjoyable way to pass some time. We also recommend watching the sun set from the harbor rocks lining the marina.
If you only visit Kaş while in Turkey, don't forget to swing by the Friday pazar near the center part of town. It is a small look at this Turkish wonder. If you are near the Antalya city center, check out these pazars.
What makes Kaş so popular is its centrality to a plethora of close-by adventures.
One of our all-time favorite Antalya activities is the Kekova and Sunken City Day Cruise. We did not leave from the marina in Kaş, but we purchased our tickets there at Meis Express and then took a 45 minute bus ride to catch the boat in Üçağız. There are various options for boat tours, including some from the harbor right there in Kaş. Shop around for the best deal and don't be afraid to negotiate with the people right there in the marina to get what you want out of your trip.
If you are hankering for a taste of Greece, visiting Kastellorizo is a lovely way to spend the day. Only 20 minutes by ferry, it is an easy way to get another stamp in your passport.
Scuba divers from all over the world come to Kaş for the artificial wreck sites built to create reefs for diving. There are also two historical wrecks, including a WWII airplane and a 1950s cargo ship. More than 15 dive centers and schools are located right in Kaş and offer guided trips to all of these places.
Beach lovers will not want to miss the Instagram worthy Kaputaş Beach that is found between Kaş and Kalkan. Patara Beach is a little past Kalkan and one of the only truly sandy beaches of Antalya.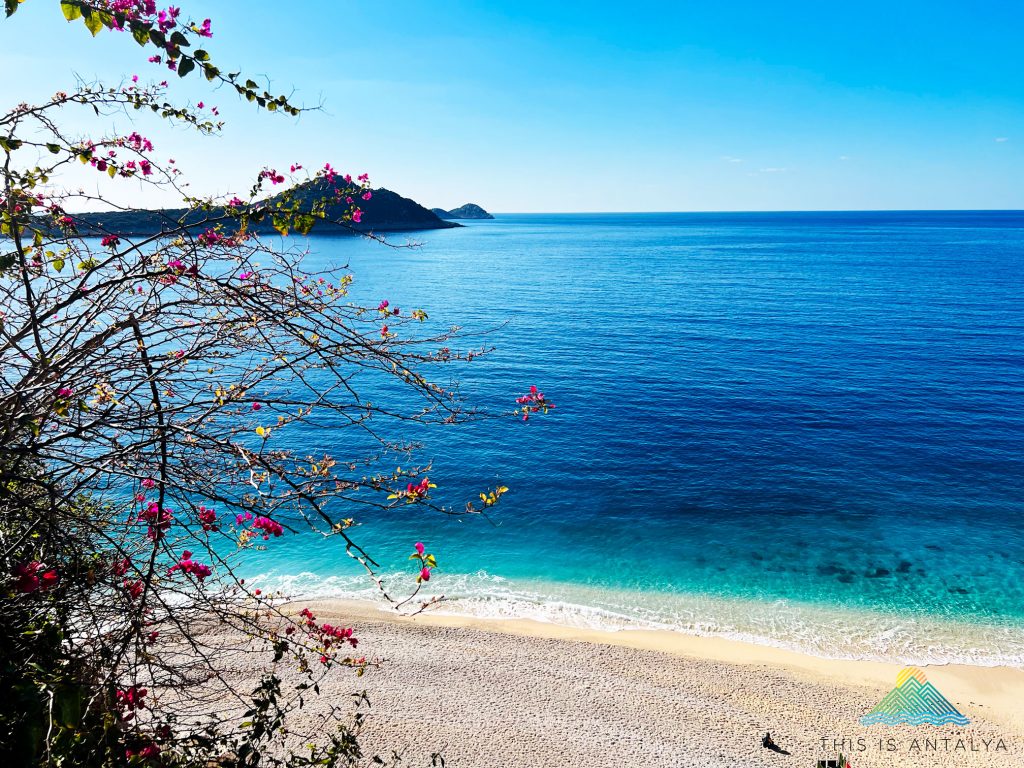 History lovers will be thrilled to visit Ancient Patara or Ancient Xanthos, only a 30-45 drive west of Kaş.
If canyoning is your thing, Saklıkent National Park is less than an hour away and offers endless adventure for the entire family.
For hiking fans, Kaş is a part of the Lycian Way.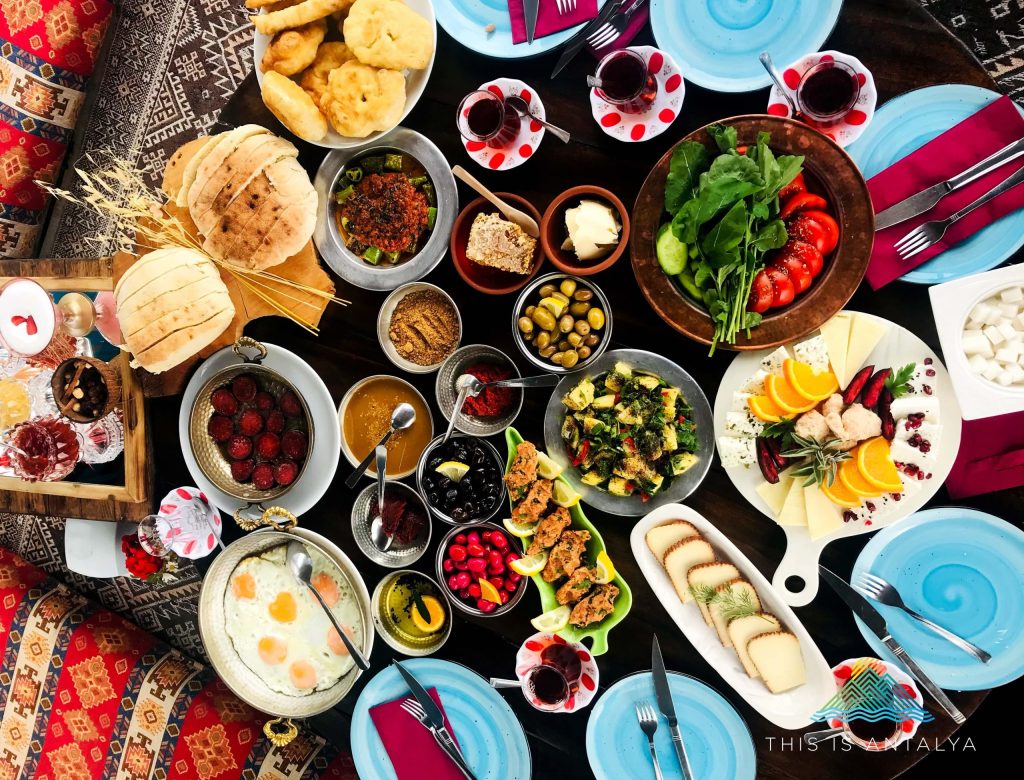 Çınaraltı Garden/Belmuar Restaurant– Our hands-down, all-time favorite Turkish breakfast can be found at this lovely mountain-top family-run restaurant about 50 minutes northwest of Kaş. Trust us when we say that even though this gem is out of the way, you will NOT regret taking the time to drive there and back. It is NOT your typical Turkish breakfast (see picture above) and you will go home dreaming about when you can return. Check out our post for more details. Be sure to call ahead and make reservations as it gets booked out early.
Kaş Kahvaltı – If you are looking for a lovely view, friendly service, and delicious food, Kaş Kahvaltı is located just up the hill from the Meis Express office. We, along with our puppy, had a delightful serpme kahvaltı (spreading breakfast) out on the patio one late December morning and would recommend giving it a try.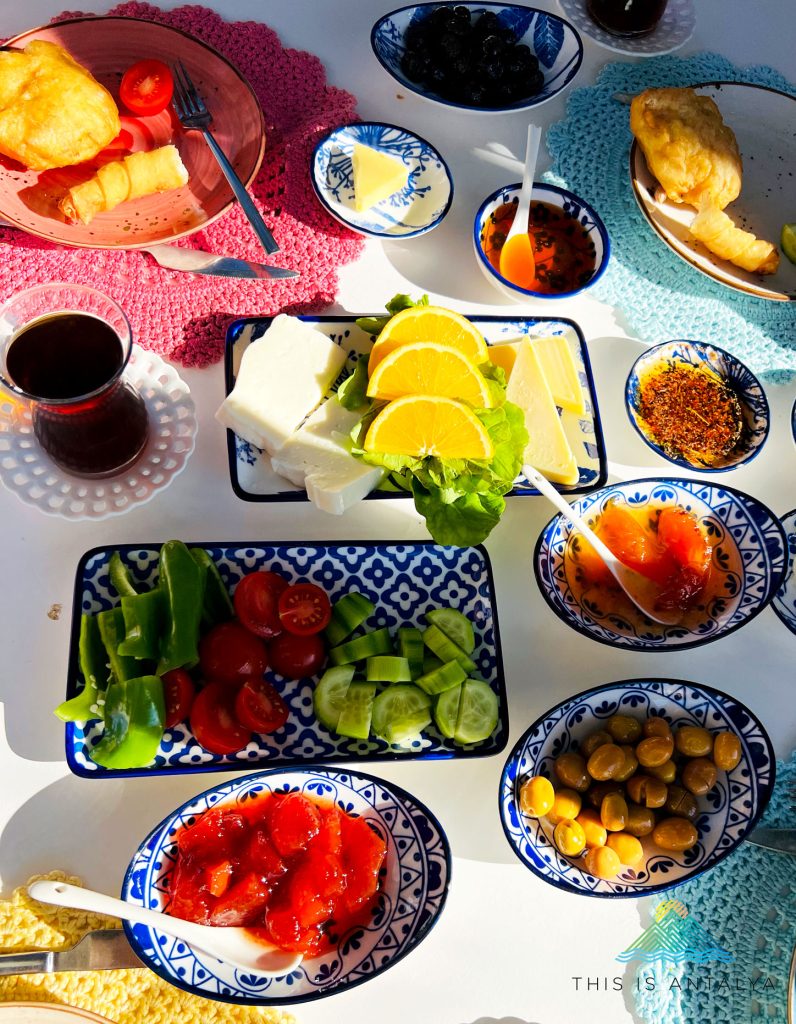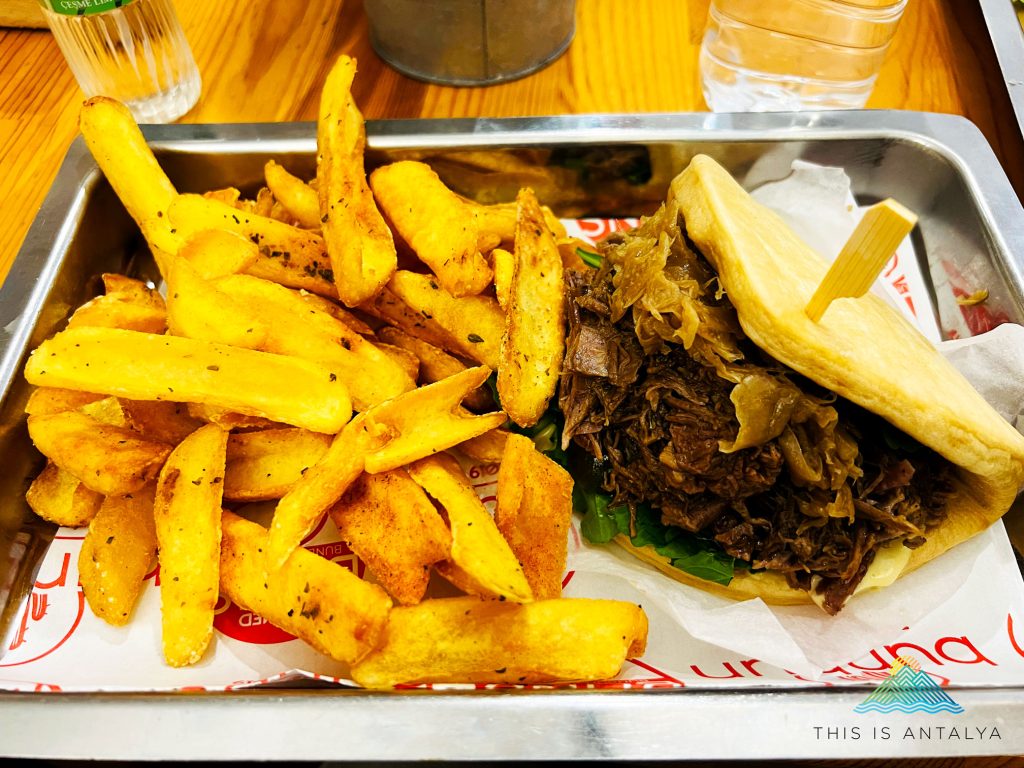 Bun Bun – We love to look for unique cafes and restaurants when traveling. Bun Bun falls into that category for us. Unlike any other cafes in town, Bun Bun offers Chinese-style steamed buns filled with various options. Our favorite was the tender and perfectly seasoned shredded beef. But if beef is not your favorite, there really is something for everyone, including a vegan falafel wrap.
Maya Steak House – Steak lovers might find this restaurant a welcome pause from Turkish food. A little pricier than the average Turkish restaurant, we considered it a worthy splurge for an anniversary dinner without kids. We highly recommend the Bonfile/Tenderloin with your choice of sauce.
Aperatif – Those who love a good hamburger will be grateful for this little cafe. The service was friendly and quick, the prices were reasonable, and the burgers were tasty.
Maşuk Meyhane – You can't spend a week next to the Mediterranean and not try some fresh fish. Our Kaş favorite is Maşuk Meyhane. While not the cheapest restaurant in town, the service, the atmosphere, and the food (including options for non-fish lovers and kids) make it a quality choice.
Located a little over 150km along the rocky coast or 200 plus km through the mountains west of Antalya, Kaş is a good three hour trek away from the city center.
The easiest way to get there is to drive by car, rented or hired. Either the northern route through the mountains or the southern route along the jagged coast are beautifully scenic roads that are half the fun of traveling there. Expect some hairpin turns and breath-taking views along both the coastal and the mountain drives.
If busing is your choice, you can find mini-buses that run multiple times a day from the main bus station in Antalya to the bus station in Kaş. Batı Antalya Koop is one option and their ticket office can be found at the bus terminal. Batı Antalya mini-buses also leave every hour on the hour from the Antalya Airport. National coach bus lines like Metro, Kamilkoç, and Pamukkale also operate buses from the Antalya bus station.
Once you get to Kaş the bus station is on the northern part of town, but you can taxi from there to your hotel or desired location. Because Kaş is relatively small, you can walk to most places when you arrive. Also, parking is not always easy to find during heightened tourism times.