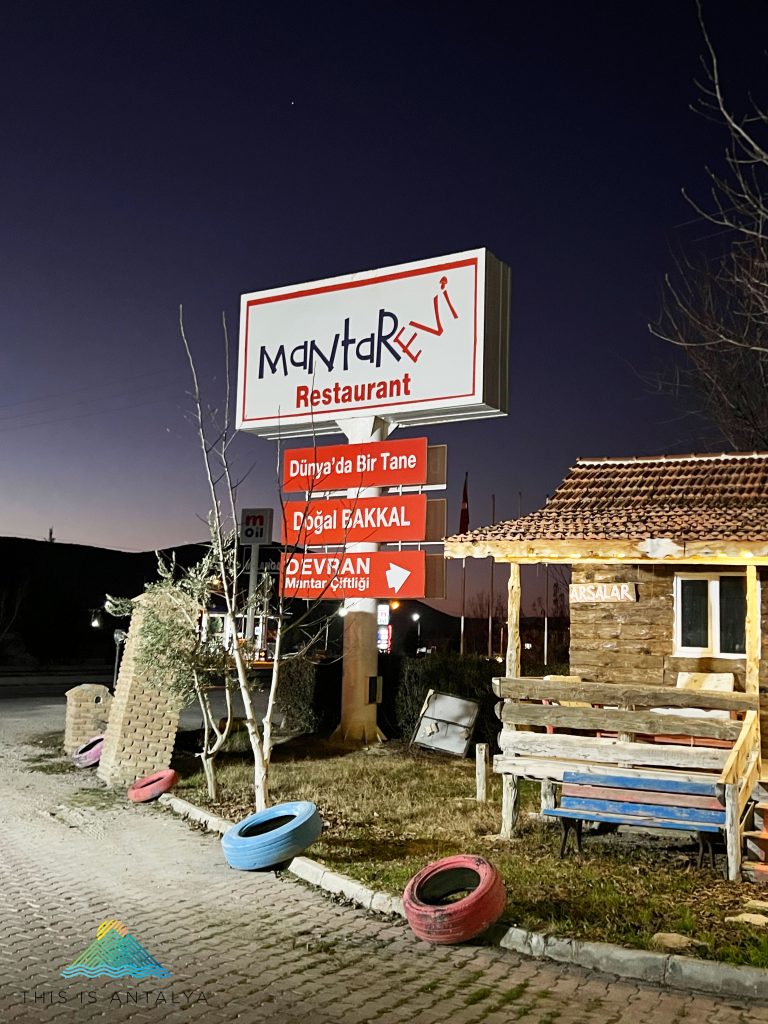 If quirky restaurants bring you delight and mushrooms are your thing, don't miss a chance to visit the Mantar Evi when in Antalya. Just outside of Korkuteli, Mantar Evi is a mushroom lover's paradise. Read on for answers to these questions:
Is everything on the menu made from mushrooms?
Have you actually eaten there and liked it?
Do they have breakfast? 
How do you get there?
Is everything on the menu made from mushrooms?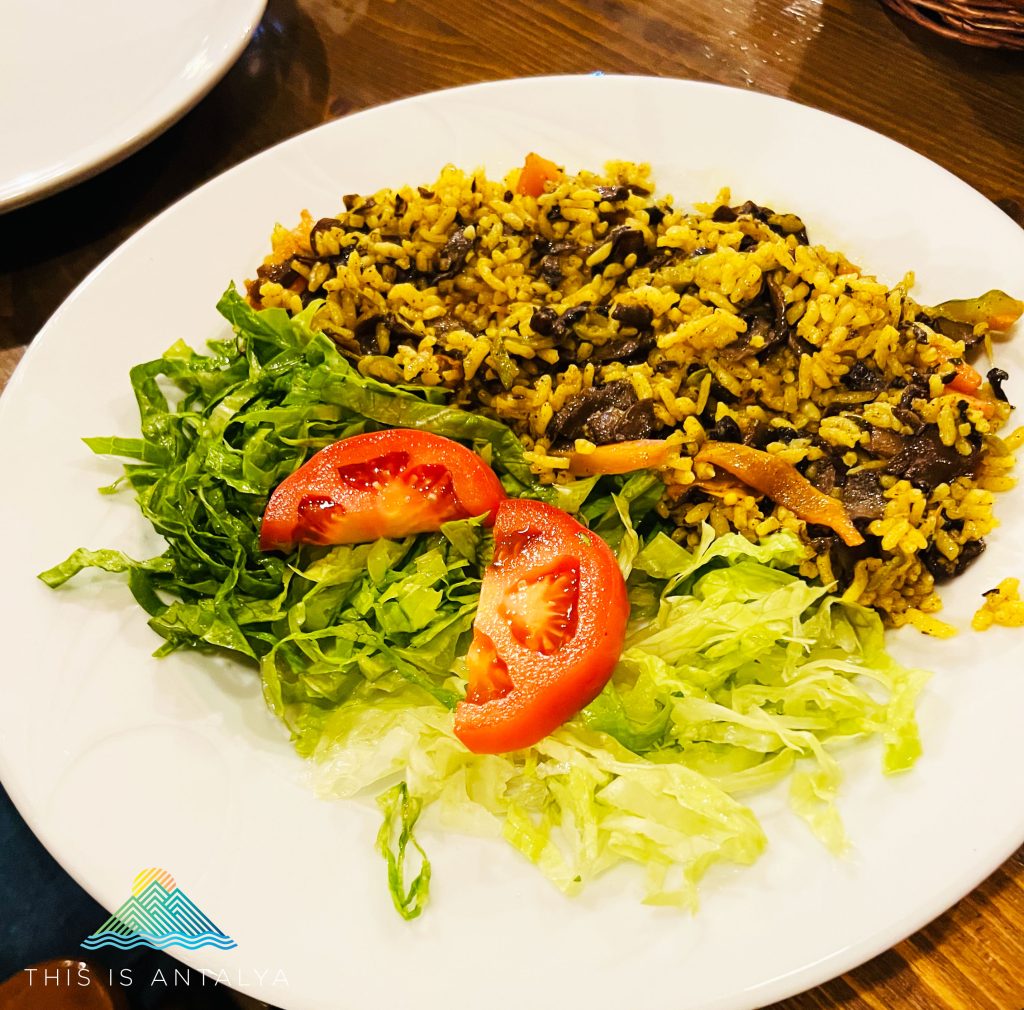 Over 25 years ago Ismail Gülel, the owner, graduated from university with an idea that has evolved from establishing a sustainable mushroom industry in Korkuteli to the opening of the "Mushroom House" restaurant. The entire concept behind Mantar Evi is to make people fall in love with mushrooms. To that end, they use their own farm fresh mushrooms to cook and bake 60 different menu options.
According to the menu, there are a couple of non-mushroom foods, but there is no guarantee they will be available when you visit. So, if no one in your family likes mushrooms, this might not be the place for you to stop and eat.
Quirky and full of character, this restaurant has definitely figured out its "vibe" and offers visitors an authentic and unique experience unlike any we have had in Turkey before. Think mountain lodge meets rustic Anatolian museum with creative country-cooking that only includes mushrooms.
Attached to the restaurant is a market where you can buy homemade mushroom jelly, pickled mushrooms, and candied mushrooms. There is also an interesting museum of sorts featuring the history of the farm and family, as well as the restaurant.
Something we are really excited about is that women get a 50% discount on Tuesdays!
Have you actually eaten there and liked it?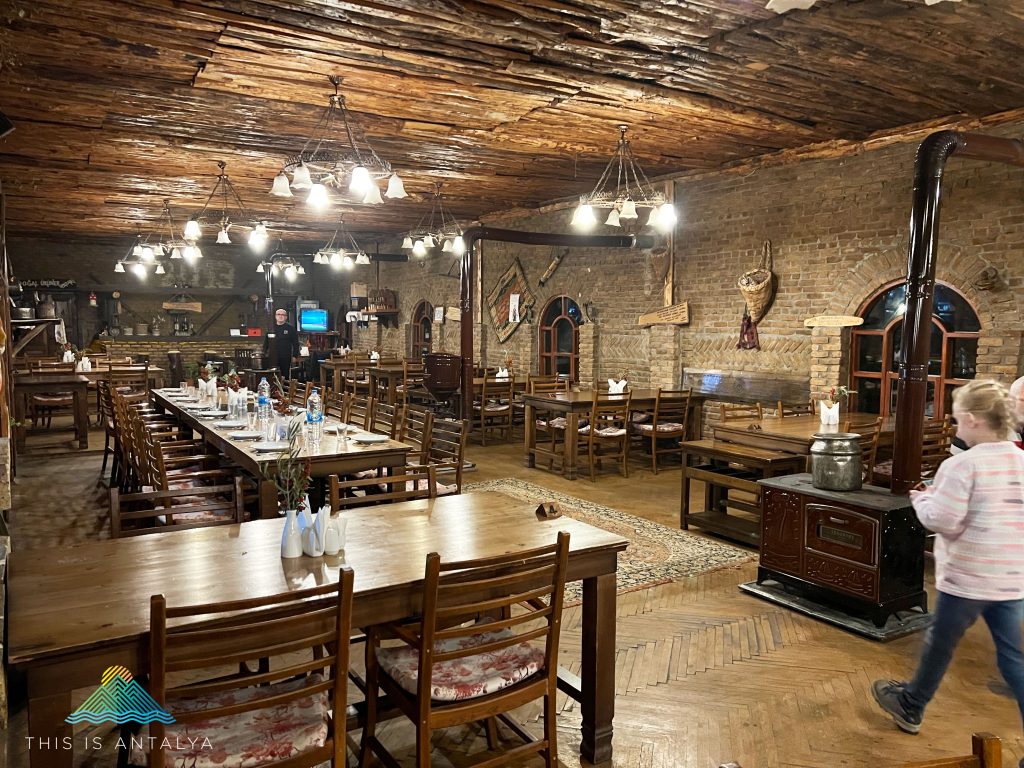 We visited Mantar Evi on a chilly evening in late December on our way back from Kaş. After passing it multiple times on other road trips, we finally decided to give it a try.
Unfortunately for the people in our family who do NOT like mushrooms, there really weren't any mushroom-free options because it was wintertime. In warmer months, it sounds like there might be some other choices, but we can't vouch for that as of now.
The mushroom lovers in our family raved about the creamy mushroom soup with hints of thyme. It was seriously the best mushroom soup we have ever had. Another enthusiastic plus for everyone was the delicious house-made mushroom bread. We also tried the mushroom salad, which was fresh and tasty for winter-time. The mushroom köfte (meatball) made it past our kids' mouths, but they didn't love it. And the rice and mushrooms was decent, but not our favorite. We didn't try dessert because it was late and we needed to get home, but the google reviews make us want to return and give it a try!
Prices were fairly reasonable, especially compared to Antalya city center prices. Since this is not a touristy place, don't expect the staff to speak a lot of English. But they are friendly and helpful.
There are also plenty of interesting photo opportunities throughout the restaurant, indoor and out. It was too cold to eat in the garden when we were there, but it is large and is just as eclectic as the inside.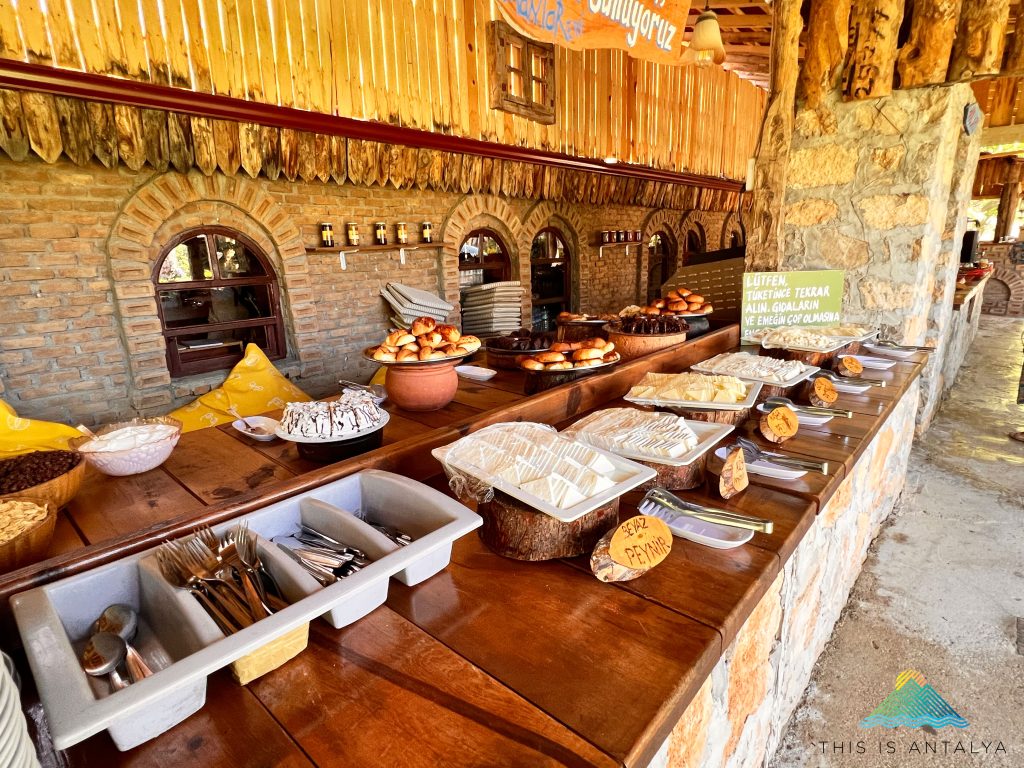 After reading glowing Google reviews, we revisited on a warm late June morning just for the sole purpose of experiencing their Turkish kahvaltı. We were not disappointed. 
The garden area where breakfast is served was spacious and provided ample shade. There was even a play area for kids to run around and be entertained.
In addition to the normal spreading breakfast offerings of eggs, cheeses, olives, cucumbers, and tomatoes, Mantar Evi features unique mushroom-based specialties. The mushroom jelly tastes like fall with its notes of cinnamon, all-spice and clove, and the house-made mushroom bread was the perfect complement to the all of the house-made jellies. 
Reasonably priced and offering something for everyone (even non-mushroom lovers), we thought the kahvaltı was definitely worth the drive to Korkuteli and recommend you give it a try! 
Mantar Evi is on the east side of Korkuteli just off E-87. By car or car hire, it is around an hour's drive from city center. We have driven by it multiple times on our way to or from Kaş or Kalkan.
You can also get to Korkuteli by public transportation from the main Antalya bus station on Bus AK01.
Address: D350 Datköy, 07000 Korkuteli/Antalya
Hours: Daily 08:00 – 11:00
Phone: +90 242 667 12 10
Website: http://www.mantarevi.com/