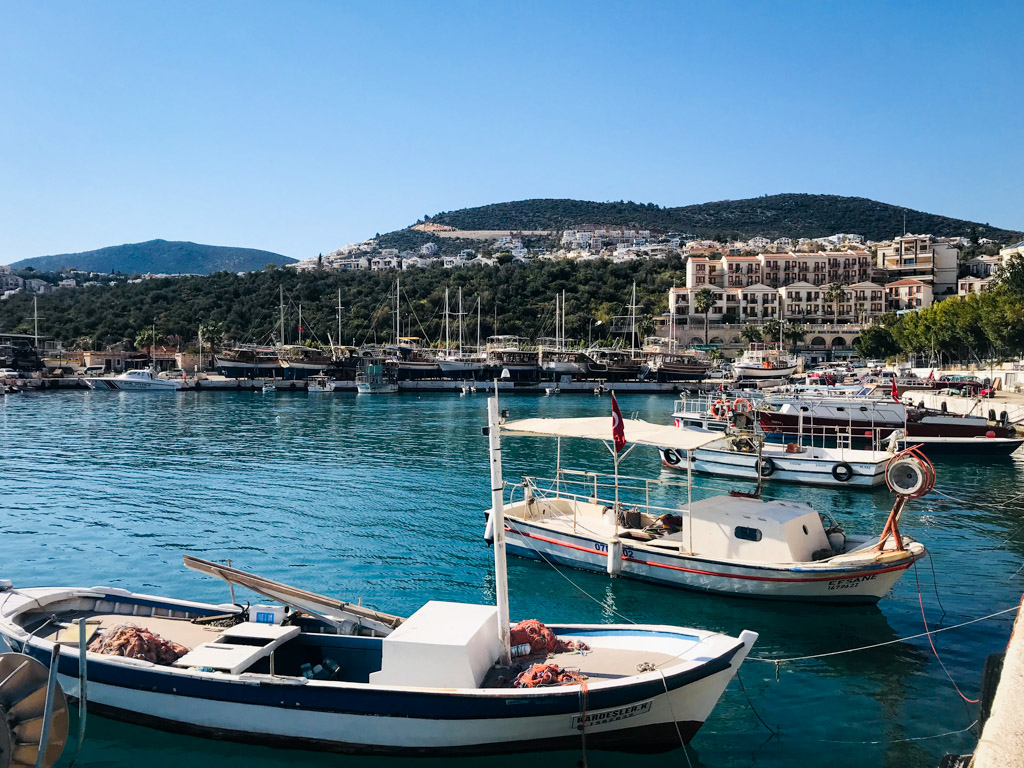 A sprawling old fishing village transformed into an expertly designed vacation destination, Kalkan features scores of villas with majestic views. Near renown beaches such as Patara and Kaputaş and historic Lycian cities like Xanthos and Tlos, this seaside holiday offers nature, relaxation, delicious food and adventure.    
Before the First World War, most of the Kalkan inhabitants were Anatolian Greeks until Turkey became a republic in 1923 and brought about a population exchange between Greece and Turkey. When strolling the quaint seaside area near the harbor, this is evident by some of the architecture and white-washed cafes and shops. Instagram-worthy spots abound as you amble around the picturesque streets.  
In the main part of town, you will find most of the favorite restaurants and stores recommended on Trip Advisor, as well as a public beach. There is some international fare, but know that Kalkan caters to tourists, and if your visit is outside of May-October, most of those restaurants will not be open. A favorite of ours, open in and out of tourism season, is Café Vita. Their burgers and pizza are quite good, and their service is always delivered with a smile. Be warned that food prices are exorbitant for Turkey and menu items seem to be priced about twice as much as in the Antalya city center. 
Most of the holiday rentals are located further up and around the bay, but you won't see but a few hotels, cafes and markets tucked into the literally hundreds of rows of villas reached by somewhat steep and narrow roads. If you want to stay in Kalkan and get away from the crowded seaside area, we suggest checking out vacation rentals further up the mountain in either Islamlar or Üzümlü. Only a 10-15 drive from the center of town, these rentals do require a vehicle to reach them, but they offer more privacy and quiet.  
Located on a plethora of easily navigated rental websites, the choice of villa options can be overwhelming. Most websites will have rentals in various location throughout Kalkan, but we have had a positive experience renting villas with both Kalkan Villas in the main part of Kalkan, as well as with Villa Gezegeni in the village of Üzümlü.  
Many villas have their own pool; some even have indoor pools, saunas and a Turkish hamam. It is possible you could purchase groceries at the beginning of your stay, or have them delivered, and never leave your villa for a week. But we do recommend a trip to Ancient Patara, the birthplace of Saint Nicholas and home to the longest beach in Anatolia, as well as a visit to Xanthos where you can hopefully meet our tour guide friend Durmuş, while you are in the area.  
Is Kalkan worth a trip if you are not staying there? Probably not. Would we want to stay there during high tourist season? Probably not. But, if you don't mind the crowd and do desire a luxurious getaway, Kalkan might be the place for you.   
Getting there: Kalkan is around 200 km west of Antalya and can be reached in under 3 hours and 30 minutes either driving along the sea on D400 or in a little less than 3 hours through Korkuteli on E87 and then heading south through Elmalı and some mountain villages. Both routes are beautiful in their own right, but if you go the mountain route, be sure to plan a stop for kahvaltı at Belmuar Çınar Restaurant.  
Location: Kalkan, 07580 Kaş/Antalya