After a two-year pandemic hiatus, the ferry to the Greek Island of Kastellorizo (or Meis in Turkish) is running again! If you are looking for an easy and relaxing way to get another stamp in your passport while in Antalya, a day trip to colorful Kastellorizo/Meis is the perfect excursion while you are here.
Officially known as Megisti, Kastellorizo is the easternmost Greek island. In the Middle Ages when Castello Rosso was built high above the port, Megisti became known as Kastellorizo. (Kastell meaning "Castle" and Rizo potentially derived from Rosso or "red" in Italian.) After a modern history involving occupation by Ottomans, French, and Italians, in 1947 the Paris Peace Treaties allotted the island to Greece. Since March of 1948 it has been an official member of the Greek State.
At about 12 km (4.6 miles) in area, it is a small island only 2 km (1.2 miles) south of Kaş, Turkey. Despite its size, it quickly became a thriving port because of shipping and fishing. The economic success of the 19th century is still evident today in the lovely houses lining the harbor in rainbow splendor.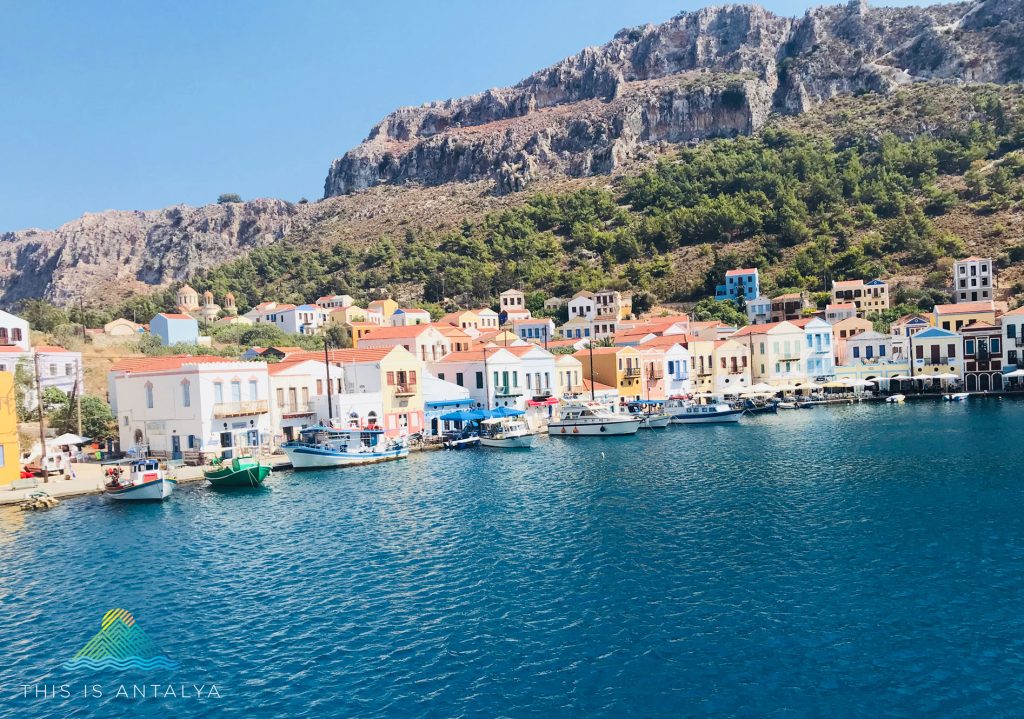 Once you get past the charming harbor houses turned into cafes and a few boutique hotels, there isn't an overwhelming list of sights to see on Kastellorizo. However, it does have a distinctly different feel than its Turkish next-door neighbor (including the availability of pork in almost every café) and is a fun place to spend a slow-paced day.
For a day of café sitting and relaxing, stay around the perimeter of the port and while your time away sipping cappuccino and enjoying some fish or gyro. Be sure to sit close to the water and watch for the huge sea turtles that live in the harbor.
After indulging in some food and drink, take a walk around the cobblestone streets and take in the classic Aegean themed architecture. It is impossible to get lost because it just isn't that big, so take your time roaming around. Some sights you might find interesting are the restored mosque with a small museum featuring the history of Kastellorizo, the remnants of the fortress of Castello Rosso, a Lycian tomb, and the central square.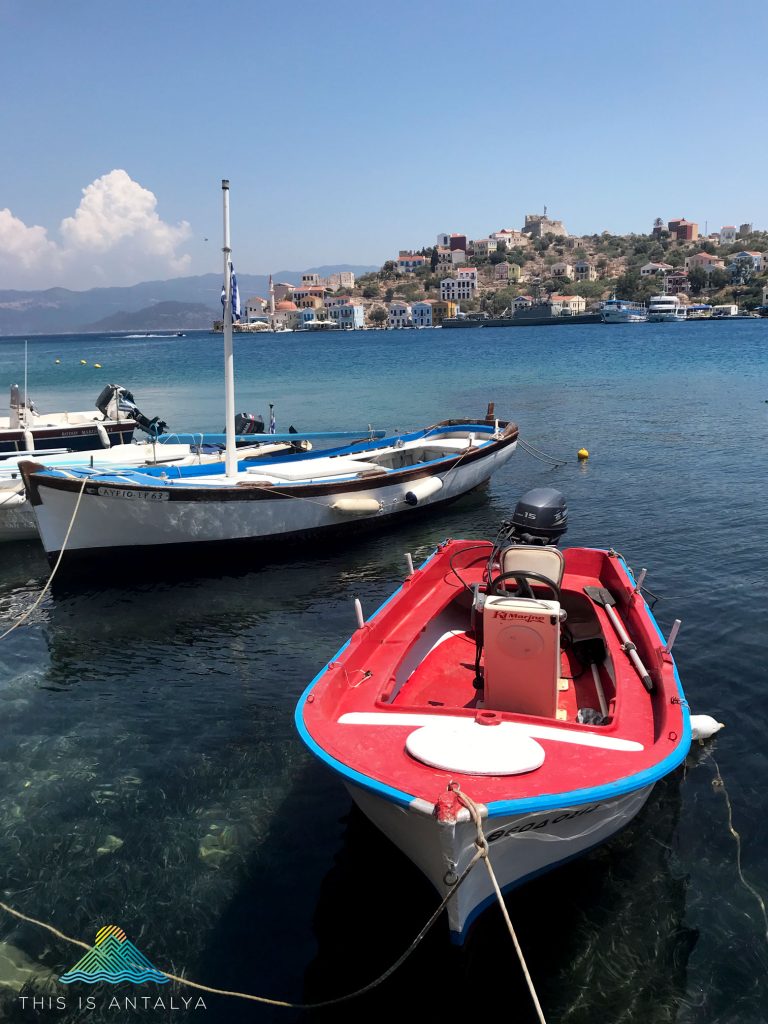 If adventure is calling your name, bring a swimsuit and strike out early for the Blue Grotto. When you dock and clear passport control, immediately look for a private boat guide (they are easy to spot by the ferry boat landing) to take you as entrance to this ethereal cave is only by boat. The Blue Grotto is known for its vibrant blue color created by the sun's rays refracting through the sea and reflecting in the grotto's interior. If it is a choppy sea day, this won't be an option because the entrance to the cave is only one meter high from the sea. It is best in the early morning before the sun is too high in the sky.
While there are no real beaches, you can enter the water in the harbor in designated places, as well as a few other places away from the main port. Bring a towel with you and get a dip in on a hot day.
About 400 steps and a good work-out lead up to the Saint George Church, where you can see amazing views of the harbor and the Turkish coast. Keep going and you will find yourself at the Castle of the Knights of Rhodes. From there you will find the other side of the island, and a majestic place to take in the sunset on a clear day.
Hire a private boat to take you on a tour around the island for the day. Feast on delicious food and swim in the azure sea in various spots around Kastellorizo.
Note that accommodations are limited, so be sure to make reservations well in advance if you want to stay the night.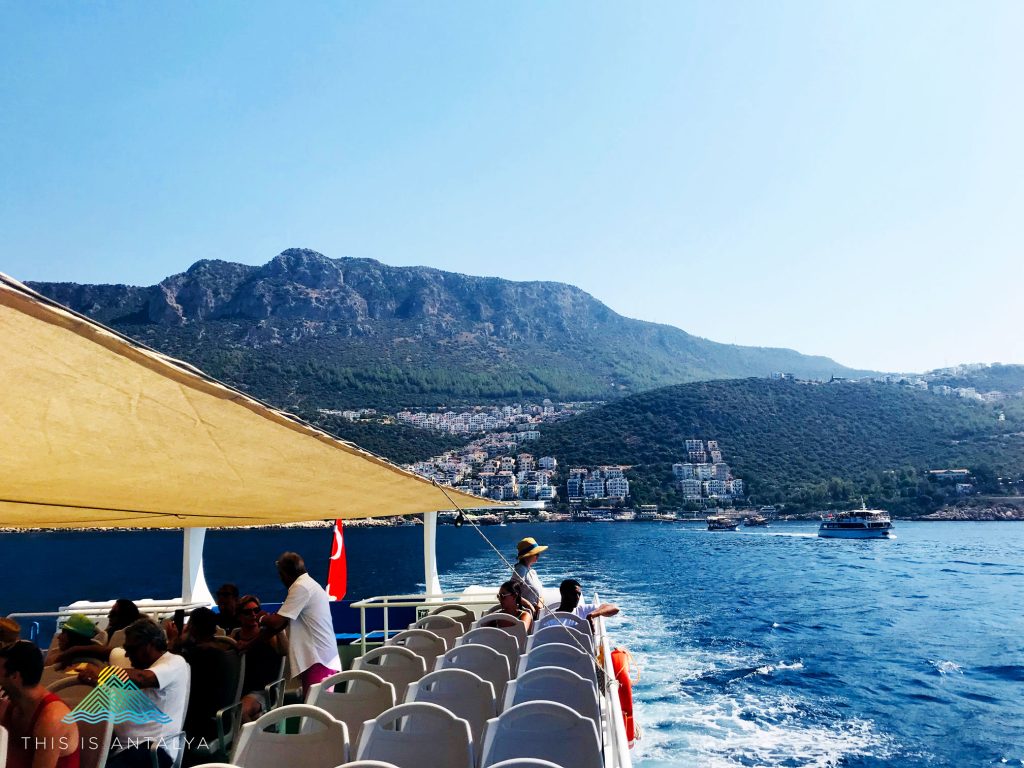 There used to be two ferry lines from the Kaş port that run to Kastellorizo daily. We have only used Meis Express, and we highly recommend their service. The ferry departs from Kaş daily at 10am and then returns to Kaş at 4:00pm. This is the perfect amount of time to have a leisurely day exploring the island. If you want to stay longer, there are a few hotels and pensions on the island that could be serene locations for a few days' rest.
Currently, as of June 2022, to travel to Greece you have to show proof of vaccination in the last 9 months or a negative Covid test (either 72 hour PCR or 48 hour Antigen). Children and babies ages 6 and under are 10 Euro for a round-trip or 5 Euro one way and 15 Euro return on a different day. Ages 6-12 are 20 Euro round-trip or 15 Euro one-way and 25 Euro return trip different day. Everyone else is 35 Euro round-trip same day, 30 Euro one-way and 40 Euro return trip different day.
Know that early on the day of departure or the night before, you will have to leave your passport at the office for a couple of hours while they make the necessary passport control preparations. When you arrive for departure and receive your passport back, it will be stamped to exit Turkey and be ready to go to Greece. This makes the exit and entry process so much smoother and faster.