Family is sacred in Turkey. And so is breakfast. What happens when you combine the two? Well, it can't get any better than that! Like so many others in this beautiful country, this is exactly what our friend Hanım and her family have done.  Just around the corner from Aspendos, one of Antalya's busiest tour bus attractions, Kadir'in Yeri sits in the middle of several other unassuming gözleme cafes.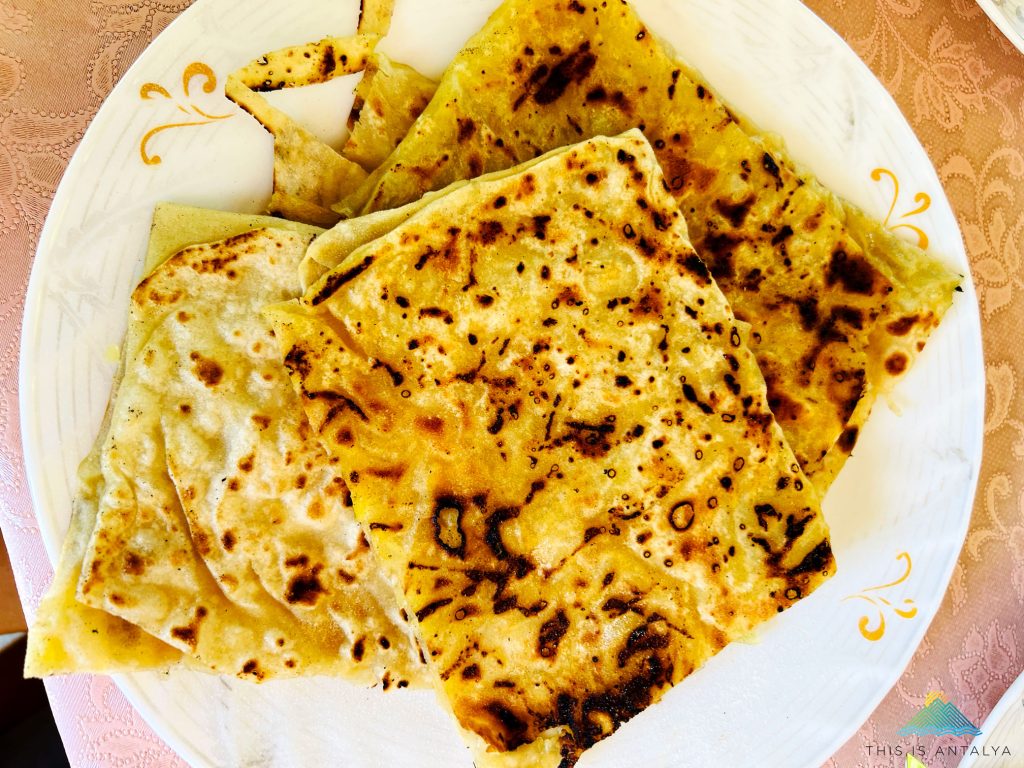 For those who are wondering, gözleme is to Turkish breakfast what pancakes are to American breakfast. But, don't be confused when you are here and see it labeled Turkish pancakes on a menu. It does not look like a pancake nor taste like a pancake. It is a beloved stuffed flatbread that can be enjoyed all by itself or with a scattering of other breakfast items. It can also be eaten as a snack or for lunch. Much like pancakes, there are many variations, but most of them involve savory choices instead of sweet.
While it seems like a simple food with minimal ingredients, unlike pancakes, gözleme requires skilled hands and a huge cast iron, coal or wood fired oven. It is not uncommon to find gözleme cafes in the middle of nowhere as you are driving down the highway. These village cafes are always a welcome sight and are worth a stop. Most of the time, the ladies making gözleme are kind enough to let you watch them knead and roll the dough and then turn it into buttery, flaky yumminess on the hot stove. Hanım is no exception to that rule, and she does her craft with speed and precision.
Preparing gözleme is not a job for the faint of heart. Much of the work is done sitting and leaning over, in oftentimes crazy hot summer temperatures next to a blazing and smoking oven. But you will never see or hear complaints. In fact, it seems as if it is the most pleasant work instead of the tedious and sweaty job it really must be. As hard as it is, it is the perfect job for chatting and catching up on life while you work with your hands. Perhaps this is why we have only seen women making gözleme.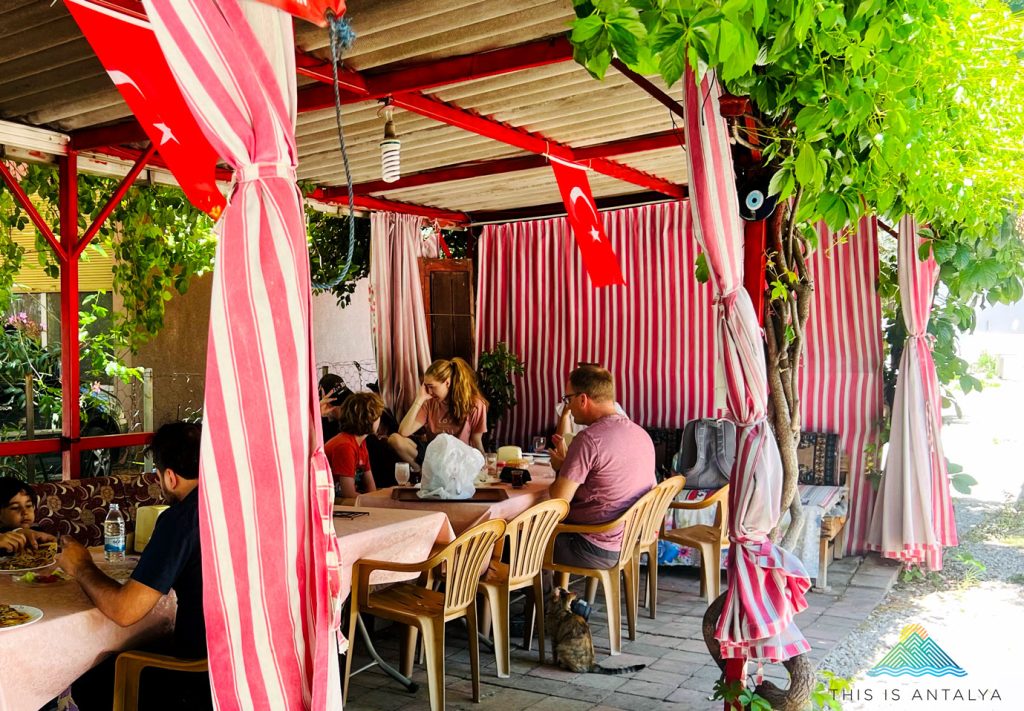 If you have followed us since the beginning of This is Antalya, you have seen a photo of Hanım before. Her hard-working hands were featured in our 10th Instagram post promoting our launch in January of 2020…before Covid changed the world. Our first introduction to Hanım was back in 2018, the last time we had family come to visit, and our kids were STARVING after touring Aspendos. She and her daughter-in-law, Ayşe Gül, drew us in with their waves and beaming smiles. Their simple and gracious hospitality included patiently answering our questions and allowing our youngest, myself, and my curious mom to sit close and watch as Hanım prepared our gözleme.
After relaxing in the shade of their outdoor cafe, marveling in their fresh-squeezed pomegranate and orange juice, and watching Hanım work her magic with the gözleme, we were smitten with this sweet family. We have been back each year since, even in March of last year when restaurants were briefly open for a couple of weekends in between lock-downs and closures. Since a guinea hen (small chicken) proudly jumped on my mom's head while we were sampling the scrumptious work of Hanım's hands on our first visit, when we revisited our friends they easily remembered us. (It also helps that we have four blonde children.)
Every time we visit, Ayşe Gül is sure to never let us leave empty-handed – I just made some fresh-squeezed orange juice this morning from the 2 kilos of oranges they gave us on our Mother's Day visit. It doesn't matter how many months come in between our visits, they always treat us like family when we are there.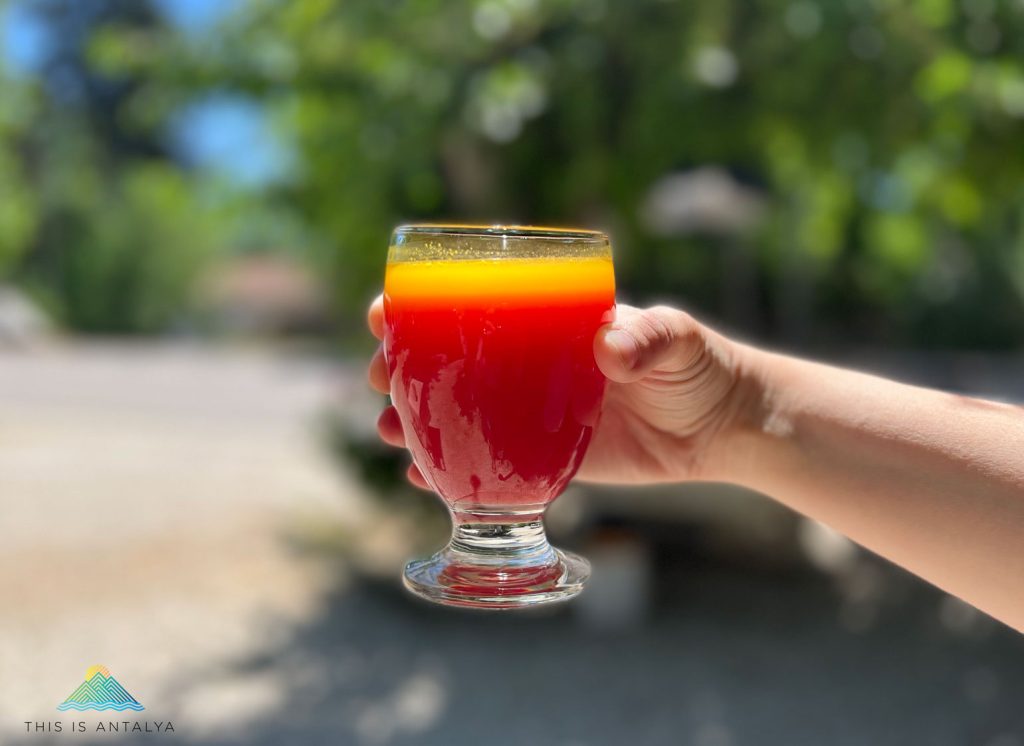 Hanım has been expertly turning out gözleme at Kadir'in Yeri for twenty years. She has lived on that land for fifty years and raised her family there. Prior to opening the cafe, they worked as farmers and grew orange trees and cotton. From bringing up her kids and keeping her home to feeding her family and working the fields,  she has labored hard with love. This is evident in the lines of her beautiful face and the strength of her work-worn hands.
Kadir'in Yeri is named after Hanım's grandson, Ayşe Gül's oldest son, who now works security at a resort not far from their village. The younger grandson, Sezar, now helps out with the cafe.
Ayşe Gül and Hanım are hard-working, generous women who are the heart behind this unostentatious family business. Their eyes twinkle with pride when asked about their history.  Open year-round every day, the last two years have been challenging for this family-run business because of all the Covid lockdowns. It appears these tenacious ladies, with the help of family, have done what it takes to keep the cafe up and running. Running a successful business, especially through a pandemic, takes grit and determination – something Hanım and Ayşe Gül both share.
We couldn't be more thrilled for them that tourism has picked up again in Antalya, and it seems as if they will have a busy summer. As we were there on Mother's Day, a large bus pulled up and dropped off a dozen Americans in the middle of a three-week tour of Turkey. It was a delight to watch our friends impress these tourists with their offerings, as well as see Hanım and Ayşe Gül's hands effortlessly do quick work with 12 different gözleme orders.
If you are heading to Aspendos, please be sure to stop by Kadir'in Yeri before or after your visit. Tell our friends hello and try the spinach and cheese gözleme and pomegranate and orange juice. You won't be disappointed!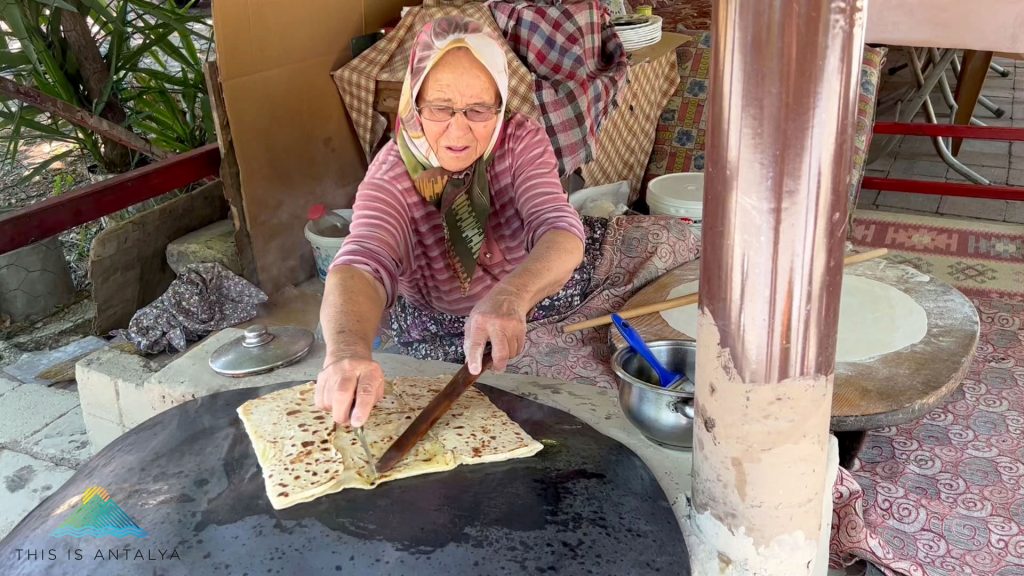 Address: Sarıabalı, Aspendos Yolu, 07500 Serik/Antalya
Telephone: +90 536 558 54 84