In the last couple of years, sushi restaurants have popped up all over Antalya. In a place where ethnic food options are more limited than some of the other large tourist cities in Turkey, this is a welcome trend! We are by no means experts or authentic sushi connoisseurs, but we can tell you what our family prefers. So, in an attempt to narrow the options down for you, here are our top three recommendations for the Konyaaltı side of town.
Our top pick is Sugoi Sushi Express. Hands down, this is the best sushi in perhaps all of Antalya. The unique atmosphere, friendly service, and delectable food make this a must-stop if you are in the mood for sushi. Side note: they also have amazing Chinese food if you don't want sushi. Sugoi Sushi Express is closed on Mondays. It is a good idea to call a day or two ahead and make reservations to make sure you get a table at this cozy, family-run business.
Address: Gürsu, 320. Sk. No:27A, 07070 Konyaaltı/Antalya
Opening Hours: Tuesday – Sunday, 12:00-22:00
For reservations and clear direction to the location (which is sometimes inaccurate on GPS), call +90 543 126 07 07.
Kokoyaki Sushi – Kokoyaki Sushi offers a greater number of tables with a decent amount of personal attention. The service is good and the sushi is fresh, but it is on the higher price side. Right on the Konyaaltı Beach main boardwalk, Kokoyaki is in a fun location. It also offers Chinese food for the non-sushi eaters. Reservations at Kokoyaki are not as important as Sugoi, but can still help on busy weekend nights.
Address: Gürsu, Akdeniz Blv. No:186/A, 07070 Konyaaltı/Antalya
Opening hours: Sunday – Saturday, 12:00 – 00:00. 
Make reservations by calling +90 535 935 55 40.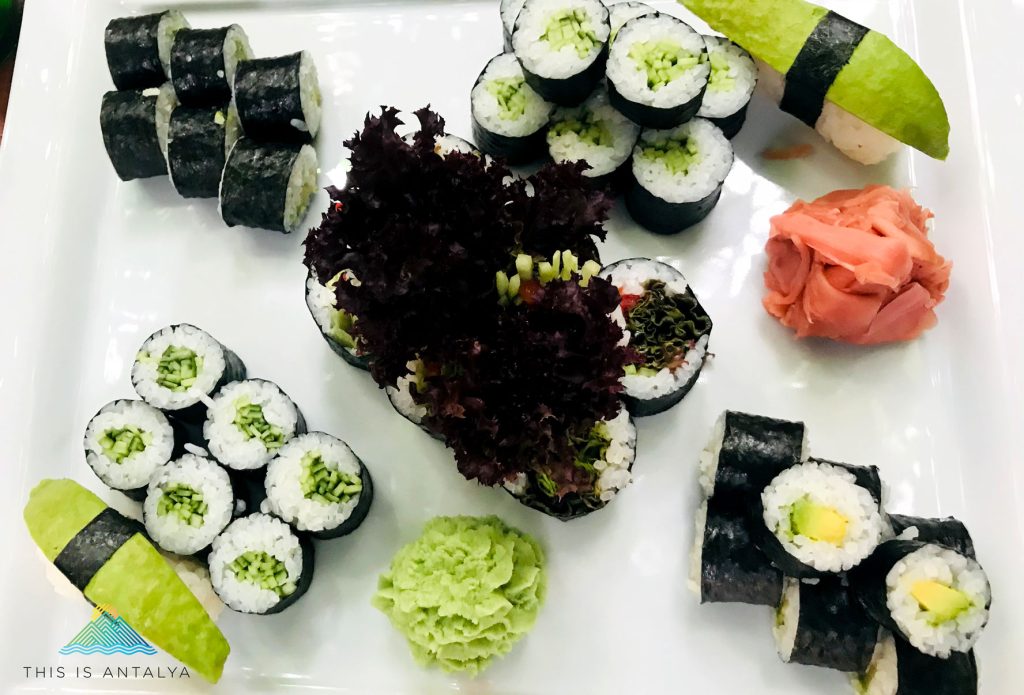 IVA Sushi & Bistro – One of the first sushi places in Antalya, IVA is a tried and true favorite for our family. The service is excellent (and most of the waiters speak English) and the sushi is decent quality. The presentation is always lovely and the price is on the lower end for sushi in town. It is also a family favorite because there are a plethora of other menu items not related to Japanese or Chinese food (which is good for one of our kids). But, even our one sworn anti-sushi daughter enjoys the Crunchy Shrimp Rolls at IVA.
Address: Liman, Boğaçay Cd. No:65/A, 07130 Konyaaltı/Antalya
Opening hours: Sunday – Saturday, 11:00 – 00:00.
Reservations are not usually necessary, but if you want to request a table you can call +90 242 259 59 60.