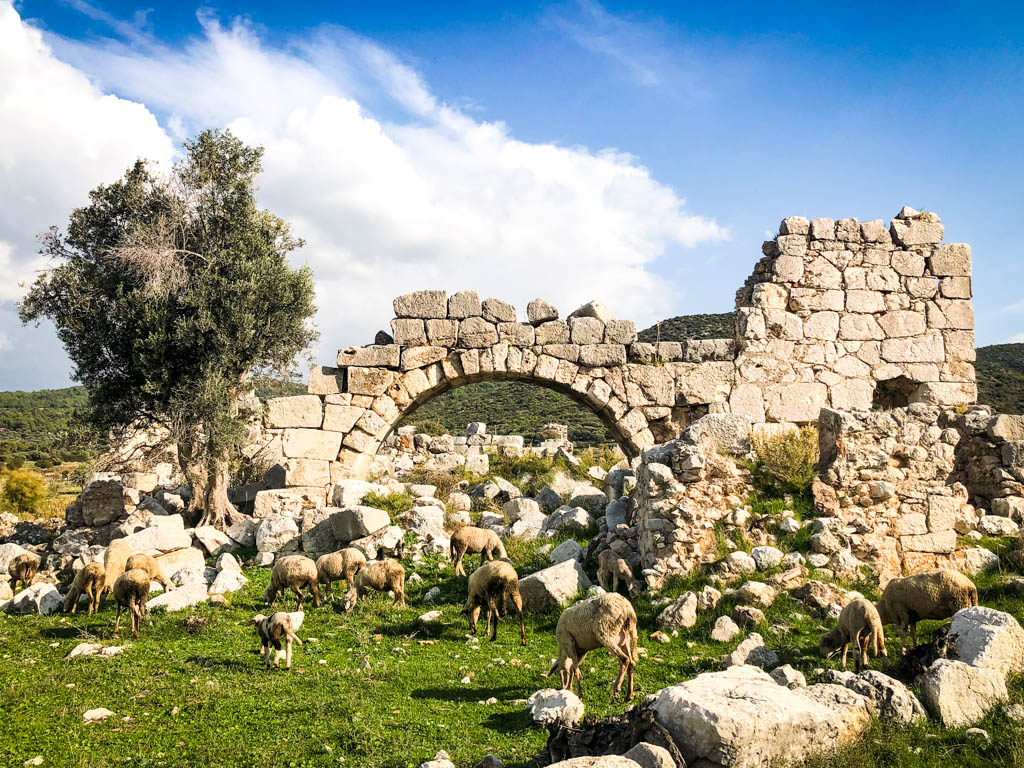 For history lovers, Patara boasts a rich and well-documented past that goes back to 8th century B.C. Legend explains that it takes its name from Patarus, the son of Apollo, who built the city. As one of the six major Lycian cities, Patara had three voting rights during the Lycian period, and during Roman times continued to be a significant port city in the region. Even though it also gained importance because of the birth of Saint Nicholas and the notoriety he gained as a benefactor of the poor, eventually Patara lost its influence as the harbor filled up with sand and its transportation and trade potential decreased.  
The Turkish Culture and Tourism Ministry declared 2020 to be the Year of Patara in order to promote and honor the importance of this ancient city. As such, a significant amount of money has been invested in this archaeological site for excavations and restoration, and that investment shows, especially in the Roman era theatre and reconstructed assembly hall complete with wooden doors. We can't count how many times we have wished at other ancient sites that we could see what buildings really must have looked like in their time, so while purists might object to this restoration and recreation, we admit the ability to see the assembly hall as it might have looked is awe-inspiring and memorable.  
You can't miss the monumental gate as you enter the city, The Arch of Modestus, constructed in 1st century A.D. and believed to at one point have been part of an aqueduct bringing water into the city. Other easy to find highlights are the amphitheater, the assembly hall, the main avenue, and multiple bath houses. Because they have done quite a bit of excavation work here, a lot of these areas are fenced off and visitors observe them from afar. Kurşunlutepe, the summit of a rewarding hike up a hill to the right of the amphitheater, affords an incredible 360-degree view of both the beach and the ancient ruins, as well as a temple tomb and a Hellenistic cistern carved out of the rock.  
A fully restored Patara Lighthouse will be amazing to behold, but currently the area is off-limits for visitors as they work to recreate the structure with 80% original stones and 20% new stones. The lighthouse was built by Roman Emperor Nero in 64 B.C. and is thought to have been destroyed in an earthquake and subsequent tsunami in 1481.   
Like most ruins in Antalya, unless you plan on heading to Patara Beach after sweating it out in the sun, a spring or fall visit to Patara might be more comfortable. The ruins are spread out, so to truly experience the depth and wonder of the site, it takes a good amount of roaming around which is much more pleasant when it isn't 40 degrees Celsius. The lush vegetation and blooming fields of poppies and wildflowers make springtime at Patara magical.  
Helpful tips: There is a modern visitor's center with a helpful model of the city on display, as well as a snack bar and clean restrooms with toilet paper. Patara is stroller friendly and handicapped accessible to the amphitheater, assembly hall, and entrance to the main avenue. Other than those areas, pushing anything around could be difficult. Because of the vast expanse of the ruins, we recommend good walking shoes, water, and sun protection for summer days. A visit to Patara Beach after you hike around the ruins is highly recommended; even in the spring and fall it is lovely.  
For a detailed explanation of the history and the specific ruins you can see at Patara, check out this article. 
Getting there: Patara is about 475km west of Antalya, 45km west of Kaş and 20km west of Kalkan. You can reach Patara by car, bus or taxi off of D-400. Minibuses from Kalkan or Kaş will drop you at Ovaköy where you can take a 3.5km taxi drive to the village of Gelemiş, or Patara.   
Location: Patara Antik Kenti, Gelemiş, 07976 Kaş/Antalya 
Telephone: 02428435018 
Hours: Summer: 08:30 – 19:00, Winter: 08:30 – 17:30 
Entrance Fee: 30TL per person or Free with Museum Pass as of April 2021