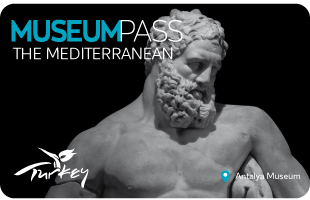 Upon entering museums and sites in Turkey run by the Ministry of Culture and Tourism, tourists may purchase a Museum Pass. For the price of 360TL, you can get a Museum Pass for the Mediterranean area; it covers unlimited entrance to more than forty museums and archaeological sites in Antalya, Mersin, Adana, and Denizli for seven days (starting the first time you use the pass.) The Museum Pass also gets you a 10% discount on souvenirs in official gift shops, as well as on food at snack bars/cafes inside museums and sites.  
If you plan on traveling to other parts of Turkey, you can purchase a Turkey-wide pass for 600TL that covers entrance to over 300 museums and archaeological sites for 15 days.  
While it seems like it might make sense to go this route since prices have gone up considerably in the last year, we still think you are better off just paying the entry price at each place unless your sole purpose for being here is to see every museum and archaeological site possible. If you are not doing extensive traveling and visiting at least one or two sites a day, the Museum Pass is not going to save you much money as you can see below.  
Here is a list of the costs of some of the major attractions in Antalya (as of March 2022) : 
Perge: 60TL 
Aspendos: 60TL 
Phaselis: 55TL 
Antalya Archaeological Museum: 55TL 
Olympos:40TL 
Termessos:12.50TL 
Myra:55TL 
Patara:40TL 
Side Theatre:55TL 
To get an even better idea whether either pass is worth it for you, you can see the current prices for most museums and sites on the Museum Pass website.  
Side note: If you are a foreigner living in Turkey and have a TC number, you should be able to get a museum card by showing your current resident permit/ikamet at a sales office. Your price should be 60TL.
Where can I purchase a museum pass?