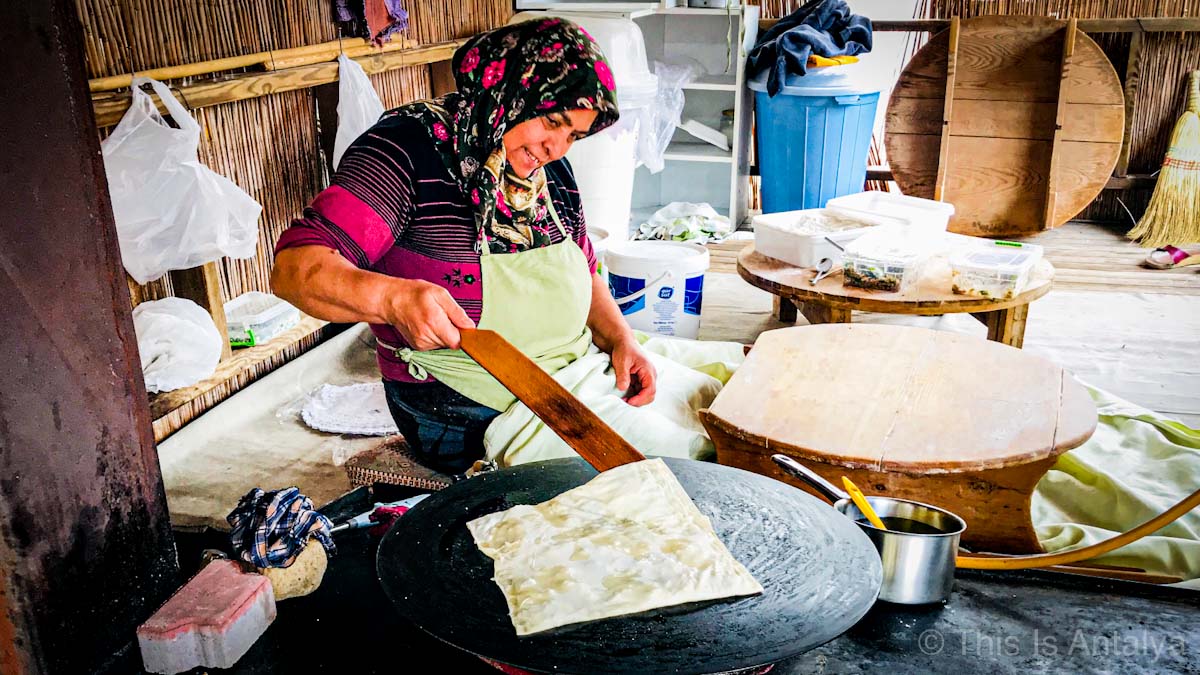 Turkey is known for its lavish breakfast, or "kahvaltı," and it is a culinary experience you do not want to miss while you are in Antalya. We have visited many a kahvaltı evi (breakfast house) in the city in search of the best, but one of our tried and true favorites continues to be Zeytin Dalı Kahvaltı Evi, located on the west side of Antalya near the charming breakfast village of Çakırlar.  
We actually stumbled upon this place because of Google reviews highlighting its "clean restrooms," which is a must for this family of six. But Zeytin Dalı offers its guests so much more than its cute and tidy bathrooms.  
Under new ownership as of 2018, Zeytin Dalı aspires to be an aesthetically pleasing sensory delight on every level. From the majestic mountain views and plethora of fragrant trees on the property to the daily made in-house jams and relishes, this restaurant offers a holistically pleasing meal that will certainly impress any visitor.   
Their ample "serpme" breakfast ("breakfast spread") includes limitless Turkish tea, fresh bread, fried eggs and fresh cucumbers, peppers, and tomatoes.  Small dishes of freshly prepared relishes, olives and jams from the Hatay region of Turkey can be refilled at no extra charge and specialty items like gözleme (Turkish lavash bread filled with cheese, potatoes or meat and cooked over a hot stone) and bazlama (English muffin like bread) can be ordered separately. Our family favorites are the yoğurtlu gözleme (seasoned ground beef stuffed on the inside and drizzled with yogurt and red pepper on the top) and kaşarlı (cheese) bazlama. You can also add on freshly squeezed seasonal juice and Turkish coffee, or just order gözleme and bazlama instead of the larger breakfast.  
Many visitors enjoy watching the sweet teyze (aunt) make gözleme as their food is prepared.  And with a children's play area and a coop where you can feed your extra greens to the hungry chickens, there is plenty to keep the little ones occupied and adults relaxed so you can enjoy a lovely 2-3 hour brunch with family and friends in a natural, spacious environment.  
For those looking for party rental space, Zeytin Dalı is a lovely place for birthday parties or large family gatherings.