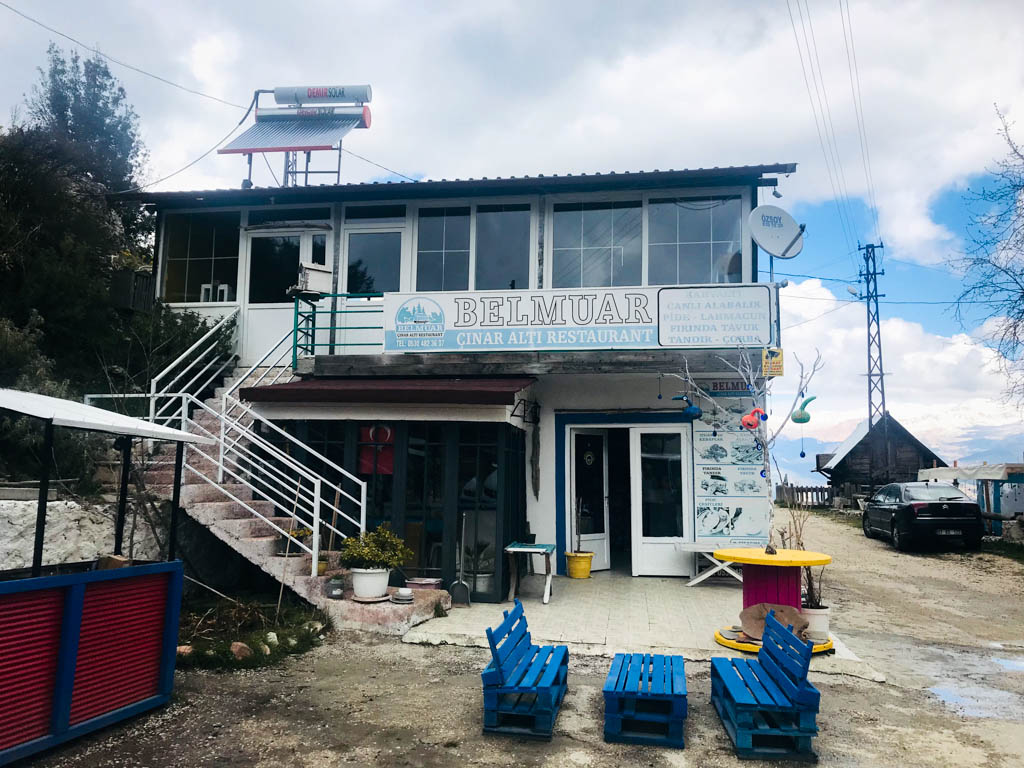 Belmuar Restaurant, on a bend in the picturesque mountain road between Kalkan and Elmalı, was a lucky discovery for us. We had passed it three times before on our way to and from Kalkan, but by the fourth time we needed to eat, and it was there.  
Location: Belmuar Restaurant is strategically placed on a scenic "yayla" (Turkish for plateau) on Akçay Kalkan Yolu near İkizce between Kalkan and Elmalı. As you are either heading uphill on the way to Kalkan or descending toward Elmalı, you cannot miss it. It correctly pulls up on GPS as you navigate there. On a hot summer day, its higher altitude would be a pleasant break from the sweltering temperatures closer to the sea.  
Atmosphere: When you first pull up, Belmuar appears unassuming, but as you look past the simple building to the majestic view of the Taurus Mountains beyond the lush plateau meadow, you know this is the idyllic kahvaltı setting. We visited in early spring when dancing wildflowers framed the snow-capped mountain peaks in all their distant splendor. It was a sight that literally took our breath away. The outdoor seating area contains several sheltered bungalows with Ottoman-style tables seating 8-10 people, as well as some smaller individual tables scattered around in a garden with charming rustic decorations. We were the only guests, so we were seated in the bungalow with the most amazing view. Lucky us! The open meadow beyond the seating area could entertain the kids while the adults sip çay and revel in the beauty all around.  
Quality of Food: The sophisticated presentation and delicious taste of every food item placed on our table rivaled, if not obliterated, all the best kahvaltı we have eaten in Turkey. Belmuar relies on a farm-to-table concept where almost all their kahvaltı items are organic, home-grown, and homemade right in the restaurant. From the perfectly pink beet-soaked olives (a first for us) and delicate homemade jams, to the scrumptious fried pişi (donut-like bread) and house-baked sourdough bread, each dish was outstanding. The tomatoes and cucumbers were fresh and juicy, and the cheeses were abundant and delectable. The tea was unlimited and brewed just right. In addition to the expected kahvaltı items, there was tasty potato salad, roasted green peppers topped with perfectly spiced tomato sauce, and heavenly helva that tasted like fluffy marshmallow cream. Specialty offerings change seasonally as different foods ripen.  
Amount of Food: The serving sizes were generous, and we had so much food that we actually took some home.  
Cost: At close to 60TL per person for the Serpme Kahvaltı (spreading breakfast), Belmuar is on the upper end of what we have paid for kahvaltı in Antalya. However, this was to be expected for the Kalkan area, and we think it was worth every lira we paid.   
Cleanliness: Because seating is largely outside, some dust is expected. However, our bungalow was clean and well-kempt, with some regular wear and tear on the cushions, and the rest of the seating area looked to be in good condition.  
Restrooms: There is a separate building across from the meadow that you access by walking up the road that runs in between the building and the seating area. There is one women's restroom and one men's restroom. Both were clean and in good working order with toilet paper, paper towels, and hand sanitizer. 
Service: We visited mid-morning on a Thursday in the early spring of Covid-19 days, and we were the only customers at the restaurant. We pulled up and tentatively asked about breakfast, to which they responded, of course! It did take a significant amount of time for our food to be delivered, but we think during busier times the wait is probably not as long because they are more prepared. Our server, Sibel, was friendly and always smiling. She shared some information about the restaurant and proudly explained it is her mom who cooks and prepares the food. Upon our departure, we were offered a small cookie and a portion of Ottoman sherbet, a fruit drink traditionally made with sour cherries, plums, golden raisins, ginger, cloves and cinnamon.  
Final Thoughts: Simply put, the kahvaltı at Belmuar was the most gorgeous spread we have ever had in Turkey – and we have had kahvaltı in more lovely places than we can count! The price tag is higher than some and the wait was long, but the arresting view and exquisite food more than made up for it. Belmuar, while seemingly in the middle of nowhere, justifies a special trip or is a must-stop if you are driving through.
Update: We were back in the area in early June and visited once more, only to be overwhelmed again by their hospitality, gorgeous food, and picturesque setting. This time we called in advance, and our wait was minimal. Go visit them!! Belmuar does not disappoint!!
Location: İkizce köyü yolu, Kaş/ ANTALYA, 07580 
Hours: Monday – Sunday : 9:30 – 21:30  
Telephone: 90 530 482 3607