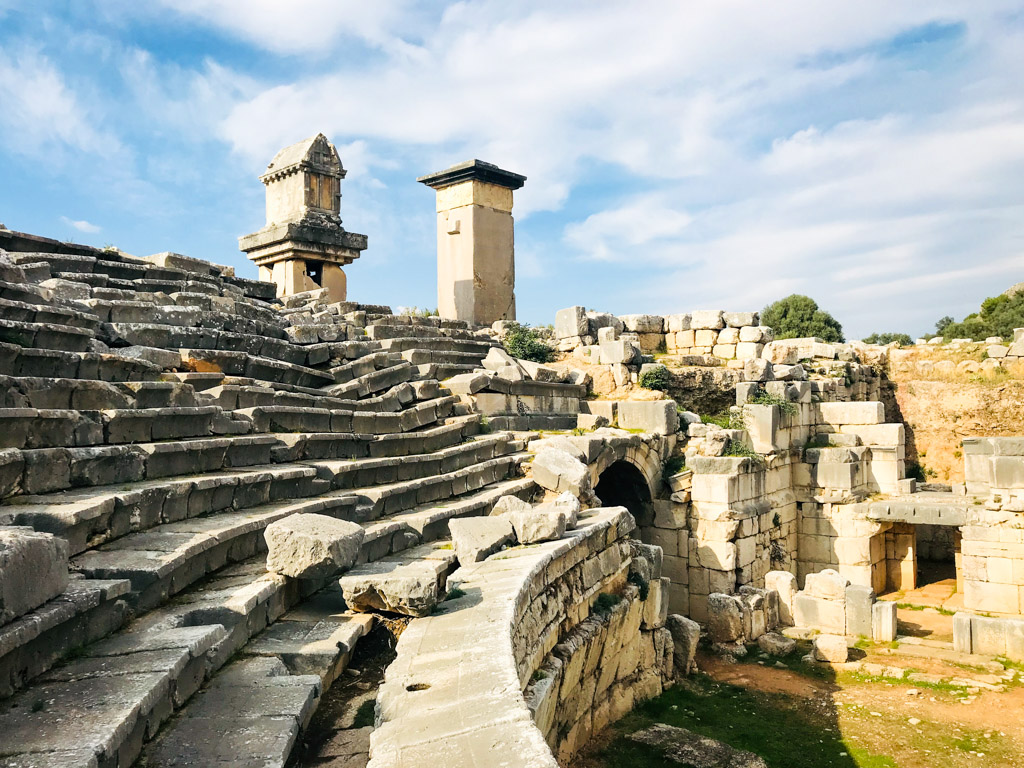 On the border of Antalya and Muğla stand Xanthos and Letoon, two ancient ruins that were selected together in 1988 to be UNESCO World Heritage sites. According to the UNESCO website, they were chosen because they "illustrate the blending of Lycian traditions and Hellenic influence, especially in its funerary art." Funerary art is basically any decorative work of art placed on, adding to, or forming a burial site. Apparently, when originally uncovered by British discoverer Charles Fellows, ornately decorated burial tombs filled Xanthos. Regrettably, he carried most of these unique discoveries away to Britain. He did leave behind a few remnants of these spectacular tombs, which you can still see today.  
Other than these interesting burial chambers on pedestals and our fascinating tour guide friend, Durmuş, we found Xanthos not that outstanding as far as ruins go. It is situated in a beautiful location surrounded by the village of Kınık, and the view of the Xanthos or Eşen River is lovely. Our visit was peaceful and pleasant, free of the crowds of other attractions.  Yet as we walked about, we waited for the magnificence of this UNESCO World Heritage site to strike us, and it never really did. Perhaps this is because another of the reasons Xanthos was chosen was the discovery of multiple inscriptions on rocks that helped to decipher the complicated Lycian language. This gave historians profound clues as to what life was like in those times. Though fascinating to hear, seeing these inscriptions without knowing what they say did not excite our kids as much as traipsing up the rock-lined path to the necropolis tombs or play-acting in the amphitheater.  
There is quite a bit to see, including the somewhat still intact amphitheater, which featured gladiator fights with animals during Roman times, ruins of a possible temple for Artemis, a Byzantine Basilica, and a Roman street with shops at the end. But, again, it just seemed to be lacking the magic of an ancient ruin we have come to expect. We were a bit underwhelmed by our time at Xanthos, maybe because our expectations were a little too high and probably because the most incredible parts of this treasured site are not there anymore.  
Despite this, we do recommend a visit to Xanthos if you are in the area mostly because we had such a great conversation with Durmuş our tour guide.  Keep your expectations in check and remember that it was chosen as a UNESCO World Heritage site because of its cultural significance and because of the discovery of remarkable tombs that were taken to a museum in Britain that is far, far away from Antalya.   
Helpful tips: There is free parking on site and bathrooms at the entrance (not in working order at our vi There is also a small shack with a snack bar and souvenirs. Because it is quite large, we recommend good walking/hiking shoes. It could be warm on a summer day, so bring a water bottle, a hat, and plenty of sunscreen.  
For a detailed explanation of the history and the specific ruins you can see at Xanthos, check out this helpful link: http://www.lycianturkey.com/lycian_sites/xanthos.htm 
Getting there: Xanthos is about a 200km drive west of Antalya, 45km west of Kaş and 20km west of Kalkan. You can reach Xanthos by car, bus or taxi off of D-400 in the village of Kınık. Follow the signs from D400.  
Location: Xanthos, Kınık, 07970 Kaş/Antalya 
Telephone: 02428454799 
Hours: May 1 – October 1: 10:30 – 19:00, October 2 – April 30: 08:30 – 17:30 
Entrance Fee: 14TL per person or Free with Museum Pass as of April 2021