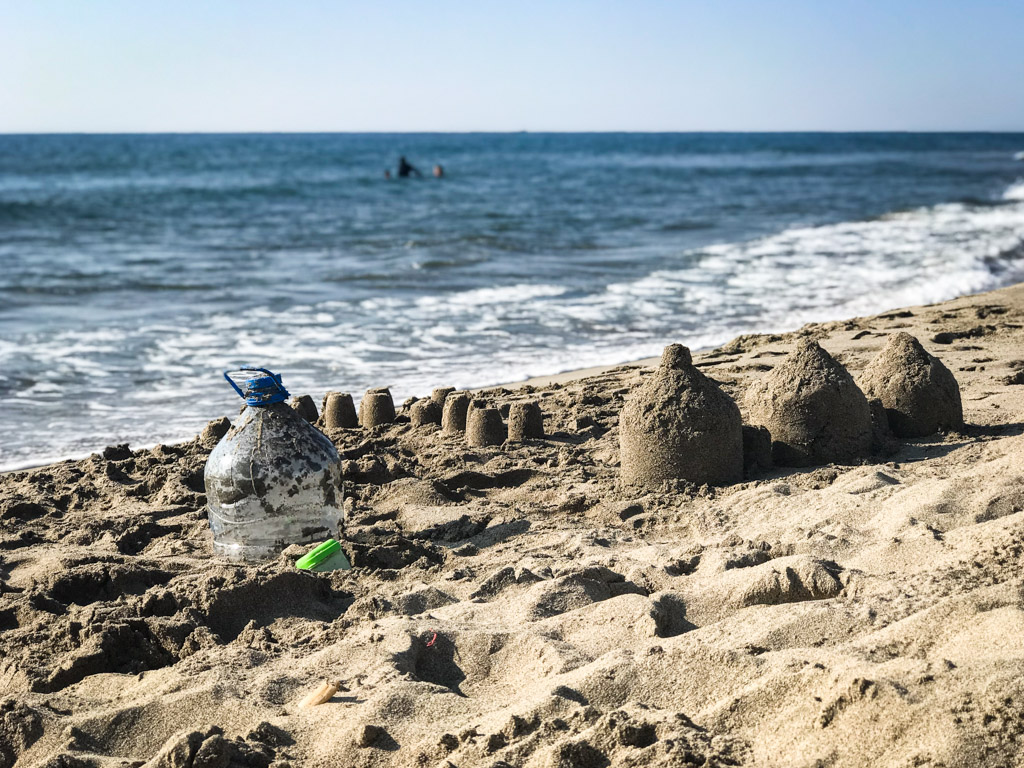 Living in Antalya city center, we often hear debates over which is the best Antalya beach.  People on the Konyaaltı side fiercely defend the rocky beach now lined with a boardwalk, cafes, and parks all along its shore, while people on the Lara side tout their beach as having what they call "sand" (but we really think is more like tiny rocks). We at TIA find positives about both Konyaaltı and Lara beaches but are here to say Patara Beach might take the prize.  That is, if beach for you means genuinely soft sand that makes you want to sink your toes in, build sky-scraper castles, and bury your kids or friends up to their faces.  
Inside the entry gate of the ancient city of Patara, there is a 40TL vehicle fee which covers up to ten people, or ten visits in a ten-day period. Alternatively, if you want to visit the ruins, pay 30TL per person or use your Museum Kart, and the fee includes the beach too. Utilize the free beach parking lot, then take a short walk to the sandy beach and spend the day enjoying the sun and sea. At the entrance are a few gift shops; a beach cabana rents for umbrellas and beach chairs . 
They might run out of beach umbrellas or chairs near the entrance, but because this beach is the longest beach in Anatolia at around 18 km, you will have no problem finding an empty spot even on a hot summer day. It is a national park area and is highly protected for two reasons: the historic preservation of the ancient city of Patara and the natural preservation of a nesting site for the Caretta Caretta turtles. These endangered loggerhead turtles typically lay their eggs May through August and then hatch in September and October. Using umbrellas or beach chairs in the spawning area of the turtles during these periods is strictly forbidden. 
If you have children, another benefit of Patara is the shallow depth of the water. Our young kids were able to walk, not even on their toes, about three times farther than what they normally would, and that made for great fun and a little less stress for us as parents!  
We recommend visiting for the whole day, taking along a cooler, beach chairs, a toy shovel and bucket, beach umbrella, and sunscreen. Frolic in the shallow sea, explore the sand dunes, envision and create your own mythical city out of sand, walk or run for miles along the shore, play frisbee, be mesmerized by the turquoise blue water, and relax in the sun as you imagine the days gone by at this glorious ancient beach.  
2020 was declared to be The Year of Patara by the Turkish government, and after visiting twice we understand why. Be sure to read our post on the Ancient Ruins of Patara if you want to spend some time there, too.   
Getting there: Patara is about 475km west of Antalya, 45km west of Kaş and 20km west of Kalkan. You can reach Patara by car, bus or taxi off of D-400. Minibuses from Kalkan or Kaş will drop you at Ovaköy where you can take a 3.5km taxi drive to the village of Gelemiş, or Patara.   
Location: Patara Beach, Gelemiş, 07976 Kaş/Antalya 
Hours: 08:00 – 20:00  
Entrance Fee: 40TL for 10 visits, 30TL per person with visit to Ancient Patara, or Free with Museum Pass (April 2021)