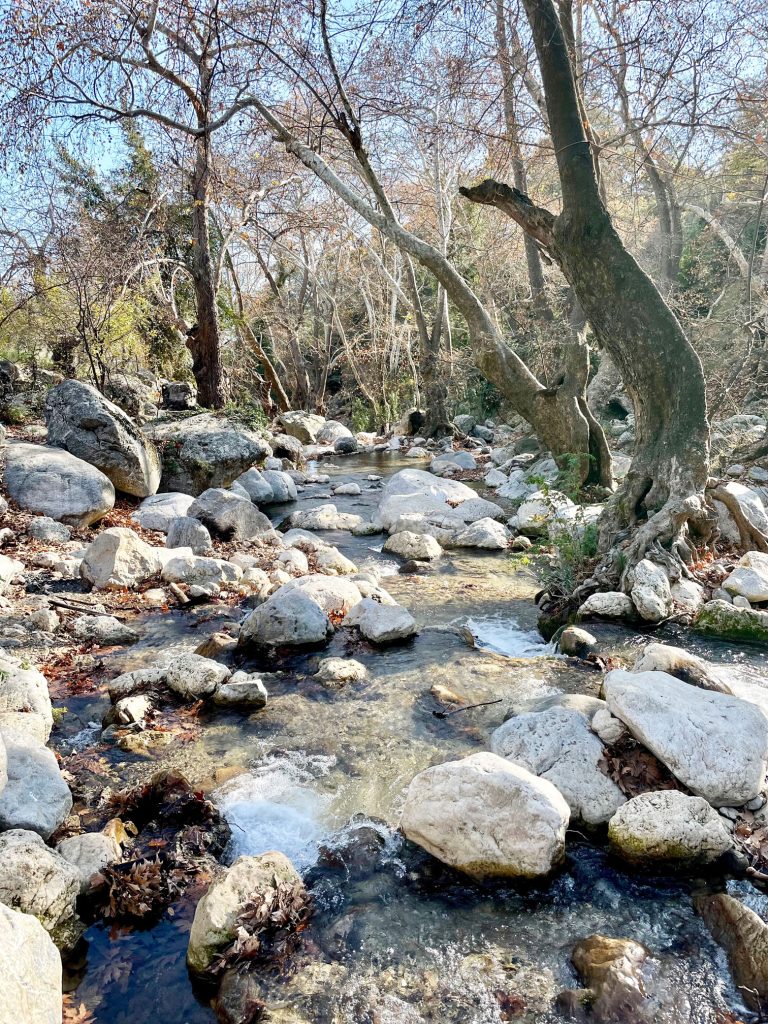 The incredible ancient foot path known as the Lycian Way is still in existence today. Stretching from Antalya to Fethiye, this was the trade route for the ancient Lycian people along the Mediterranean Sea. This 310 mile trek, as it is known today, came about in the 1990s because of the genius idea of a British woman named Kate Clow. Her vision was to create a hiking trail that would connect dozens of ancient Lycian cities and attract backpacking fans from across the globe.
After gaining backing from a Turkish bank, it took two years to complete work on the trail. All of the work and inspiration was fruitful enough to warrant Turkey's first internationally approved long-distance hiking trail: the Lycian Way.
Today, the Lycian Way is technically a "cultural route." It guides hikers through ancient Lycian ruins such as Patara and Olympos, rural countryside dotted with farms, holiday beach resorts, a mythical natural wonder, elevated footpaths also tread by shepherds and their flocks, and ancient Roman roads. If it is hiked in its entirety it would take a little more than three weeks from start to finish. 
Our Experience Near the Trail's Eastern Start
In 2022 we set out to find the start of the Lycian Way just north of Antalya in Geyikbayırı. It was hard to believe that only 12 miles up from the city the landscape could change so dramatically from a Mediterranean coastal climate to crisp mountain air and rushing streams. Plotting the location, we returned right after the new year started to hike a fraction of this colossal trail. 
Finding the location and parking were quite easy. However, the start of the path proved to be an adventure as it required carefully stepping on rocks across a running stream. There were slick parts that necessitated the use of a hiking stick to stay upright. After the initial rocky start, the trail surprisingly required less effort. Right after the stream was a rock face that is famous in Antalya for climbing.
We enjoyed a lovely hike on an unseasonably warm January day and left ready to explore more in the future. The section we hiked was not extremely difficult, even with our kids. Our youngest wanted to be in the hiking backpack and it was do-able.
Insider Tips for Geyikbayırı
Due in part to its high traffic – mostly European back-packing enthusiasts – the trail is wide, clean, and well marked. You can find red and white stripes on rocks and trees every 50 meters, but they are almost unnecessary as the trail is easy to spot near Geyikbayırı. 

Along with the European backpackers come Euro prices, so be aware of the campsites and restaurants in the immediate vicinity. One camp site was 90 Euro/night! 

The trailhead near Geyikbayırı was a pleasant hike with school-age children and we recommend it for families with kids. 

If you are hungry before or after your hike, don't miss the numerous outdoor breakfast/kahvalti establishments in Çakırlar.
Insider Tips for the Lycian Way
The beginning and ending points of the trail can be found in larger towns by looking for green, white, yellow, and black signs that tell location and distance information.

In some locations, the trail can be more difficult to track and is sometimes subject to change because of construction and new paths, so bring your GPS for times when the markings might leave you questioning where to turn.

Even though a good portion of the trail is in higher elevations, in the summer months it is still really hot. It can also be quite cold in the winter at night. We recommend visiting in Spring (late March to early June) and Fall (October to early December) if you plan on hiking the entire trail and camping along the way.

Wear sunscreen and bring a hat because you will be exposed to the sun in some sections of the trail. The sun, if it is out, is even hot in the "winter" in Antalya.
Take water and snacks with you if you are hiking for an extended period of time. Markets or cafes are not readily available in some sections of the trail.

Do your research before heading off on an extended trek with kids. T

here are many parts of the 310 mile trail that would not be recommended for families with young children.

If you are looking to trek the entire Lycian Way, be sure to check out Kate Clow's book, The Lycian Way.
Likya Yolu Başlangıcı, Akdamlar, 07070 Konyaaltı/Antalya
Search on GPS for Likya Yolu Başlangıcı and follow the directions. Once you get to this point, follow the road all the way down, past the campsites, until you see the stream. 
If you do not have your own vehicle, city bus 521 goes to Geyikbayırı and leaves from the Antalya Otogar (Main bus station) daily at 05:45, 12:45, and 18:45.