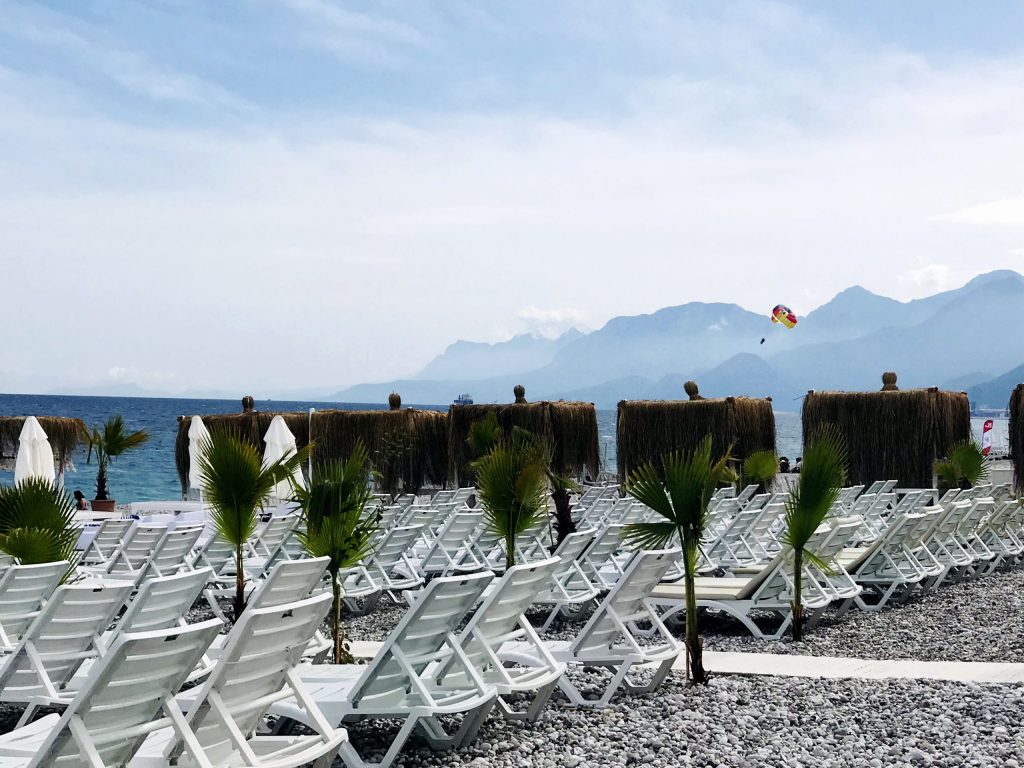 Imagine a place with miles of biking and running paths, a boardwalk lined with skateparks, playgrounds, and basketball courts, café upon café, and a rocky beach with unobstructed entry into a turquoise blue sea. Konyaaltı Beach is all of these things and more.
Boasting seven kilometers of beach access and breath-taking views of the surrounding Taurus Mountains, Konyaaltı Beach is a must-see stop if you spend any time in Antalya. Even if you just stop for a few minutes to take pictures and grab a few colorful rock souvenirs, this popular beach is worth your time.
Though there is no sand for castles or burying loved ones, we personally prefer the rocks because we take far less home in our suits! Some parts of the beach have smaller pebbles, while others have larger rocks. We recommend water shoes for those with sensitive feet, because there are rocks once you enter the water, as well. There is a fairly quick drop-off once entering the waves, so keep an eye on little ones.
Closer to the aquarium you will find the skatepark, a lovely green area, and the entrance to Sahil Antalya. As you drive west, you will find a host of restaurants and coffee shops across the street, as well as play areas and basketball courts all along the boardwalk. It is a lovely place for a stroll, jog, or bike ride (which can be rented in multiple places along the beach).
There are a good number of restaurants and cafes on the boardwalk side, especially closer to Sahil Antalya and then past the Boğaçayı Parkı, where you can rent beach chairs and umbrellas for a reasonable price. If you are looking for kahvaltı on the beach, The Big Stop in Liman is a great option.
Helpful tips: Sunrise and early mornings are lovely and people are scarce anywhere along the boardwalk. We recommend taking an invigorating morning swim in the tranquil sea or jogging along the running path. There is parking all along the boardwalk, but it tends to fill up in the summer months, so plan on parking on a side street. During the height of the day in busy season, it tends to be a little less crowded near the Boğaçayı Bridge, but you have a little farther to walk from the beach access points. If you are looking to spend the day, arrive early for a good spot, pack some water and snacks, bring your towels, some chairs, and an umbrella, apply and reapply sunscreen, and enjoy the ocean breeze.
Location: Konyaaltı, Antalya