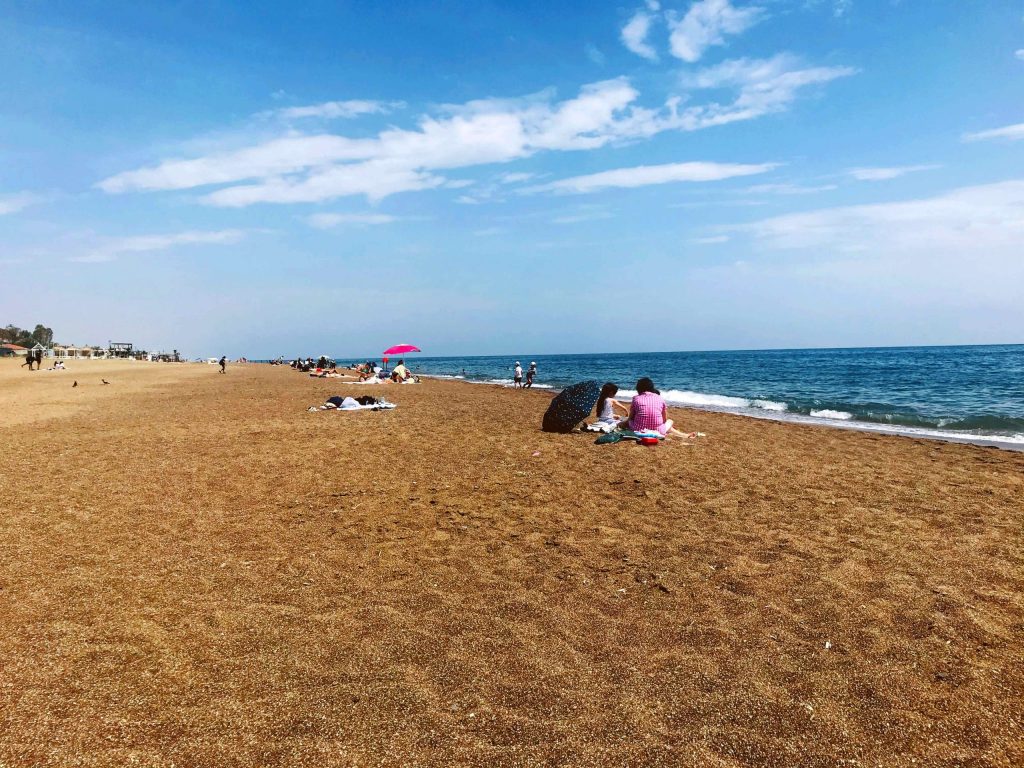 Which is better? Lara Beach or Konyaaltı Beach? Most people who live in the Antalya city center have strong feelings about this question, and most definitely have a preference. Read on to discover if Lara Beach would be your choice and if you should plan a day there.
On the east side of the city, starting just past Lower Duden Falls, Lara Beach is a good option if you are staying on that side of town.
People say all of the time that Lara Beach has sand, but we actually disagree. If you are looking for true sand in which you can sink your toes or with which you can build sand castles, head three hours west to Patara Beach.
Lara Beach has brown, pebbly sand that is often mixed with cigarette butts and sunflower seed shells. Your kids could potentially build castles, but not well enough that we think it is worth all the pebbles that come home with you afterwards. 
Despite our distaste for the dirty looking "sand", we do appreciate the somewhat shallower water, gentler waves, and ability to actually walk barefoot without killing your feet on rocks. Lara Beach could be more ideal for younger kids for all three of those reasons.
There is a public beach, Lara Halk Plajı, where you can find a spot to bring your towel, chair and umbrella. You can also go farther east for some private club options where you can rent chairs and purchase food while enjoying beachfront space.
The public beach provides picnic areas with grills, outdoor showers and rustic bathrooms. In general, we feel like the public part of Lara Beach has a less polished feel than Konyaaltı Beach and seems like it could use some upgrading and re-touching. 
If you happen to be going to Lara Beach, SANDLand Antalya is a fun place to visit. Another fascinating activity for some is to watch and count the number of planes flying overhead, as the beach is directly in the airport flight path.
On the east side of town, just past the airport, Lara Beach is fairly easy to reach. If you feel like walking, you can actually walk there along the coast from the Lara side of town. About a half hour drive from city center by car, or an hour by bus, multiple buses can get you there. Check out Google Maps or the AntalyaKart app to find the buses near you.
Address: Güzeloba, 07230 Muratpaşa/Antalya