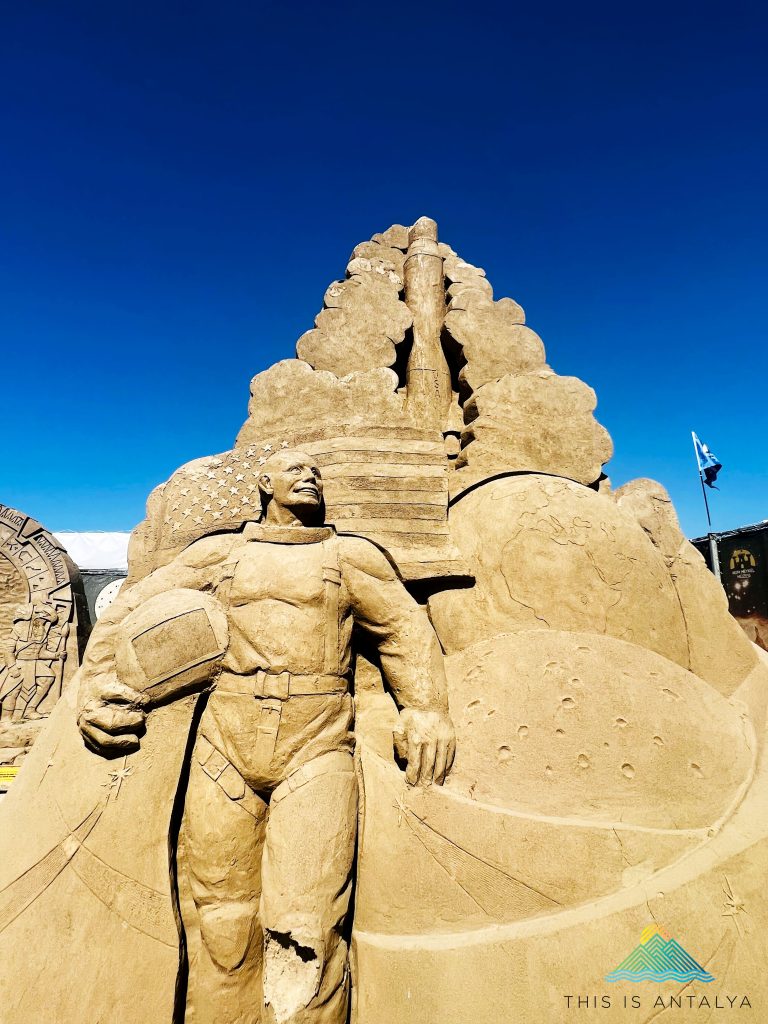 This year's SANDland Antalya installation, Space Adventure 2023, provides something for history lovers, space enthusiasts, art appreciators and film experts. Read on to see if it is worth a visit while you are here. 
2023 is the 18th year for this sand museum which invites sculptors from all over the world to come and create the many sculptures over a period of three weeks.  They use a sand/clay mixture from riverbeds along with a water solution coating sprayed over the sculptures to help protect them and ensure they hold up through the year. 
Every other year brings a new theme for the artists to use as their inspiration, but each year the sculptures are refinished and tweaked at the beginning of the season. Prior to this year's Space Adventure theme was Atlantis.
What can you see and do there?
Some of the sculptures are quite large and in total over 10,000 tons of sand is used. In the evening, the displays are lit up with LED lighting that accompanies the theme music looping throughout the day. In addition, during the 2023 exhibition, included in your admission price is the opportunity to look through a super powered telescope with a professional who will explain all that you are seeing! 
The display area isn't expansive so you could easily visit and see everything within an hour.  To round out your visit, the attraction affords visitors an onsite café and a children's workshop, complete with kinetic sand to create a sculpture.  
The 2023 Space Adventure sculptures include replicas of real life space shuttles, rockets, and models of people like Elon Musk with his SpaceX and Neil Armstrong walking on the moon. Space movie buffs will enjoy sculptures from well and lesser known "space" movies, including Star Wars, Star Trek, Guardians of the Galaxy, Interstellar, and Avatar. Kids will get excited to see Buzz Lightyear, Wall-E, Yoda and E.T. 
If you are already enjoying Lara beach next door, SANDland could be an enjoyable break from the sea. But, the sculptures are not covered and it can get quite hot walking around. We recommend going early in the morning when it first opens, or later in the evening after the sun has gone down if it is the hottest part of the summer.

Even with the river sand and protective coating, the sculptures do start to crumble a bit over time.  The best possible time to visit

SANDland

 would be early summer right after the new displays have been created.

 

Don't plan on more than one hour to see all of the sculptures. If it isn't unbearably hot, you might want to stay longer and let your little kids explore in the play area. 
There are clean bathrooms inside the museum.
There are discount tickets currently available on www.firsat.me that provide 25% off. They can be purchased and used until September 30, 2023. 
The telescope is currently available for viewing the moon and stars after the sun has gone down. 
Address: Güzeloba Mah. Lara Cad. Lara Birlik Halk Plajı. Muratpaşa/Antalya  
Tel: 0 242  349 1155 
Hours: Daily 9:00 – 23:00
Entrance Fee:
Adult with ikamet – 150 TL
Age 4-11 with ikamet – 80 TL
Student with ikamet – 100TL
Tourist Age 4-11 – 125TL
Tourist Adult – 250TL
(August 2023) 
Website: https://www.sandlandantalya.com/