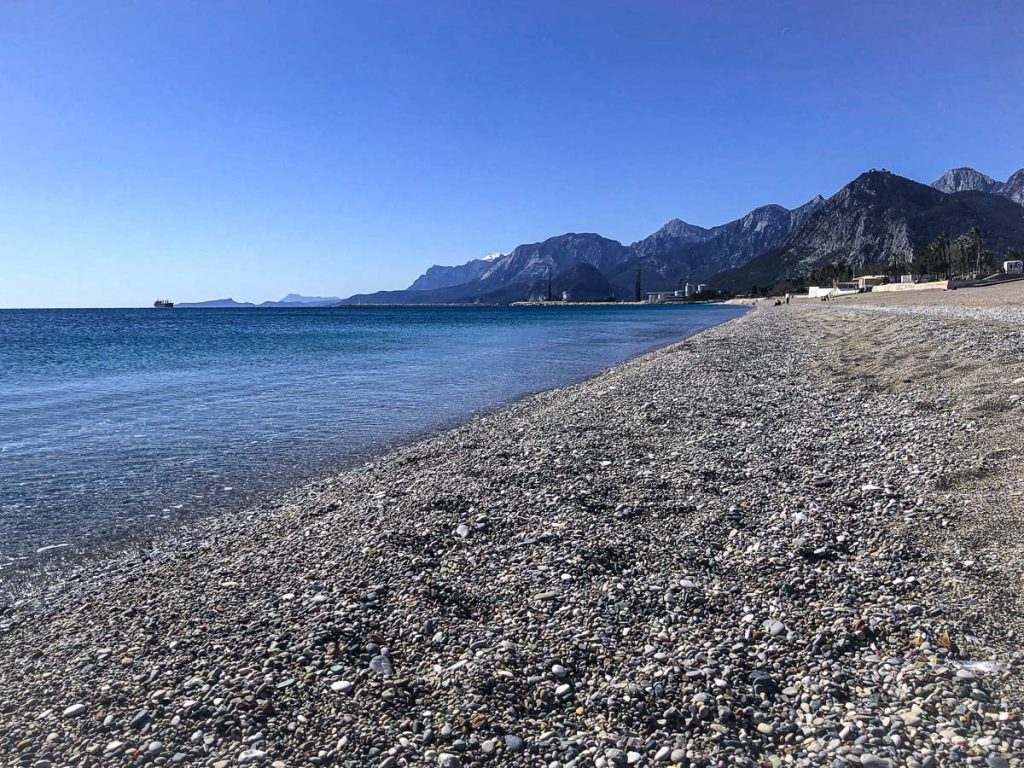 Konyaaltı One-Day Itinerary
Morning: Tunektepe Teleferik This affordable and beautiful trip up to a stunning view across the Mediterranean Sea is situated on the way from Kemer into the city.   
Beach:  Konyaaltı Beach and Sahil Antalya – The recently created boardwalk and revamped rocky shoreline won't leave your suit full of sand, but will leave you sun-kissed and ready for your next adventure.  
Children: Antalya Aquarium The heat of the sun and sea might call for a few hours of air-conditioned break, so pop into the city's aquarium to meet creatures of the sea and enjoy other kid-friendly activities. 
Sunset:  Heart of Antalya Located on the main Konyaaltı thoroughfare, the towering ferris wheel allows for a city-wide panorama and memorable evening. 
Eat Well 
Brunch:  Serpme Kahvaltı, a lavish Turkish breakfast, tempts self-control and fills you up for a busy day of sightseeing.  Many places offer regional specialties, so make sure you've had a chance to experience the real thing before leaving Turkey.   
Outstanding Option: Zeytin Dalı 
Lunch:  Döner, satisfies hungry locals and tourists at lunch.  While Turkish döner might share the look of its Greek counterpart, the gyro, its flavors differ significantly.  This roasted midday staple is typically made of chicken or beef, though our recommended spot offers only beef, and is served on lavaş (tortilla-like wrap) or loaf of bread with onions and spicy peppers if you'd like. 
Outstanding Option: Ekrem Coşkun, multiple locations in the area 
Köfte and piyaz: Turkish meatballs and white bean salad.  Köfte is smaller than a burger patty and contains beef, sometimes lamb, spices, and breadcrumbs. Antalya's signature dish, piyaz, is a white bean salad served cold.  Its flavors mimic the best of potato salad while being distinctively Turkish.   
Outstanding Option: Maydanoz Köfte Konyaaltı, multiple locations
Something Special: Enjoy the opportunity to try midye dolma (stuffed mussels).  Stuffed with aromatic rice, spices, and a squeeze of fresh lemon, this seafood treat can be purchased by hailing strolling beach vendors as they call out "midye var!" We quickly shifted from trepidation over a potential food borne illness to sadness over all the times we passed up the chance to enjoy these scrumptious, savory bites of the Turkish Mediterranean Sea. 
Dessert:  Künefe, if described simply by ingredients, doesn't sound appetizing. Look past what you see: sugary, syrup-soaked shredded wheat with cheese in the middle. Trust us when we say this dessert melds together into a warm and scrumptious dessert.  Our visiting family and friends give it mixed reviews but are always delighted to have tasted the authentic sweet.  
Outstanding Option: Keyf-I Künefe, Uncalı, Toroslar Cad. City Life 2, D Blok, No: 27/c 
For more ideas about food, check out some of our other posts: Gluten Free Antalya, Ev Yemekleri
Finding Your Way Around Is Worth It 
It might be that you are coming from an all-inclusive resort.  We recognize that not everyone has the tremendous privilege of living on the Mediterranean with knowledge of the local language and possession of a vehicle.  But, with plenty of local transportation options available, should you decide to brave the foreign streets on your own, the spots highlighted on this itinerary are a window into this magnificent country's culture, cuisine and people. We believe they are worth the extra lira and time away from the sea or pool (and buffet line) to experience.  This, not a resort, truly is Antalya.