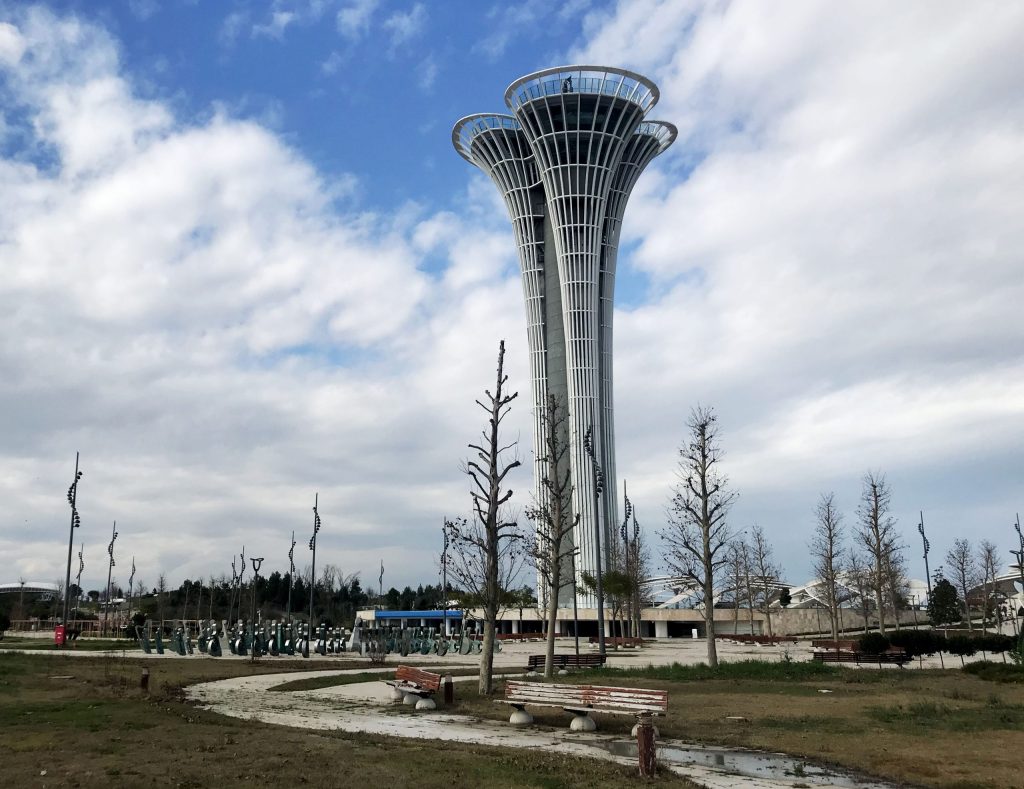 For six months during 2016, EXPO Park offered Antalya a shining distraction in the midst of what was a devastating year for the Republic of Turkey when it hosted Turkey's first International Horticultural Exhibition. A 112-hectare (277 acre) site found past the airport in Aksu, EXPO Park was masterfully designed and brought to life for millions of visitors to visualize its theme of "Cultivating a Green Life for Future Generations" and "Flowers and Children."  
History, Bio-Diversity, Sustainability and Green Cities made up the four sub-themes of EXPO 2016. In its six-month run, it hosted national and international congresses, panels, meetings and seminars, and provided cultural and artistic activities for its guests. 25,000 green plants of 120 species were planted, and a 950-year-old olive tree was also featured.  
Entrance to the park is now free and it offers acres of paved paths to run and explore, fascinating leftover flower sculptures, neglected cultural houses from seven regions of Turkey, empty amphitheaters, the still operating EXPO Tower, a sometimes-used convention center, a small museum, and an amazing children's playground. As you walk around the mostly abandoned park, you can't help but feel as if you are trespassing on a post-apocalyptic magical garden where faded remnants of its original beauty and glory are scattered around every corner. Imagining what this overgrown park looked like just five years ago when it was all fresh and blooming is half the fun.  
But the real highlight for our family is the incredible children's park that can be found in the southeast corner of the park. This is a can't miss playground that will keep your kids entertained for a long time, both young and old. Another fun spot in that same area is a kid's electric car park that allows children, ages 4-9 years, to pay 5TL for ten minutes of driving time on the miniature driving course. 
If you would like to survey the entire park from on high, you can pay a small fee to ride to the top of the 100 meter EXPO Observation Tower, modeled after a palm tree and the symbol of EXPO 2016.  
Helpful Tips: We recommend bringing snacks, drinks, and a blanket so you can relish in the abundant green space. Be sure to wear comfy walking shoes and pack your imagination, as well, so you can stroll and envision the wonders that once were in this quiet, enchanted park.  
How to get there: EXPO Park is easy to find right off of D-400 about 8 km northeast of the airport. Follow the signs from the exit to lead you to the main entrance. There is ample parking unless you happen to go when it is hosting a large convention. As part of the huge financial investment in preparations for the EXPO, the tram was expanded past the airport and stops in front of the park, making it accessible to those with or without vehicles. Look for Tram 1B.  
Location: Alanya Yolu, Serik Caddesi EXPO 2016 Antalya Sergi Alanı ,Aksu Antalya  
Entrance Fee:  Free with some extra charges for optional activities 
Normal Opening Hours: 9am-7pm (subject to change)