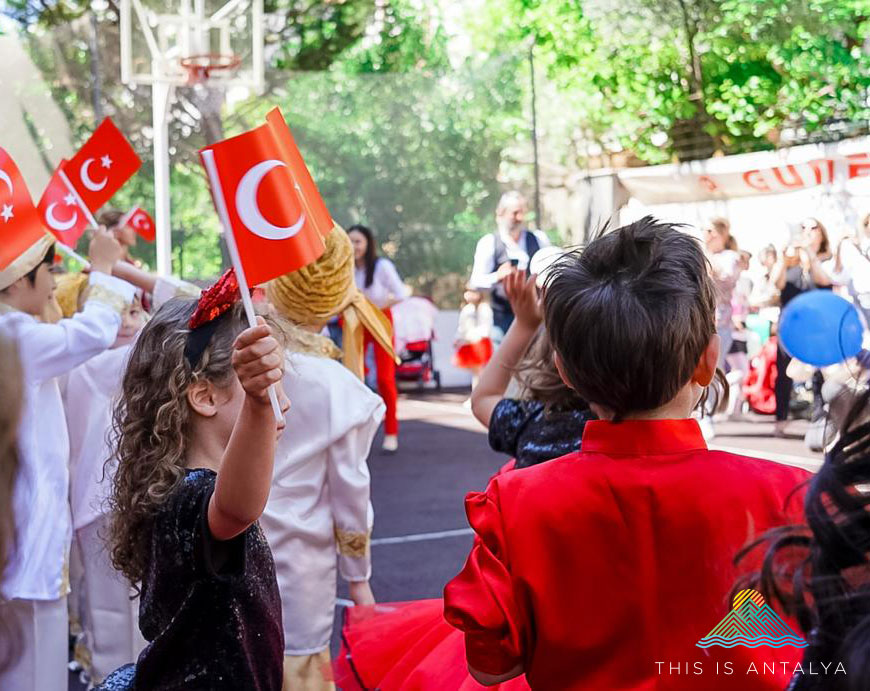 When planning a visit to Antalya, it is important to plan around local holidays to insure all the sites you want to see will be open, hotel rooms will be available, and transportation options will exist. In addition to national holidays, religious holidays impact businesses, tourist sites and restaurants. Read on to discover what holidays Turkey celebrates, as well as the significance of each of these days.
April 23 – National Sovereignty and Children's Day/Ulusal Egemenlik ve Çocuk Bayramı
This patriotic day commemorates April 23, 1920, when the Grand National Assembly of Turkey was established after the national council denounced the Ottoman government and formed a temporary constitution. In 1927 Atatürk also deemed April 23 a day for the children.
If you are in Antalya or anywhere in Turkey on this auspicious day, watch for local schools to put on brilliant displays of patriotism. Children, dressed in red and white or sometimes in traditional Turkish costumes, wave flags, perform dances, sing songs, and celebrate with great enthusiasm. It is a festive cultural experience to behold if you have the chance. Public offices and banks will be closed, but most tourist attractions (restaurants, historical sites, museums, etc.) will remain open.
May 1 – Labour and Solidarity Day/Emek ve Dayanışma Günü
Established as a day to recognize all laborers, some business offices, banks, schools, and government offices close. Tourist attractions typically remain open.
May 19 – Commemoration of Atatürk, Youth & Sports Day/Atatürk'ü Anma, Gençlik ve Spor Bayramı
This national holiday is in remembrance of Atatürk's landing in Samsun on May 19, 1919, which is considered the beginning of the Turkish War of Independence. Some businesses, banks, schools, and government offices are closed, but tourist attractions remain open.
July 15 – Democracy & National Unity Day/Demokrasi ve Milli Birlik Günü
This more recently added public holiday commemorates the national unity against the coup attempt on July 15, 2016. Some businesses, banks, schools, and government offices are closed, but tourist attractions remain open.
August 30 – Victory Day/Zafer Bayramı or Armed Forces Day/Türk Silahlı Kuvvetleri Günü
Victory Day remembers the Turkish victory at the Battle of Dumlupınar, the last battle of the Greco-Turkish War on August 30, 1922. This triumphant win led to the end of a Greek presence in Anatolia. Some businesses, banks, schools, and government offices are closed, but tourist attractions remain open.
October 28-29 – Republic Day/Cumhuriyet Bayramı
Starting at 1:00pm on October 28 and ending 35 hours later, Republic Day celebrates October 29, 1923, when Atatürk declared Turkey a republic and was voted its first president. This patriotic holiday is a time for flags hanging everywhere, parades, school performances and fireworks in the evening. All public institutions, including schools and government offices, are closed, but tourist attractions typically remain open.
Atatürk passed away at 9:05am on this day in 1938. To commemorate his far-reaching legacy, every year from 9:05-9:06am traffic stops, people stand at attention, and sirens blare to show him respect. This is just an observance day, so nothing closes.
The Islamic calendar operates on the lunar Hijri Calendar, which is 11 days shorter than the common solar Gregorian calendar. This means each year the Islamic holidays are 11 days earlier than the previous year. A simple google search will tell you when the anticipated dates are for religious holidays in Turkey each year.
Islamic holidays typically start at sunset and last until sunset the next day. On the most important religious holidays, businesses close at noon for preparation (known as "arife") for the holiday to begin at sunset.
This three-day holiday begins at sunset on the last day of Ramazan. After a month of fasting during daylight hours, this is a festive and fun time for Turks to travel home to see family and gather together. Government offices, banks, schools, and businesses close. (Remember these offices and some stores and restaurants might also close at noon for the preparation/arife on the first evening the holiday begins, followed by three more days of closure.) Tourist attractions and some restaurants might be closed for the first day of the holiday, but open back up for the second and third day. If you plan on traveling over the three-day holiday, expect greater crowds and intensified traffic especially on the last day of the feast.
Sacrifice Feast/Kurban Bayramı
The most important religious holiday in Turkey and the rest of the Islamic world, the Sacrifice Feast commemorates when God provided a ram for Abraham after he was asked to sacrifice his son. Turks from all over travel home to celebrate together. Because of this, public offices, businesses, schools, and banks will be closed for most if not all of the five-day holiday. Tourist attractions and a lot of restaurants will likely be closed the first day of the holiday, but open back up on the subsequent days. As mentioned, thousands of Turks travel during this time, so anticipate increased traffic, fewer plane, ferry, and train tickets, and not many available hotel rooms. Also count on ATMs running out of cash, so stock up early in the week before if you can. Planning ahead is key if you decide to travel during this holiday.