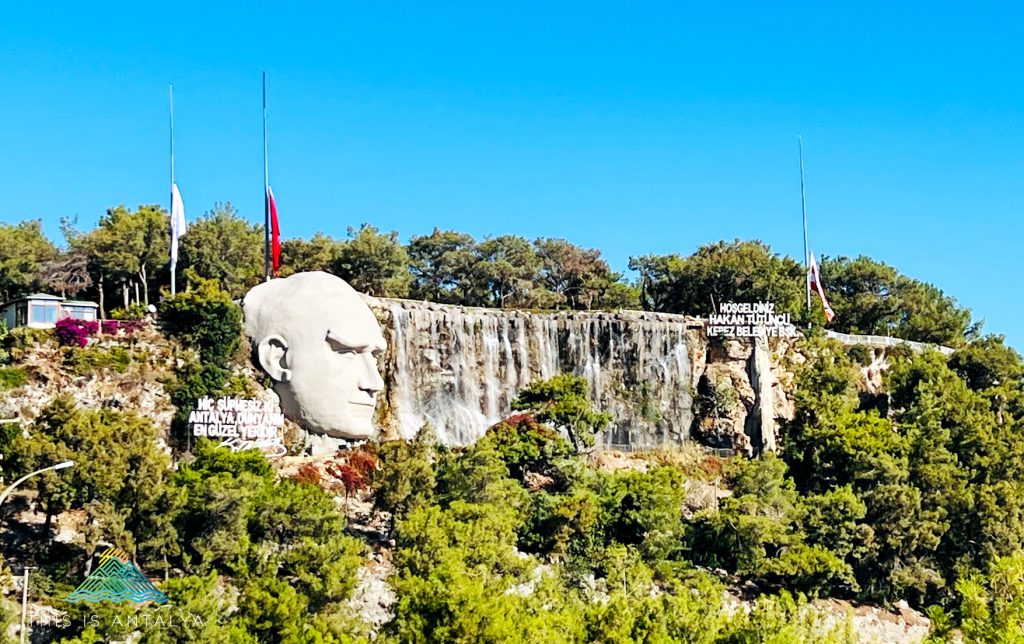 When visiting a foreign country one is sure to encounter differences in cultural practices and customs. Some of these differences are fascinating, while others can create moments of confusion or panic. For visiting tourists, what happens at 9:05am on November 10 might elicit both responses.
If you are lucky enough to be in Antalya (or anywhere in Turkey) on November 10, it is helpful to understand that Mustafa Kemal Paşa, or Atatürk – the father of Turks – passed away at 9:05am on this day in 1938. To commemorate his far-reaching legacy, every year from 9:05-9:06am traffic stops, people stand at attention, and sirens blare to show this venerable man respect. If not expecting it, people can be startled by the sirens or even get into accidents when traffic comes to a halt.
Children in schools all across the country wear black and bring red carnations to place at the bust of Atatürk that most likely stands in the school courtyard. Programs with patriotic songs, interpretive dance, poetry and monologues are performed in his honor.
No doubt, Mustafa Kemal Paşa was a man who enacted sweeping reforms and policies that changed the landscape of Anatolia after the Ottoman Empire collapsed following World War 1. His widespread modernization and unmatched charisma earned him the name Atatürk – father of Türks.
After the Ottoman Empire's demise, Turkey would have been left to the Allied powers to divide as they willed. However, Mustafa Kemal's strategic leadership motivated the people to come together and fight victoriously.  Under his dynamic direction, the people of Anatolia became the modern Republic of Turkey and he became its first president.
Once president of a new, modern republic, Atatürk set out to westernize and democratize the nation with life-altering cultural and socio-political reforms. With his new Republican People's Party, he set the "Six Arrows" in motion: republicanism, nationalism, populism, statism (state-owned and state-operated industrialization to bring Turkey into the 20th century), secularism, and revolution.
Some of his impactful reforms included: making primary education compulsory, giving women the right to vote and hold parliament seats, abolishing Islamic law and separating religion from government, replacing Arabic script with Latin letters, adopting surnames for the first time (this is when he was given the name Atatürk), and establishing a policy of neutrality toward the west.
For more information about Atatürk, check out this article on Encyclopedia Brittanica. You can also visit the Atatürk House & Museum if you want to see some Atatürk history in person.
How should visitors behave?
As guests in this beautiful country, we always desire to be respectful and honor the customs of the people around us. If we are driving at 9:05am on November 10, we definitely anticipate stopping our vehicle and do so when we see others doing the same. Some drivers will get out of their cars and stand at attention. We do not feel the need to do this, but do encourage others to stop driving as to avoid causing an accident.
Likewise, if we are out on the street or in a store at 9:05am, we always stop and stand still for the full minute. Even if other people continue walking, we feel it is most respectful to stop walking and not fidget about.
In some cases, we have been in a restaurant eating breakfast. If you are sitting, that is fine. But we encourage you to at least stop eating or drinking and pay attention to what the Türks around you are doing. Follow their lead.
If you are in a hotel or holiday rental that is near a street, we encourage you to head to a window or balcony around 9am. When life stands still for a minute it is always a fascinating thing to watch.