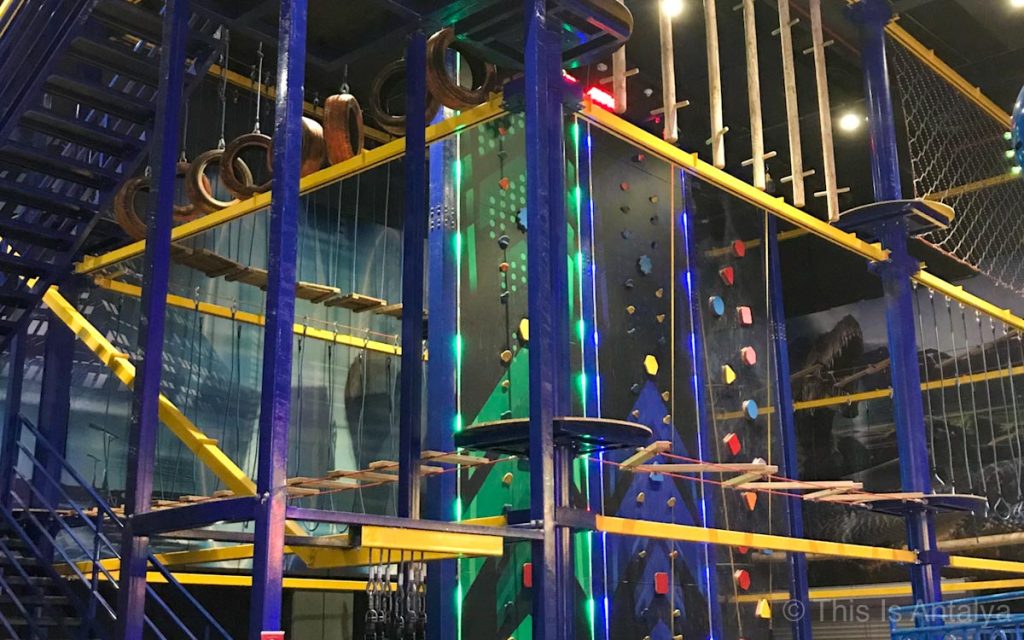 Taking in the spectacular natural wonders and majestic beauty of this region could keep you busy for weeks, but its winter can rainy and its summer quite hot.  So you may realise your family is in need of break from fresh air activity. Agora Mall's Temapark Agorix themepark draws the young and old to spend a few hours away from the outdoors. With arcade games, rides for any aged thrill seeker, play area for the toddlers/preschoolers, and ropes course and climbing wall for older kids and adults, the options are only limited by your budget.
Two distinct areas form one park at Temapark Agorix. The largest part with bigger rides can be found by taking an escalator in between the IKEA side and the larger shopping center or by alternatively taking the escalator closest to the IKEA side from the larger shopping center down to the basement.  This is where the rides, ropes courses, and bulk of the arcade and fair games can be found. If you just want arcade type games, check out the smaller version on the top floor of the larger shopping center (not the IKEA side).
Upon entering, a reusable and reloadable card must be purchased to play. Our family of six loaded 100 credits on our card and that enabled our kids to ride 2-3 rides plus play 2-3 games each (see photo for exact costs and credit system). The kids were thrilled and the adults enjoyed the broad  game selection. The icing on the top is that, with each game played, you win tickets that can be redeemed at the end for prizes. But don't expect to redeem those tickets for anything too exciting, unless you plan on playing games all day or visiting multiple times.
Anticipate LOUD music in the larger basement play area as well as LARGE crowds on Saturday and Sunday afternoons/evenings. If you desire a quiet outing with your kids or a date, this might not be the place for you. However, if you would like indoor fun chasing your kids from ride – to game – to ride, the Agora Temapark is worth your time and money.