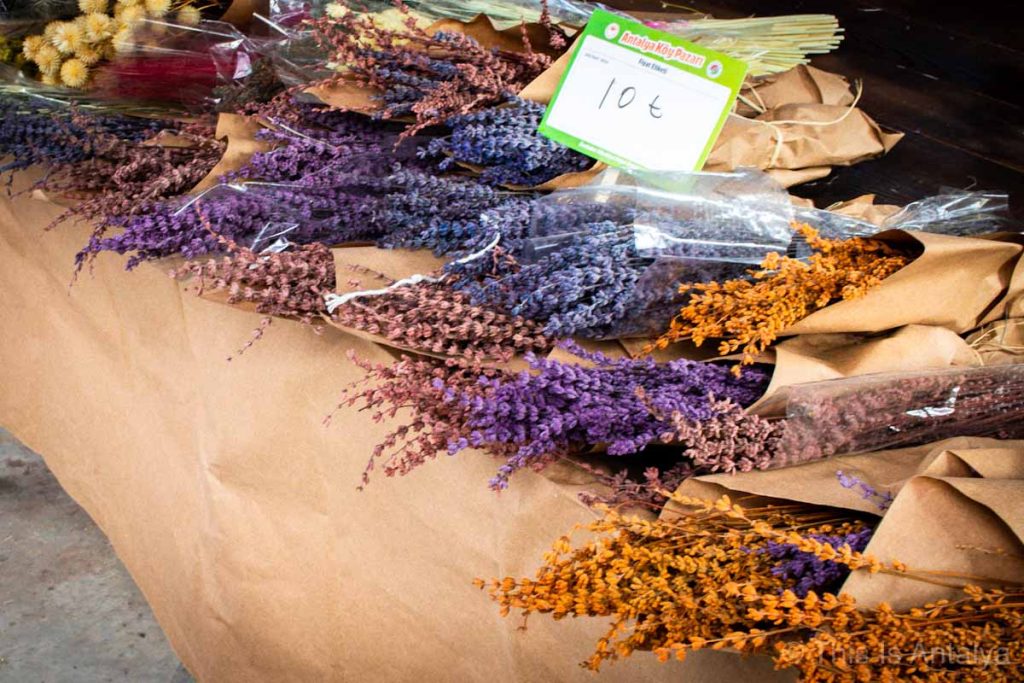 Turkey's incredible pazars (farmer's markets) are filled with fresh, locally grown and flavorful fruits, vegetables, fish, dried fruits and nuts.  Locals do a bulk of their shopping at these, and it is always a lively experience.  Some of markets include basic housewares and clothing.  The local government in Kepez, a large Antalya Municipality, began a köy pazarı (village market) on Sundays in the parking lot of PARKFUNtastic  Other cities have similar village markets, sometimes known as women's pazars, primarily because most sellers are women offering their artisan crafts and homemade delicacies and almost every neighborhood hosts a weekly produce pazar. 
A variety of products are available at this pazar – a good mix of both produce and of snack sellers making fresh gözleme (filled Turkish tortilla-like bread) and pişi (fried bread).  Nearby, plenty of tables allow shoppers a nice place to sit and enjoy your afternoon snack.  During the colder months, there was a milky, cinnamon–spiced drink called salep offered alongside freshly squeezed orange juice straight from tree to glass.  And any time of year, pazar patrons can enjoy a Turkish tea.  A few unique items like gluten-free bread and freshly made tahin (tahini, a sesame seed butter) are also for sale. 
The handmade goods included a variety of the crocheted figures as well as scarves, beeswax candles, dried floral arrangements and jewelry.  You could try your hand on a potter's wheel to make your own piece of Turkish pottery.  This would be a perfect place to pick up unique souvenirs of your time in Antalya.  Take full advantage of your time in the area and visit PARKFUNtastic. 
Location: Fatih Mahallesi Antalya Bulvarı No: 410. Kepez/Antalya (PARKFUNtastic parking lot) 
Hours: Sundays at 12:00 
Entrance Fee: Free