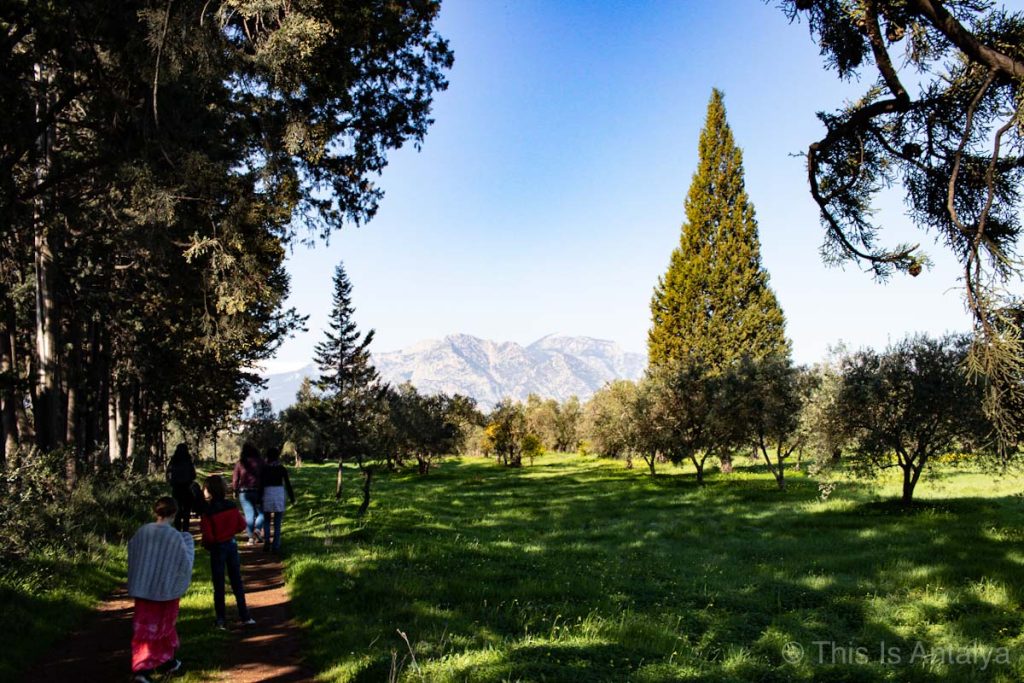 Antalya has no shortage of beautiful views and opportunities to encounter untouched nature – especially if you are willing to go outside of the city.  Zeytin Park, a rare exception and escape from city noise, is located just 11km from the city center and is easily accessible by taxi, car or bus.  Its well–preserved green space includes nearly 25,000 trees for visitors to explore as they breathe the incredibly fresh air. 
Within the 2.6 million square meter preserve, a café offering daily Turkish breakfast, tea and coffee gives visitors a peaceful place to dine beside a transplanted 1200-year-old olive tree.  By following their Instagram account, you'll see an announcement of their weekly köfte lunch.  During the nice weather months, activities for children as well as guided walks of the property followed by a Turkish breakfast are also posted on Instagram.  
Our family joined a Saturday nature walk in March and were rewarded with a leisurely 3.5km stroll taking in a beautiful view of the Taurus mountains above the olive groves, lush green fields blanketed white with wildflowers and a shaded tree-lined path.   We felt as if we were wandering through the woods, and every lovely moment was a welcome break from the fast pace of daily life.  
While the property is open daily for visitors to walk the 1km path to the café, you must be part of a guided walk to go any further on the land.  These are typically on the weekends, and you can call ahead or use social media to make a reservation.  For 35TL a person, you enjoy this beautiful walk followed by a generous Turkish breakfast.  It includes olives grown at the park as well as tasty olive oil produced from those same olives.  If you, like us, want to experience the taste of that olive oil at home, a small storefront sells different sized bottles.  Within season, the shop sells honey, dried herbs and natural soaps prepared there.   
A nature walk, a tea or coffee, a rest in the serene shade…each a delightful way to enjoy a visit to Zeytin Park. 
Location: Ahatlı Mahallesi Antalya Bulvarı 07090, Kepez / ANTALYA 
Hours: Daily 8AM-6PM 
Entrance Fee: Free, Nature walk and breakfast 35TL/person