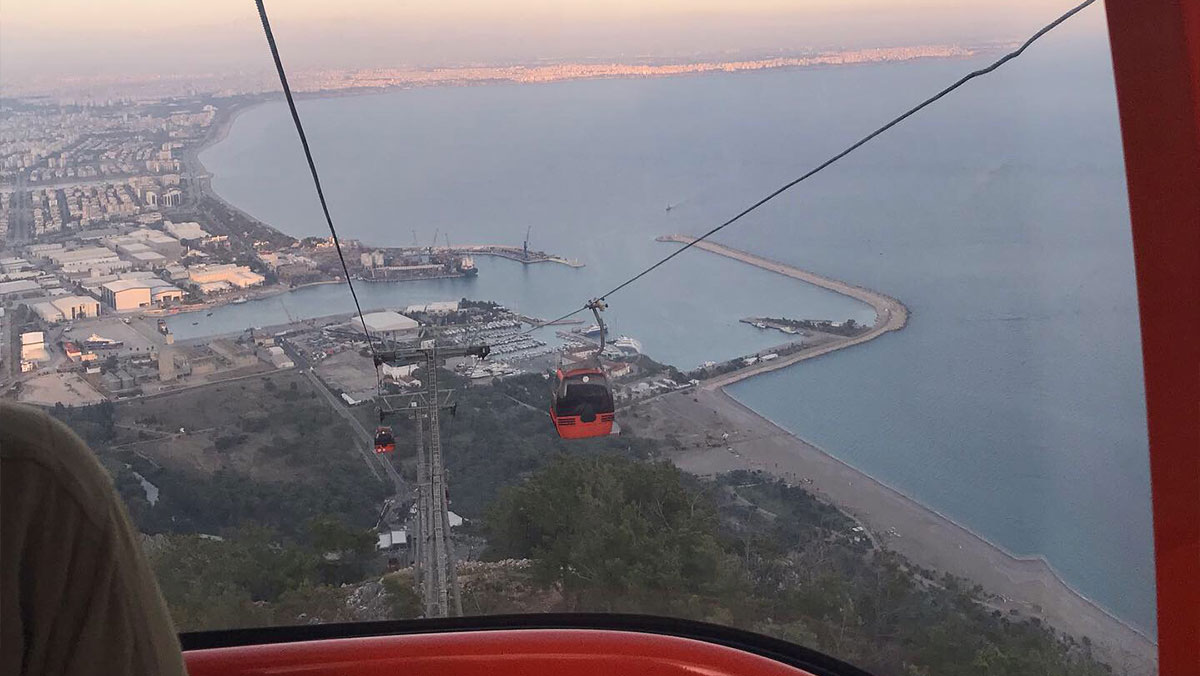 Located at the Western edge of town, the Tunektepe Teleferik (cable car) is a lovely way to see a bird's eye view of the west side of Antalya and the sparkling Mediterranean Sea.  The teleferik begins service at 10AM and offers the final ride up at 6PM giving visitors in the winter the opportunity for beautiful sunset views.
At the top you will find a couple of cafes with gözleme, pizza, cold and hot drinks (including beer), seasonal ice cream bars and juices, corn cups, and an appetizer plate with assorted fried foods. Not all of these cafes were open for us, though we visited an hour before the teleferik was closing during off-peak hours. Even during the low season, though, you will likely run into men at the top with cameras who would love to charge you a small fee for a picturesque photo that could even include a parrot perched on your shoulder or head. The opportunity to take beautiful pictures, either with your own device or paying the parrot guy, along with the peaceful view from high above is really what this experience has to offer.  
Expect a somewhat noisy and vibration-filled ride that lasts around 10 minutes each way that could cause some trepidation for people who are afraid of heights or have sensory issues. While not exactly spectacular or nearly as high as the Olympos Teleferik, this inexpensive and enjoyable ride takes passengers up to see more of the city on a clear day.  Easily accessible by bus lines AF04, KC33, KL08, MF40, taxi or car.  There is a paid parking lot next to the teleferik and a taxi stand at the entrance. 
Liman, Antalya Kemer Yolu, 07130 Konyaaltı/Antalya
Tel: 0242 259 46 46
Hours: Closed on Mondays, Tuesday – Friday: 10:00 – 18:00, Saturday – Sunday: 9:00 – 18:00