If you plan on spending some time in Antalya outside of a resort, we recommend splitting your time between the Konyaaltı and Lara sides of the city. This post will highlight our suggestions for a 2-3 multi-day itinerary in Konyaaltı, including some ancient sites that are easy to reach from that side of town. If you only have one day to spend close to Konyaaltı, read our original one-day itinerary here.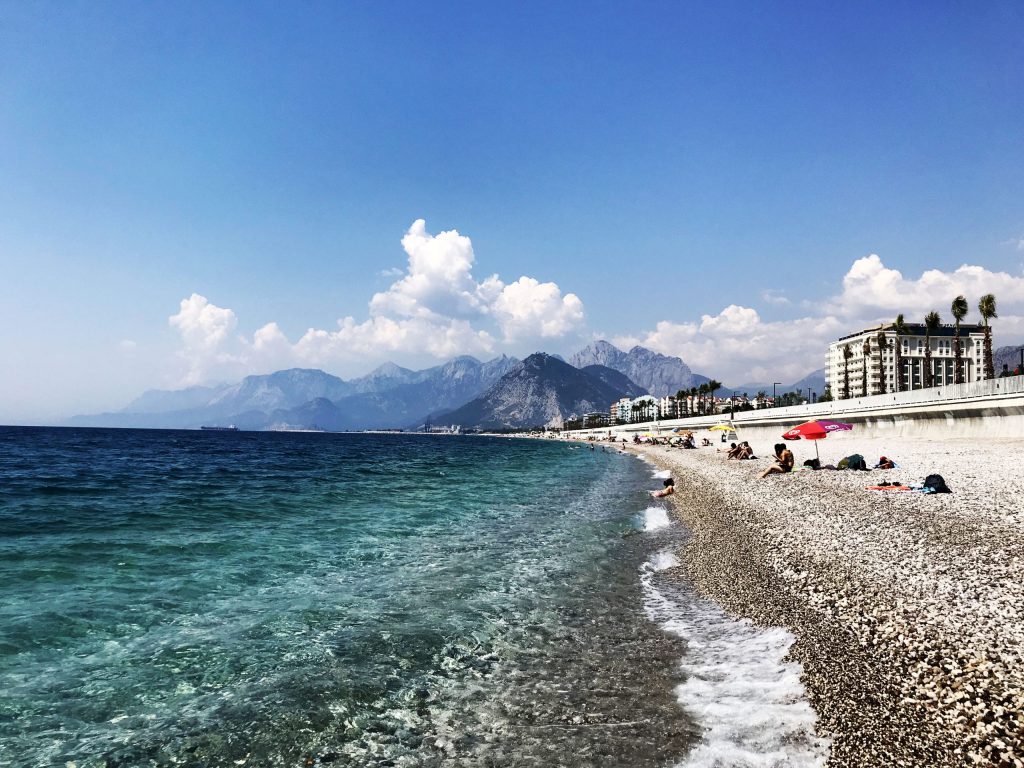 Morning: 
Tunektepe Teleferik This affordable and beautiful trip up to a stunning view of the Mediterranean Sea is situated on the way from Kemer into the city.   
Lunch:  Döner, satisfies hungry locals and tourists at lunch.  While Turkish döner might share the look of its Greek counterpart, the gyro, its flavors differ significantly.  This roasted mid-day staple is typically made of chicken or beef, though our recommended spot offers only beef, and is served on lavaş (tortilla-like wrap) or loaf of bread with onions and spicy peppers if you'd like. 
Outstanding Option: Ekrem Coşkun, multiple locations in the area 
Afternoon:
Hit the Beach:  Konyaaltı Beach – The boardwalk and rocky shoreline won't leave your suit full of sand, but will leave you sun-kissed and ready for your next adventure.  
Something Special:
While you are at the beach, enjoy the opportunity to try midye dolma (stuffed mussels).  Stuffed with aromatic rice, spices, and a squeeze of fresh lemon, this seafood treat can be purchased by hailing strolling beach vendors as they call out "midye var!" We quickly shifted from trepidation over a potential food borne illness to sadness over all the times we passed up the chance to enjoy these scrumptious, savory bites of the Turkish Mediterranean Sea. 
Late Afternoon:
With Children: Antalya Aquarium The heat of the sun and sea might call for a few hours of air-conditioned break, so pop into the city's aquarium to meet creatures of the sea and enjoy other kid-friendly activities. 
Without Children: Stroll through Sahil Antalya and enjoy a leisurely coffee or tea next to the sea, or bike along the boardwalk.
Dinner: Köfte and piyaz: Turkish meatballs and white bean salad.  Köfte is smaller than a burger patty and contains beef, sometimes lamb, spices, and breadcrumbs. Antalya's signature dish, piyaz, is a white bean salad served cold.  Its flavors mimic the best of potato salad while being distinctively Turkish.   
Outstanding Option: Maydanoz Köfte Konyaaltı, multiple locations (or drive up to Kepez to Meşhur Aksu Köfte & Piyaz)
Sunset: 
Heart of Antalya Located on the main Konyaaltı thoroughfare, the towering ferris wheel allows for a city-wide panorama and memorable evening. 
Dessert: Künefe, if described simply by ingredients, doesn't sound appetizing. Look past what you see: sugary, syrup soaked shredded wheat with cheese in the middle. Trust us when we say this dessert melds together into a warm and scrumptious dessert.  
Outstanding Option: Keyf-I Künefe, Uncalı, Toroslar Cad. City Life 2, D Blok, No: 27/c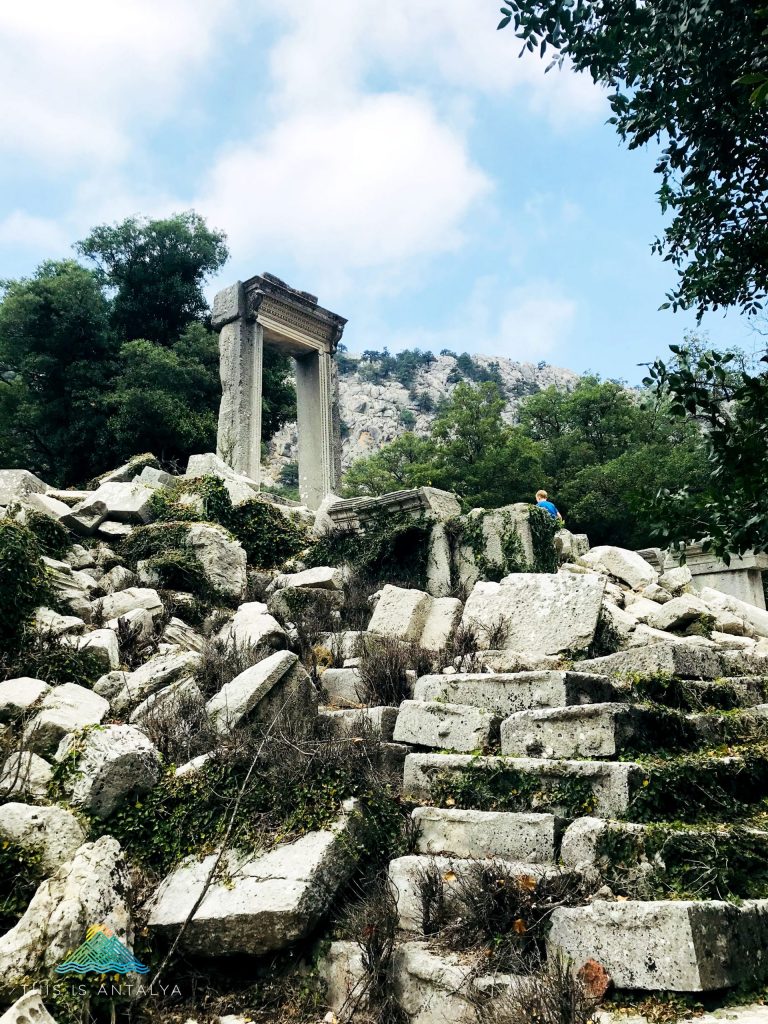 Morning:
Brunch:  Serpme Kahvaltı, a lavish Turkish breakfast, tempts self-control and fills you up for a busy day of sightseeing.  Many places offer regional specialties, so make sure you've had a chance to experience the real thing before leaving Turkey.   
Outstanding Option: Zeytin Dalı 
For more ideas about food, check out some of our other posts: Gluten Free Antalya, Ev Yemekleri
Early afternoon:
Termessos – Not technically in Konayaltı, Termessos Ancient City ruins are about a 45-minute drive from the Konyaaltı side. This beautiful hike is worth the time and the effort and is one of our can't miss sites in Antalya. Take some water and snacks and enjoy history and nature all wrapped up in one!
Evening:
Rest up a bit after your hike, and then get cleaned up for dinner at Vahap Usta, our favorite steak restaurant on the Konyaaltı side. Be sure to try the red pepper with yogurt (yoğurtlu kırmızı biber) as a starter. You won't regret it. If you have a few free minutes before or after dinner, you can walk around and check out the ancient roman bath behind the restaurant.
Vahap address: Gürsu, Atatürk Blv. No:160, 07070 Konyaaltı/Antalya
Phone for reservation (which we recommend): +90 242 229 51 51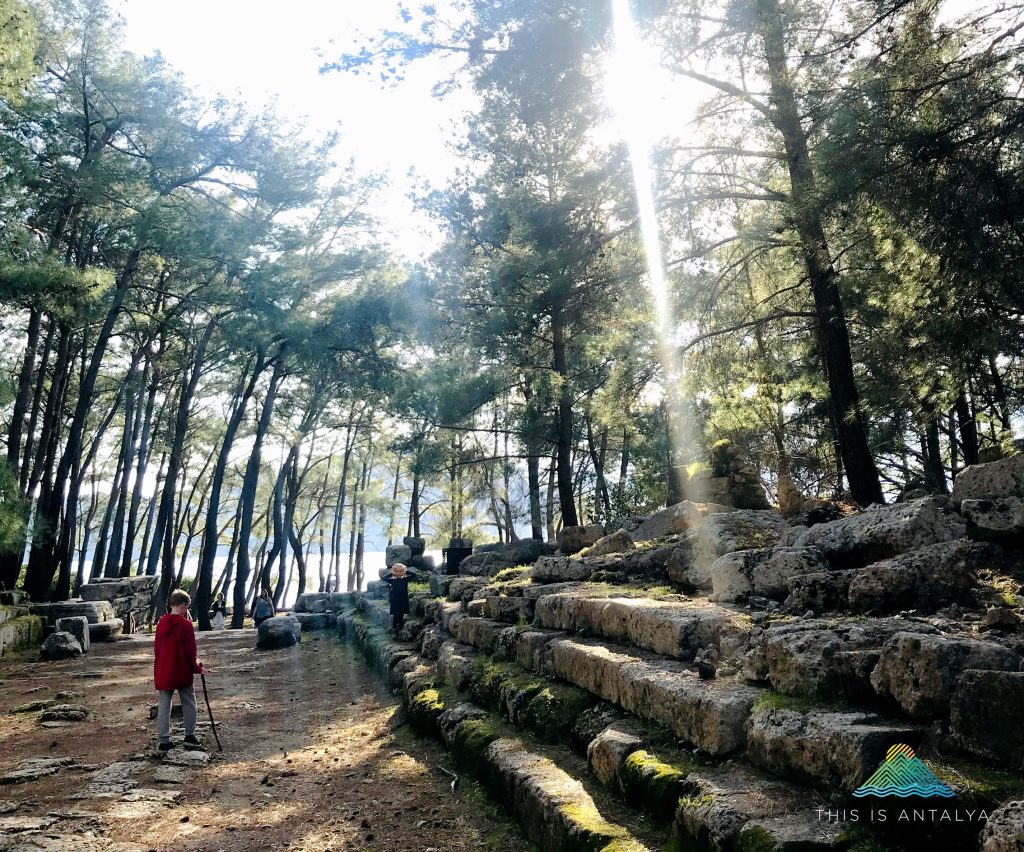 Morning:
Breakfast: You can't leave Antalya without trying simit, a bona fide national treasure. This crusty, sesame seed coated cross between a bagel and a pretzel is delicious with Nutella, jelly, or cheese. You can find them at just about any local bakery, but we recommend By Simitçi.
Address: Liman, Boğaçay Cd. No:37 D:31, 07130 Konyaaltı/Antalya
Option One:
Morning and Early Afternoon:
Head west 45 minutes to Ancient Phaselis, another one of our can't miss Antalya sites. This picturesque ruin is by the sea, so bring a blanket, some towels, and a picnic lunch and plan on spending a good portion of your day exploring and enjoying the beach.
Lunch: Picnic (Any Migros or Carrefour are great markets to pick up food and picnic items)
Afternoon:
Stop by Kesme Boğazı on your way back to Konyaaltı. Have some tea and enjoy some gözleme at the beautiful café or dunk in the fresh water if it is hot and you want to cool off after exploring Phaselis.
Bonus Activity for evening:
See Falez Hamam & Spa below.
Option Two:
Morning:
After two days in the sun, you need some pampering at a Turkish hamam. We recommend Falez Hamam & Spa. Here you will receive the package of your choice at a reasonable price with options that include a sauna, hot tub, Turkish bath, and massage.
Address: Gürsu Mah. Atatürk Bulvarı 10. Cadde Bulvar Plaza 187/B, 07070 Konyaaltı/Antalya
Phone: +90 242 228 44 22 for reservations
Lunch: Pizza Argentina – Our favorite authentic Argentine pizza with a lovely location near Konyaaltı Beach.
Afternoon: 
If you like to shop, visit a local pazar or do some shopping at the 5M Mall for souvenirs or gifts to take home with you.
Evening:
Dinner: Treat yourself to authentic Azerbaijani food at Quzu along the Konyaaltı Beach boardwalk. We recommend the Shah Plov.
Address: Arapsuyu, Akdeniz Blv. No:74, 07000 Konyaaltı/Antalya
Phone: +90 242 230 22 02
Post-dinner tea or coffee: We recommend The Sudd or Cozy Coffee for the best lattes and specialty drinks with friendly service. If you get there before they run out, both cafes also feature delicious desserts, with some healthier and gluten-free options.
The Sudd Konyaaltı: Gürsu, 304. Sk. 12/A, 07070 Konyaaltı/Antalya
Phone: +90 242 228 02 09
The Sudd Liman: Liman, Boğaçay Cd. Cihan Apt D:No:19/A, 07130 Konyaaltı/Antalya
Phone: +90 242 259 04 00
Cozy Coffee: Altınkum Mahallesi 414. Sokak Günışığı Apt, D:No:8/A, 07070 Konyaaltı/Antalya
Phone: +90 532 371 31 36