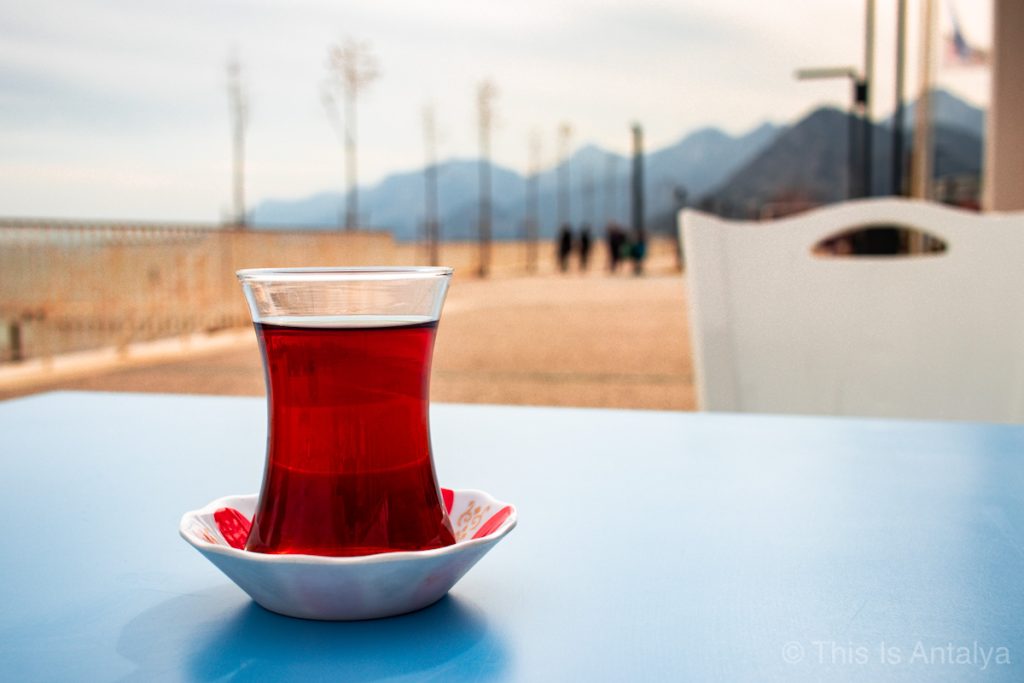 The sound of spoons clinking on glass and the buzz of conversation and laughter. A walk down a colorful street leads you to the source – a café. Café culture in Turkey has existed for centuries and continues to be one of the preferred pastimes of people. In stark contrast to Italian espresso bars and American Starbucks, this is not a quick stop to refuel, but a place to linger. Time takes a back seat to relationships best developed over cups of çay (tea) or kahve (coffee).  
In this updated post we are excited to share some of our favorite cafes with you. From a tea run-down and refined tastes for the coffee connoisseur, to tried and true international brands, we cover them all. Also, don't forget to check out our entire post about Turkish coffee.
Çay  
 If it hasn't happened yet, it won't take long until you are offered a complimentary cup of çay. The tulip shaped glasses of this smooth and scalding hot beverage are literally everywhere. From the barbershop to the pharmacy and following each meal, this classic Turkish staple is a symbol of hospitality. It would be nearly impossible for you to enter anyone's home here and not be offered tea.
Almost all of the tea is grown in the Black Sea region's province of Rize. There are so many varieties that the tea aisle in a Turkish grocery store would rival the cereal aisle in an American grocery store. While you will find tea bags here, they are mostly reserved for herbal teas. Traditionally, the loose-leaf black tea is brewed in a small pot and then mixed with boiling hot water to preferred strength in the glass.
Most Turks like their tea with a lump or two of sugar. We wait and taste the tea first to see if it's necessary. If the tea has been brewing for a while, it can become bitter and begs for sugar. If it is fresh, it oftentimes does not need it.
Sometimes you will be asked if you want a "küçük" (small) or "büyük" (big) glass. The small glass will be the traditional tulip shape. A big glass will be more like a glass mug.
It used to be that a small glass of tea was "ikram" (a free gift) at restaurants after your meal. This is not always the case now. Be sure to ask if the çay is "ikram" (eee-krahm – complimentary) before ordering. However, if you are only having tea and are sitting in a coffee or tea shop, of course the tea is not free. 
Third Wave Coffee 
Each city I visit I search in advance for a good coffee shop, hence the cup of Nescafe served at most hotels and cafés never quite satisfies me, a devoted lover of "real" coffee. Maybe you, too, aren't content with the instant coffee? Fortunately, Antalya's coffee offerings have improved dramatically in recent years. Here are some of my favorite third wave coffee shops. 
Cozy Coffee – Lara location  / hayycoffee – Konyaaltı location
Truly a cozy place to enjoy a fantastic cup of coffee, this local spot brews hot and cold specialty coffees with quality Kronotrop beans, roasted weekly in Istanbul. Baristas are friendly, knowledgeable and speak enough English to help find your perfect cup.  Both locations encourage you to bring your dog, to settle in for a meeting or connect with friends for a long visit.  A local baker prepares cakes, including a decadent gluten-free chocolate one. I enjoy their V60 or mocha at least once a week, and on occasion, I break the mold by ordering their tasty kombucha or rooibos tea. 
Sudd Coffee House – Liman, Konyaaltı, Kaleiçi, and Lara locations 
My first taste of coffee in Antalya, the Sudd (pronounced like 'sood'), consistently proves to be an excellent choice for a cup of joe. The contemporary vibe here attracts a loyal clientele, and the convenient locations make it easy for tourists to find them. This shop brews Istanbul's Probador coffee, and the baristas love their work. They are patient and helpful, even with foreigners who don't speak Turkish. My favorite here is the cold brew. On a day calling for tea, the fresh and spicy "golden tea" is a unique and tasty option.  Scrumptious food offerings for a variety of dietary needs include vegan, gluten-free, sugar free and paleo.   
InCommon – Sarısu, Konyaaltı
Our friends founded and run this training and roasting company located on the western side of the city and we can't begin to be thankful enough for what they have brought to the coffee scene in Antalya. Specializing in high quality beans, InCommon is your dream if you are a "coffee snob" and need some "real" coffee while you are here. Even if you aren't a coffee snob, their coffee is just plain good. Don't expect froofy lattes and fancy frappuccinos in their small cafe. But if you are craving a fabulous pour over, this is for you. This is also the place to purchase some beans to take home with you, or to use while you are here staying at a villa or AirBnB. 
So Coffee Van – oftentimes found at InCommon, but check social media for current location 
Good news, vacation coffee dreams DO come true.  Serving specialty coffees, including some from the local roastery, InCommon, So Coffee extends their hospitality to guests in an untraditional portable café – a renovated 12 passenger van. Java lovers can choose between a V60, Chemex or Aeropress in varying locations along the shore.  Appreciate the quality of both the coffee and the Mediterranean at this unique Antalya spot.  
International and National Chains  
Starbucks and Gloria Jeans–flowing with sugar, milk and dark roasted beans – are located throughout Antalya, and orders can be placed in the same as in any English-speaking country. Some Starbucks even deliver if you use the Getir app. Schiller's has also come to Antalya and has locations in both Konyaaltı and Lara. Their cinnamon dirty chai (espresso and chai) is a cup of heaven. Turkey-wide chains such as Kahve Dunyası, Robert's Coffee, and Bayram Efendi Osmanlı serve coffee as well but aren't on par with these third wave shops.   
Additional Antalya Options: 
Kronotrop – Agora AVM location 
Café Bubu – Konyaaltı location  
Macropus Coffee – Liman location 
Poe Book & Coffee – Liman location 
Coffee Temp – Gürsu location