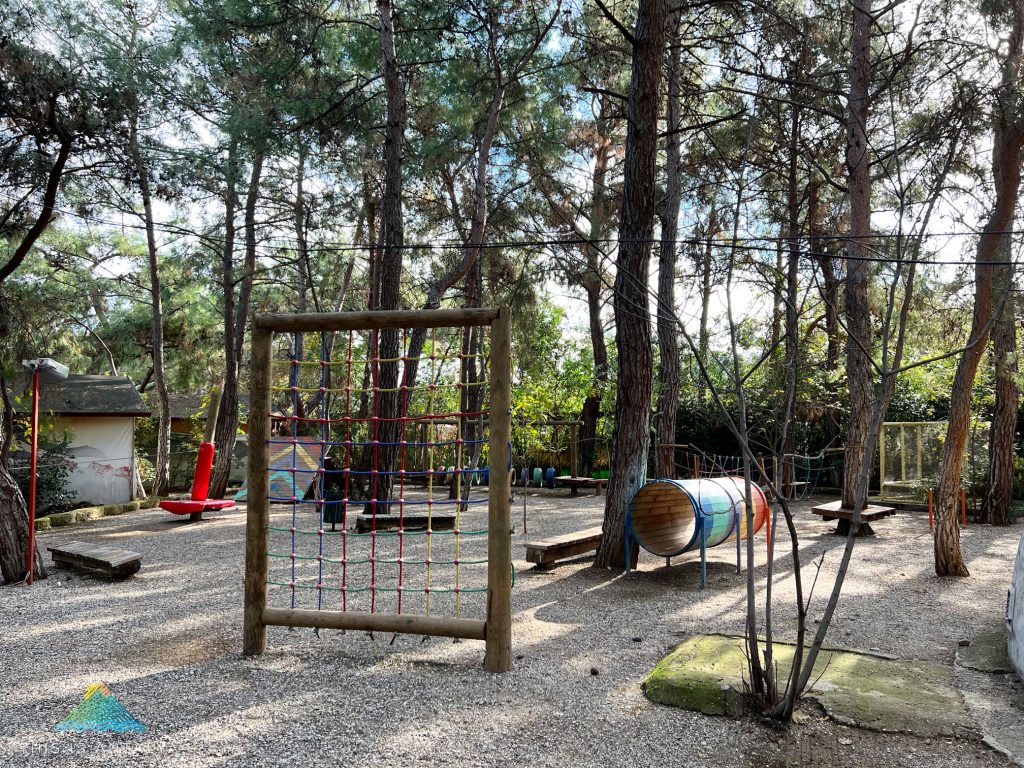 We have learned during our time living overseas that things typically go better when we keep our expectations low. This has saved us from major disappointment multiple times. We think of it less as cynicism, and more as optimistic realism. After reading the online reviews, we approached Dino Park with this kind of reserved anticipation: it might be okay; it might be awful.
What a thrill to discover that it was actually a surprisingly fun way to spend a couple of hours!! The animatronic dinosaurs, though not all exactly true to size, were large enough and realistically created. The park was relatively empty when we were there, and the dinosaurs were still upon approach. More than once, we were startled by their motion-sensored, sudden movement and growls or roars as we drew close or walked away. Even fully knowing they are not real and the dinosaurs are not actual size, it was quite gripping to imagine these ginormous and majestic creatures coming to life.
The landscaping was beautiful even when we were there in January, and would be more enchanting in Spring or Summer. We enjoyed exploring the park and seeing what was around the bend. Our kids also enjoyed the petting zoo area where you can feed adorable bunnies and pet kid goats. There are other birds and small mammals scattered around, as well as a place to ride a pony.
The pool area looks as if it could be a fun way to spend an afternoon, but it was, of course, closed in January. There are cafes and gift shops surrounding the area, and even somewhat clean restrooms. Another highlight for our family was the "Survivor" play area. We were shocked that our kids (little and big) had so much fun racing around the obstacle course and zipping back and forth on the small zip line. It probably helped that there was no one else there and they had the run of the place.
We understand it can get quite busy in high tourism season, so we recommend going in early Spring or late Fall before crowds get too big. You will miss out on the pool area, but there are so many other places to swim in Antalya. (Namely, the beach.)
If you do not have Turkish resident visas, we would not recommend paying the tourist price tag. Showing your ikamet reduces the price from $25 a person to 50TL a person – kids 5 and under are fee. We would gladly spend 50TL a person for a couple hours to experience the closest we will ever get to Jurassic Park coming to life! But, unless you or your little kids are dinosaur enthusiasts, it is not worth $25 a person.
According to a paper they showed us in January 2022, included in your entry fee are a walk through the park where you will meet the dinosaurs, a sandy play area to dig for "fossils," a trampoline, the "Survivor" Park, a few dinosaurs you can climb on and have your picture taken with, the pool (when it is open), and the petting zoo area. Extra fees are charged for the 7D movie and just about everything else.
Dino Park is located in Kemer around 35 kilometers west of Antalya's city center. It is right on D-400 and can be easily reached in 45 minutes by car.
For public transportation: From the main bus terminal, take KA07 all the way there. VS18 and KL08 can also be taken from the Muratpaşa side to the Metro Market bus stop in Sarısu (basically the last stop before turning around) and then transferring to KA07.
Location: Göynük, Adnan Menderes Cd. D:No.69, 07985 Kemer/Antalya
Phone:  90 242 815 29 39
Entrance Fee:  $25 per person for tourists, 50TL for citizens or residents with ikamets, free for 5 and under
Normal Opening Hours: Daily, 9am-6pm