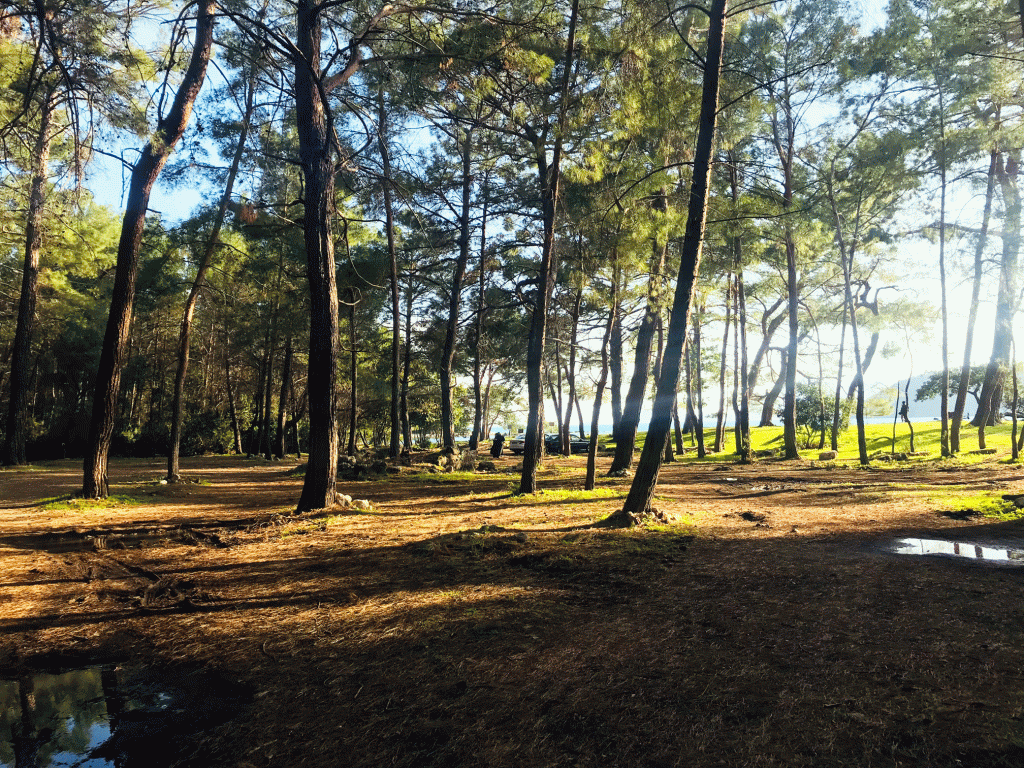 Phaselis, an ancient Greek and Roman city located along the Lycian Way, is a popular destination in the summer for both locals and tourists. Because the ruins are spread out in between three harbors, there are two points of entrance – one by a dock for boat trippers that takes you through the remains of Hadrian's Gate (different from the one in Kaleiçi) and one from the road.   
History lovers will delight in the intact aqueduct, magical tree-lined ancient street, ruins of shops, numerous sarcophagi, public baths, agoras and a well-restored theatre that date back to around 2nd century BC. But the real beauty of Phaselis sparkles in shaded areas where it is possible to catch a break from the raging heat of summer, as well as the number of beach areas for a seaside picnic and dip in the water. It makes for a lovely summer day.  
We recommend Phaselis for just about anyone, including families with children, as the terrain is relatively flat and easy to navigate. No treacherous paths or scary drop offs lurk in the main area, but uncharted places to roam in the forest remain for those who desire a little more adventure.  
A small café with public restrooms can be found near the first parking area and a larger beach with picnic areas are a short drive to the right of the café and around the corner. We suggest parking there on a hot day because there is more shade. Plan on bringing your own food and drinks if you want to stay there all day, as the selections at the café are limited and location far from the beach area.  
Bring a camera, a picnic lunch, your swimsuit and towels, and some footwear for walking or hiking if you want to go off the path. Remember that most Antalya beaches are rocky, so you might also want water shoes. It will get very crowded, especially on weekends, so get there early and leave before too late in the afternoon.  For a less crowded visit, we recommend visiting in the early Fall or late Spring. You won't be disappointed.  
Location: Çamyuva, 07980 Kemer/Antalya, Turkey 
Telephone: 242.247.7660 
Hours: 15 April – 1 October: 08:00 – 19:00 Daily; 2 October – 14 April: 8:00 – 18:00 Daily; (Entrance closes 30 minutes before site) 
Entrance Fee: 45TL or Free with Museum Pass as of June 2020 
Directions: By car, Phaselis is bout 16 km from Kemer off of the D-400.  Or, catch a minibus or dolmuş from the Antalya Otogar, the Antalya Aquarium, Kemer, Olympos, or Çıralı. 
Website: https://muze.gov.tr/muze-detay?SectionId=PHS01&DistId=PHS