If you are looking for a safe yet not-so-ordinary place to let your children roam, Dokuma Park's Orman Kütüphanesi is for you! Filled with whimsical structures that invite children to explore and allow storybooks to come to life, this 1500 square meter outdoor space has something for everyone in your family. We stumbled upon this enchanting forest library on accident when we went to explore Dokuma Park in early June. Much to our delight, this tree-covered fantasy land had just opened and we were able to get a tour and information from one of the administrators who was hanging around.
The Orman Kütüphanesi is a forest library. According to the man we spoke with, the intention behind the forest library is largely to engage children in reading in a natural space that allows them to still be kids. They can run around, make noise, and fall in love with books in this fantastical space.
Cute tree house book shelves abound and reminded us of the Little Free Libraries we have seen in some American neighborhoods . They contain hundreds of books in different genres that you can enjoy while you are in the park. Beautifully rustic wooden tables are scattered throughout, inviting you to sit and read. Outlets to plug in phone chargers or laptops can be found at most tables, and the area is equipped with free wifi.
With a path that leads you around a make-believe world mixed in with the bookshelves, the forest library holds abundant delights. Miniature houses are only for appearance's sake (you can't go inside them) and are meant to invoke imagination and creativity. Their vivid colors and off-kilter architecture definitely channel Dr. Seuss and Richard Burton. There is also a Hobbit House, which was a highlight for our J.R. Tolkien loving family.
At the back of the park is a traditional Turkish, hand-built button or stone house in tribute of the historic houses found in Ibradı. Inside this house they will be offering educational programs and story times.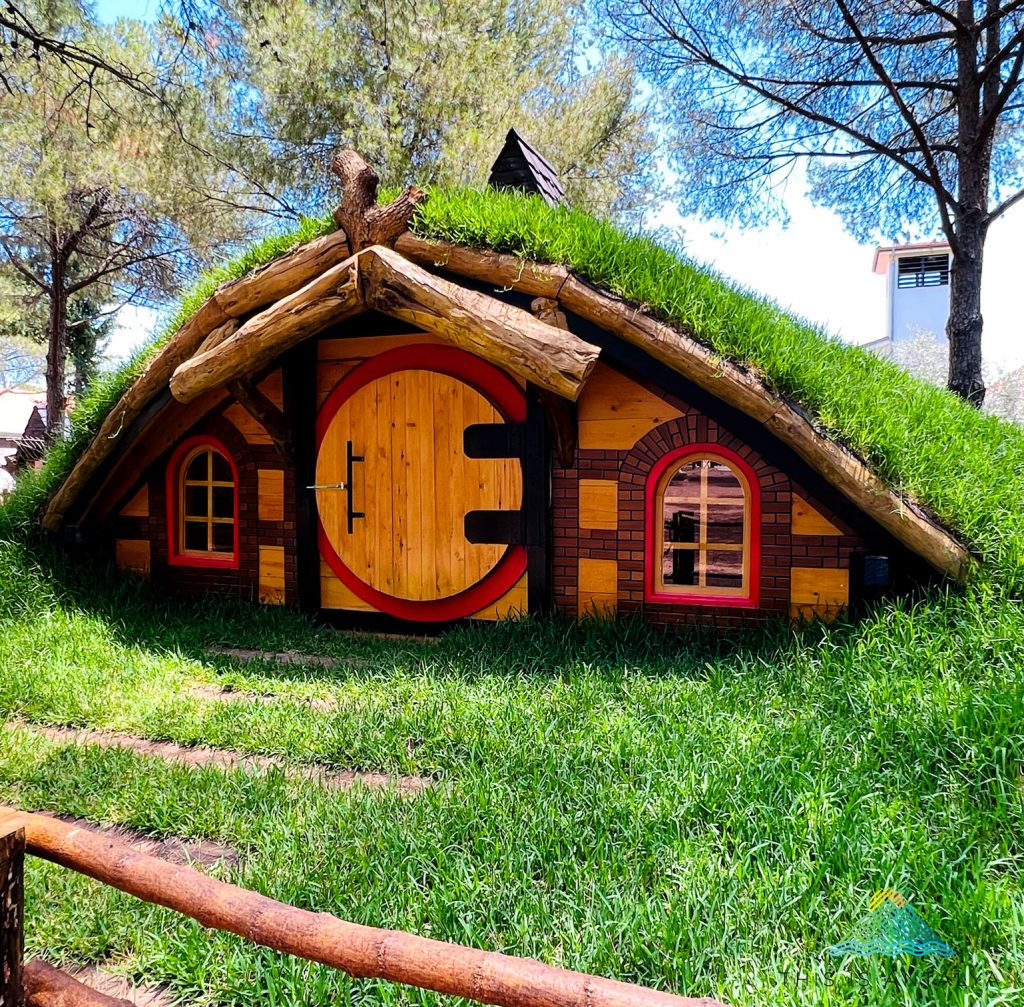 Because this enchanting space is outside, in warmer months we recommend going early in the day or later in the evening. We were there around 11am on a June day. The weather, though warm, was pleasant enough in the shade of the trees. Later in the day it would have been quite hot. If it is a humid day, we recommend visiting another time or heading to the Train Library.
The books are only in Turkish, which limits who can enjoy them, but there are enough other things to do and see that it is worth a visit without reading books.
Be sure to check out the tree house and the wooden swing.
In the fall, winter, and spring when temperatures are cooler, this would be the perfect space for a friends with kids play date.
Dokuma Park has so much to offer for families. Bring a picnic lunch and plan on spending the day exploring all it has to offer.
Located in between Özdilek Mall and Erasta Mall, Dokuma Park is easy to find by personal car. There is a large parking lot on the west side that gives you easy entrance to the park. Enter on the west side and go to the left past the Cemil Meriç Library and Botanik Park.
If you want to take public transportation, the Fatih-Expo or Havalamanı tram goes right by the east side of the park. Get off at the Dokuma stop and follow the signs toward the Orman Kutuphanesi once you enter the park.
Address: Fabrikalar, Namık Kemal Blv. No:225, 07090
Opening hours: 9:30am – 6:00pm
Entrance fee: Free