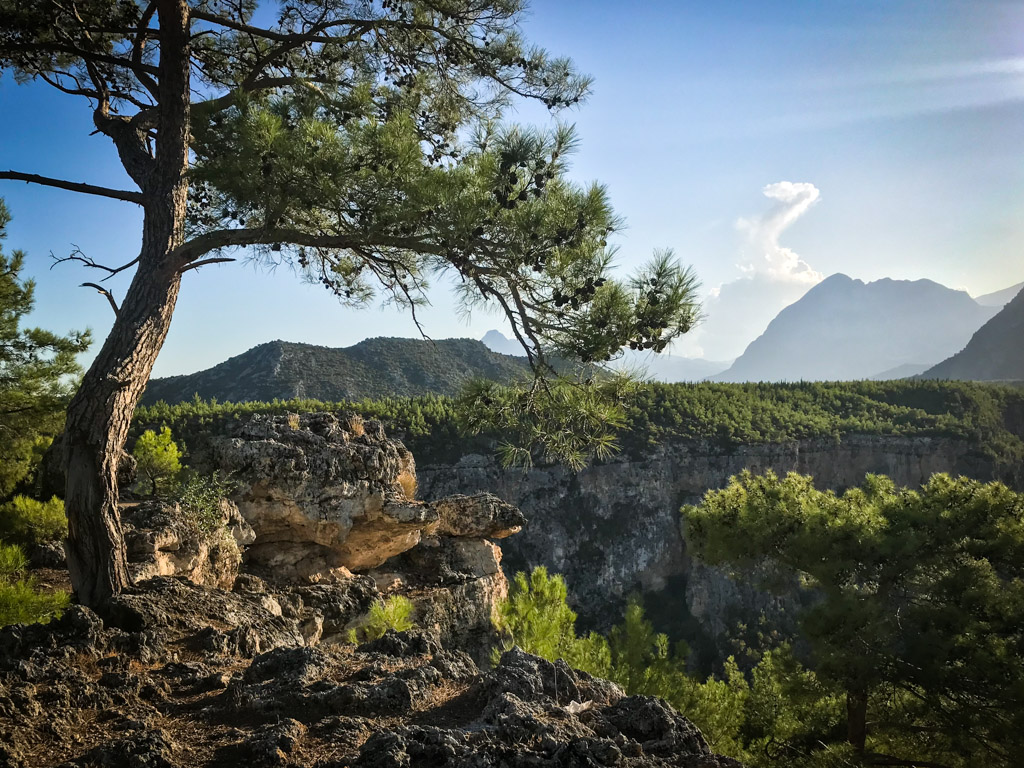 If you are looking for space to roam with awe-inspiring vistas, Güver Üçurumu Kanyonu will more than satisfy. Found off E-87 on the way from the city to Ancient Termessos, this spectacular canyon is a part of Düzler Çamı Park in Döşemealtı. Güver Kanyon encompasses a beautiful valley that later joins with Kapuz Canyon and three streams flowing through.  
There are a couple of different roads you can take once you turn off the main highway; we took the middle road 2.3 kilometers straight toward the canyon, whose name means Pigeon Cliff. Not wholly anticipating what we were about to see, we were startled when the road abruptly came to a "T" intersection just before the very edge of the 115-meter-deep canyon. With no parking lot and being unsure where the roads would lead, we decided to park our car right there and get out. As we cast our eyes down into the deep, tree-lined chasm, we were immediately grateful our children were not with us because there is no fencing or anything that would prevent one from plunging down in multiple places. Literally "living on the edge" is not our normal mode of operation, so we found ourselves backing away with trepidation and caution.   
We continued down the path to the right where we found scattered trees shielding us from sunlight, soft ground layered with pine needles and rocks, some of which may be quite old. Because we were the only people around, it was a peaceful walk with the delicious sound of nothing but birds singing, water rushing in the stream below, and the wind softly blowing through the trees. Every once in a while, we gingerly stepped closer to the canyon edge to glance down at the lush chasm again and see what we could see.  
Doubling back, we passed our car and meandered along the road in the other direction. At the end of this path, you can walk through the trees and out on some rocks. There, to the left, it is more like a slanting hillside with the extraordinary sight of Antalya wrapping around the turquoise sea at the bottom. To the right is a clear view of the gurgling stream below and the sprawling canyon back toward the way we had come, another majestic and serene sight to behold.  
Our exploration of the 2-kilometer-long canyon was limited to the top, but it appears you can gain entrance to the valley through the national park, which, according to an article on Hürriyet Daily News, held a fallow deer breeding station for many years. In addition to deer, other wild animals such as lynx, caracal, goats, eagles, and hawks can purportedly be found roaming the valley.  
If you have a car, we recommend visiting Güver Kanyon with a couple of hours to explore. The path at the top is easy to walk and does not demand hiking boots, but tennis shoes with good grip might be preferred if you want to get closer to the canyon's edge or climb down a little in certain spots. It would be a lovely place to bring a blanket and have an afternoon picnic, or maybe even an early morning breakfast to watch the sun rise at the lookout point toward the city. There is a sign that says fires are prohibited, but there was evidence of fires throughout the area. There was also quite a bit of trash left behind, which unfortunately seems often to be the case here in natural settings where people picnic. If you do choose to picnic, please be sure to take your garbage with you when you leave in order to keep this natural habitat clean.  
Location: Düzler Çamı Milli Parkı/Döşemealtı/Antalya 
Hours/Entrance Fee: Open 24 hours  
Entrance Fee: Free