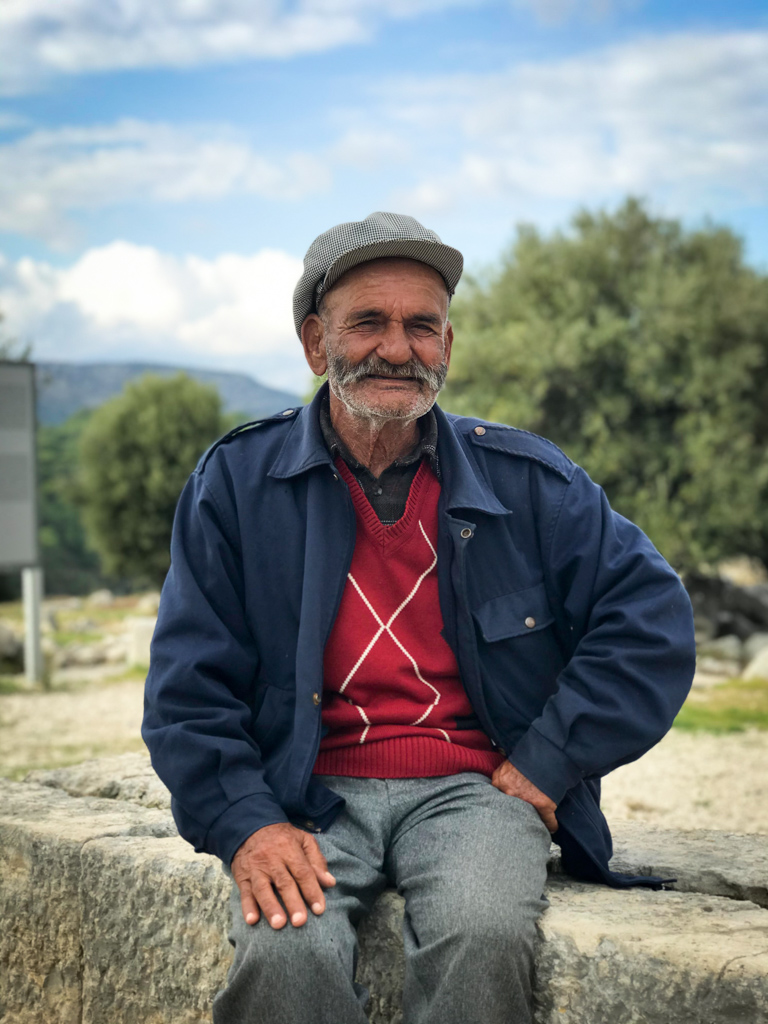 Covid days have made real and comfortable conversations with people difficult. Masks make everything harder, not to mention there is nowhere to hang out with restaurants and cafes closed. Fortunately, we stumbled upon Durmuş while exploring the ancient ruins of Xanthos and enjoying the freedom of being outside.  
After pulling into the parking lot, we noticed Durmuş casually standing by the ticket office and interacting with several other visitors in Turkish. He was calm, unassuming and appeared to be enjoying the afternoon sun peeking out of the clouds that forebode rain. We didn't pay much attention to him or even notice that, as we wandered toward the ancient theatre, he had discreetly made his way to a sunny spot close by and sat down on an ancient rock to have a smoke. It wasn't until our youngest was startled by the fastest moving and largest small reptile that we have ever seen in Turkey scrambling out of her path in the grass and under a rock, that he spoke to us with a twinkle in his eye. He assured her in English that she didn't need to be afraid.  
We asked him a simple question in Turkish and, as if he was reading a script, he proceeded to recite incredible facts about the crazy things that happened in the theatre during Roman times, including gladiator fights with ferocious lions. There began a delightful 90 minutes of getting to know a lot about Xanthos and a little about this delightful older gentleman who has spent his entire adult life teaching people about ancient civilizations while they wander through ruins.  
The wealth of knowledge Durmuş can recall about Xanthos from memory impressed us because he has worked as a tour guide for 37 years at historical sites all over the region. He can tell you just about everything you would want to know about Letoon, Patara, Tios, Myra and Xanthos. With only a high school education, he learned early on by serving as a sort of apprentice underneath an experienced tour guide who trained him on the job. Not technologically savvy – we had to help him answer his new cell phone at one point – his knowledge all came through hearing, practice and repetition. Through the years he has learned some German, English, and Russian. Though not enough to carry on a real conversation in any of these languages, he can recite a good amount of the memorized historical script to help non-Turkish-speaking guests.  
Originally from Kınık, the village now surrounding the ancient city of Xanthos, Durmuş has six children and nine grandkids, of whom he is assuredly proud. As our kids roamed all over and then decided to "put on a show" in the ancient theatre (that's what all expat kids do, right?), Durmuş watched with a smile on his face and took great pleasure in their theatrics and dancing. He seemed pleased to sit and relax in the fresh air for a bit while being entertained instead of being the one entertaining us with information.  
It was during this time, in between smirks and chuckles over our kids' antics, that he leisurely offered his opinions about many subjects as well as some more of his own history. He covered a broad range of topics with just a little bit of prompting by us: from mask wearing to many Turks not understanding their heritage or the importance of history, to some of the struggles he has weathered in life and to the fact that it hardly ever rains in Kınık. (He was right. It threatened to rain the majority of the afternoon but there was not a single drop until we were almost all the way back to Kalkan.) What a surprise and pleasure it was to sit and get to know this friendly and time-wizened tour guide who genuinely relishes his job and seems to have observed a decent amount about people along the way. The only thing that would have made it more enjoyable was some tea to share.  
Because we wanted to make it to the acropolis before we had to get the kids inside for curfew, we thanked Durmuş for his time and offered him some lira since we had captivated him for so long. At many of the more popular ancient sites around Turkey the tour guides behave like vultures hanging around the entrance gates vying for your business, but not Durmuş. It wasn't until after the kids and I walked away that he shared with my husband that, after receiving a salary from the government for 20 years, his only income for the last 17 years has been tips he receives from visitors. Learning this gave us that much more respect and appreciation for his willingness to patiently spend so much time with us that afternoon.  
If you are in the Kalkan area, we cannot recommend a visit to Xanthos highly enough. The ruins are typical of other ancient sites, but the chance to engage with Durmuş is priceless. If you meet him, take the time to stop and listen – not only to his interesting history presentation but also to his own captivating story.