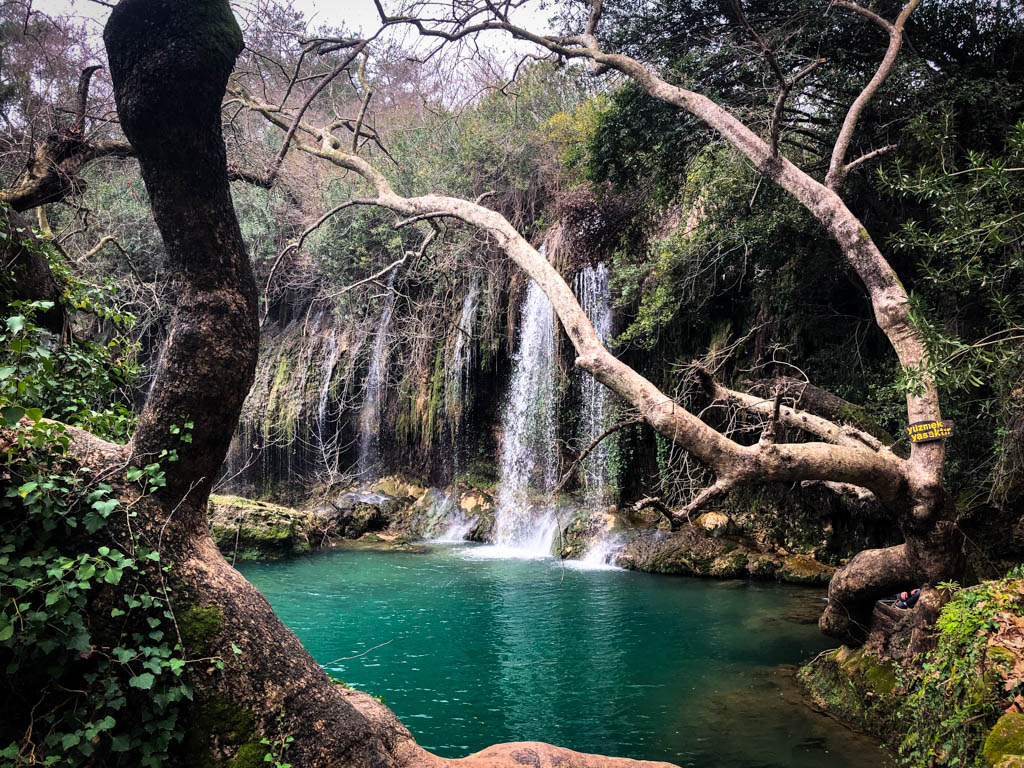 Enchanted by the trees clothed in vibrant vines and surrounded by dainty ferns, we delighted in this escape from the manmade of Antalya into the natural waterfall landscape of Kurşunlu. Sounds of the nearby city were quieted by the aqua waters, tranquility for visitors like us.
Located only 20km from Old Town and minutes from Antalya International Airport, Kurşunlu Şelalesi contains within its shores a series of tall falls, a few meandering smaller falls, and the hidden Lotus Falls. Our sense of adventure flexed as we followed unmarked paths to the top of the falls. The view was unremarkable but escaping the hustle of the busy city was magical.
We found Kurşunlu Şelalesi in nearly pristine condition on the day we visited and also easy to navigate due to the plentiful signage in both Turkish and English.  Our family completely enjoyed the hours we spent exploring the moss-covered trails. You could easily spend two hours on the trails alone – don't miss a side path to the left as you first descend as it leads to the foot of the largest falls – and then pass several more on the well-maintained playground or sharing a cup of tea and a meal with friends.
Within the park are several café areas selling drinks, ice cream, and gözleme, as well as an Osmanlı Cafe located beside a bridge that leads to the exit and overlooks two small falls. At the back of the upper area is an open picnic area equipped with tables and space to barbecue.
Signage leads to a handicap overlook with a disappointingly limited view of the larger falls.  The stairs, walkways, and trails leading through the park often do not have railings, become broken in places, or can be obscured by large branches. Therefore, the park beyond the first bridge is not suitable for strollers, and the spaces beyond the overlook area are not handicap accessible.
Wear non-slip, sturdy shoes for climbing and maneuvering on a variety of surfaces, some of them wet. Due to the makeup of the walkways, we wouldn't recommend visiting during or following rain.
Be prepared for little ones to be tempted by expensive rides on a camel or miniature pony and photos with a parrot or camel.  The camel in particular did not appear to be completely healthy to our untrained eyes, so we walked past with a simple, "no, thank you" to the photographers.
Location: Kurşunlu, Kursunlu Şelalesi, 07119 Aksu/Antalya
Phone: (0242) 433 22 18
Hours: 8:00 am – 6:00 pm
Entrance Fee: 9.50TL – adult; 6.50 – children over 6; Free – children 0-6 years old (February 2021)
Parking: Free